Broken up
From the rigour of lean metal grids to stodgy blocks, from graceful arches and hollows to stairs and shadows, Rathin Burman mines a captivating legacy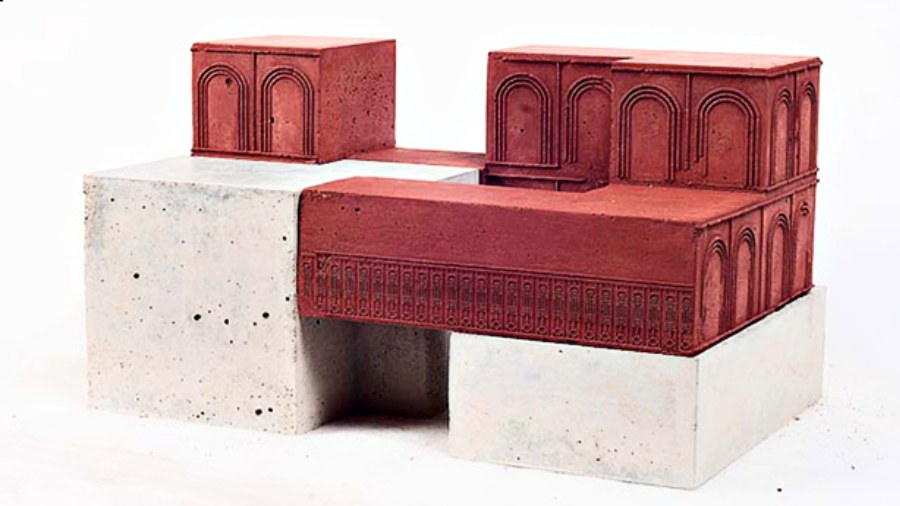 ---
Published 30.04.22, 04:27 AM
|
---
There is now a Wall, said the title of Experimenter's recent Rathin Burman show. The question that immediately comes to mind is, where's "there"? The eponymous work, an imposing 99" x 144" assemblage of 54 panels, refers to a wall that divides a North Calcutta period mansion in two because there's an irreparable family split. Just as in silly, sentimental mainstream films. 
How would the savant-poet react to this? Hasn't his longed-for "heaven of freedom" actually been "broken up into fragments by narrow domestic walls"? Not just in mansions but everywhere, elevating hate, intolerance and revenge in the guise of proud identity?
The stately façade in concrete, coloured a rich terracotta, looks all dressed up for a grand occasion because of the inlaid brass that delineates its features and glints like gold. But instead of happy bustle what you encounter here is the surly silence of shut doors.
From the rigour of lean metal grids to stodgy blocks, from graceful arches and hollows to stairs and shadows, Burman mines a captivating legacy: Mondrian and de Chirico on the one hand and Gaganendranath Tagore interiors, on the other. Social ambience and change are mapped in the signature architecture of a colonial city in transition, rife with interlocking references to history, class graphs, fading ties and time. Unlike the feudal gravity of the mansion that suggests a Permanent Settlement zamindari and collaboration with the Company government, the staid geometry of Notes from Lived Spaces recalls the functional, weathered rectangles of old, middle class localities that still have wooden louvres and wrought iron railings. 
Transience is emphasized again by Transitory Spaces: infirm segments propped up with a metal framework (Situation I), as it were; changed needs prompting the misalliance of incongruous annexes and old structures that are in unconcealed disagreement with each other (Situation III); architectural reminders of demolished homes imprisoned in the grid of new structures as period quotes (Situation II), presuming to trap time. But then, inevitably, the new will age, awaiting the emergence of a new New.