Blending tradition with modernity
A recent soiree in honour of Rammohun Roy, at the Science City Mini Auditorium, showcased quality recitals that have become so rare these days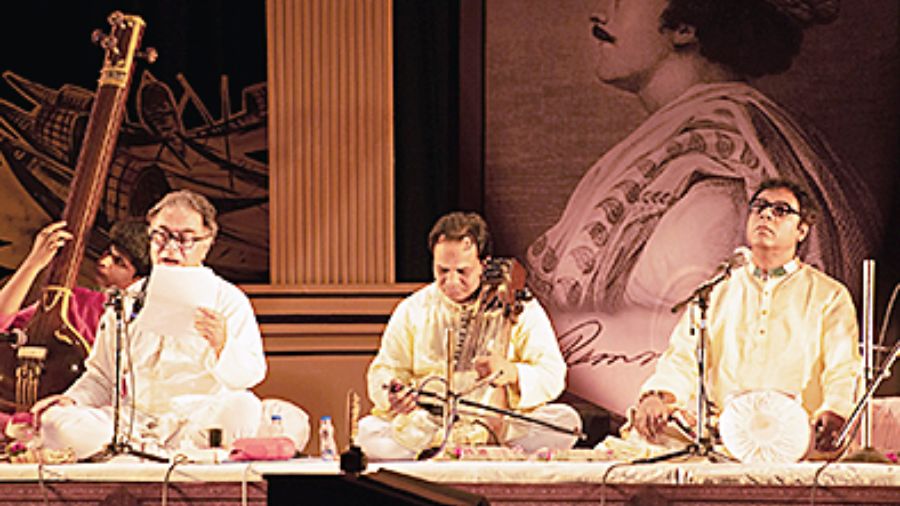 ---
Published 03.09.22, 03:13 AM
|
---
The musical universe of Raja Rammohan Roy melded the traditional with the modern; it was avant-garde, yet went back centuries. A recent soiree in honour of him, organised by the Society for Rammohun Roy Reappraisal at 250 at the Science City Mini Auditorium, showcased quality recitals that have become so rare these days. The art direction of the stage by Joy Chandra Chandra was excellent with cut-outs and props placed aesthetically to match the mood of the event.
The deft finger movements and crackling form of the two percussionists, Mithun Chakraborty and Sudhir Gharai, gave a fillip to the songs by highlighting the complexities of the rhythm — chautaal, jhanptaal, aratheka and so on. While these intricacies allowed both musicians to experiment, they never lost sync with the singers.
The two main singers, Pandit Nirmalya De and Pandit Tushar Dutta, blended Indian classical ragas with the compositional prowess of Rammohan Roy. De let his stirring voice flow through "Bhoy korile jaare" (Raga Sahana), "Tarini tapan" (Raga Shankara) and the difficult "Banshidhar pinakdhar" (Raga Gauri) with its atonal hoverings. Bringing out the beauty of Tilak Kamod in "Kaun rup bane" (with striking similarities to Tagore's "Madhuro rupe birajo"), De gave a distinctive flavour to the songs while keeping the classical style intact.
Dutta lends a raspish timbre to most of his renditions, producing a sound that is both transcendental and comfortingly gritty as he did in the Khamaj composition, "Keno bhole", and in "Tara parameshwari" in Behag. The same goes for the Malkauns composition, "Ohe pathik mon", in which Dutta was full-throated, touching some pleasant sonic notes here and there.
Ustad Sarwar Hussain on the sarangi was largely muted and collaborative, but had a few moments of striking individuality too. Adding colourful vignettes to the compositions were Rantideb Maitra and Gulshanara.