Beyond the ordinary
THEATRE: Kalindi Natyasrijan's festival explores newer idioms at Tepantar Natyagram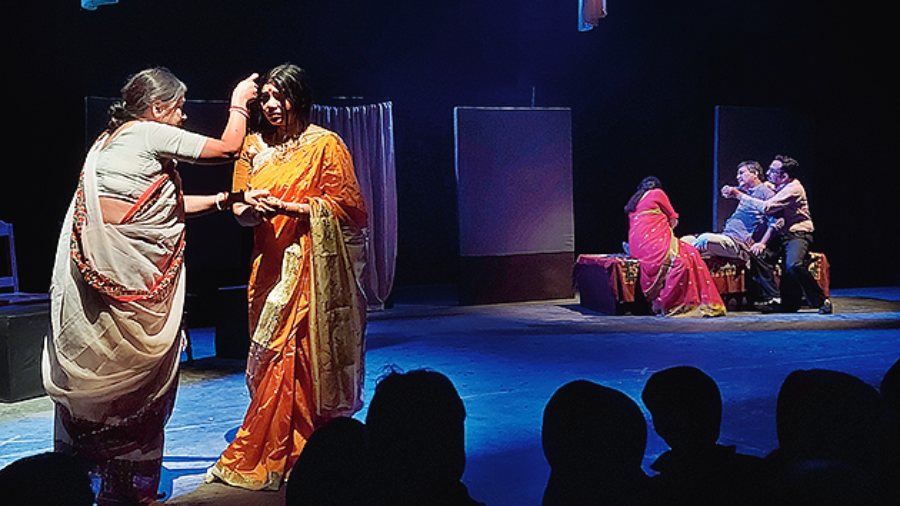 A moment from Samparka
Anshuman Bhowmick
---
Published 16.04.22, 12:08 AM
|
---
Far from the madding crowd, amidst the serenity of bountiful nature, contemporary theatre in West Bengal is looking out for newer idioms. Tepantar Natyagram, a picturesque theatre destination located at a stone's throw from the river, Ajay, at the border of West Burdwan and Birbhum, is fast emerging as a destination where innovative ideas may take root and performances can be held in both open and closed spaces. Kalindi Natyasrijan, a theatre group from the northern fringes of Calcutta, organized Golpo Gathay Natya Mela 2022 (January 26-29) at Tepantar's black box theatre facility. Besides two recent productions by the hosts, the festival offered selected works from the districts, including Pratham Juto Pora (Agami Pragatishil Natya Sanstha from Barjora, Bankura), Na Hanyate (Atmaja from Suri, Birbhum), Macbeth (Phoenix from Malda), Aabru (Souvik Sanskritik Chakra from Dakshineswar), Neel Piritir Phul (Ebong Amra from Satkahania, West Burdwan). This reviewer caught the action from the third evening onwards.  
Kalindi Natyasrijan, supported by fairly competent actors across generations, knows how to play to its strengths. The middle-class Bengali drawing room is its comfort zone and realism with a tinge of melodrama is its style. Both their productions — Khidey and Samparka — spoke volumes about it. Khidey, inspired by a story by Dipankar Biswas that Ashesh Roy adapted for stage, is a suspense drama. A couple (Arup Dutta and Minakshi Mukherjee) with a teenage girl (Arita Malakar) living in an apartment block decide to get rid of stray dogs by poisoning them. The plan works but the whole locality wakes up to this bizarre act. A relative (Roshni Ghosh), the domestic help (Sarmistha Bose), a beggar (Ranodeep Nandy), a group of neighbours (Bilwadal Chatterjee, Achintya Majumder, Biswajit Das) with a nose for mystery, and the police (Arindam Banerjee) intervene periodically to build up the tension. The director, Arup Dutta, sets the drama in the early 1990s when Suman Chatterjee's songs started creating ripples. A little tightening of the falling action would make this a compelling watch. 
Samparka reworks Shyamakanta Das's Parashmani, a slice-of-life drama set in north Calcutta of the 1960s. Three persons living on the sidewalks and engaged in sex work decide to fake a family unit and rent a middle-class apartment. As they interact with the landlord's family, relationships develop and identities start questioning themselves. Negotiating with language registers and enacting the split selves were difficult tasks, but the group does a commendable job. Bilwadal Chatterjee, who edits and directs Samparka, and plays the mastermind, excels in an understated portrayal. Nayana Saha, Minakshi Mukhopadhyay, Roshni Ghosh chip in with strong supporting acts. It was Neel Piritir Phul, a freewheeling adaptation of William Shakespeare's A Midsummer Night's Dream by Ebong Amra, that floored this reviewer. Instead of flirting with the original, Kallol Bhattacharya and his team make maximum use of local history and cultural elements to adapt this magical drama. Oral tradition and beliefs bordering on superstition are incorporated. Stories steeped in the Rarh region, especially the ones recorded in various versions of Dharmamangal, are woven so organically and indigenous performing art forms like leto and alkap are employed so spontaneously that the audience — comprising mainly the locals and some coming all the way from Bolpur and Sainthia — enjoyed the laugh riot. Ebong Amra had attempted many classics in the past, often failing to appropriate the cultural register. With Neel Piritir Phul, the group banks on its forte and optimizes its potential. This is post-colonial Shakespeare at its innovative high.