Between freedom and being unfree
Debraj Goswami's works were inspired by the hot topics of ruthless bulldozers and a distressed Kashmir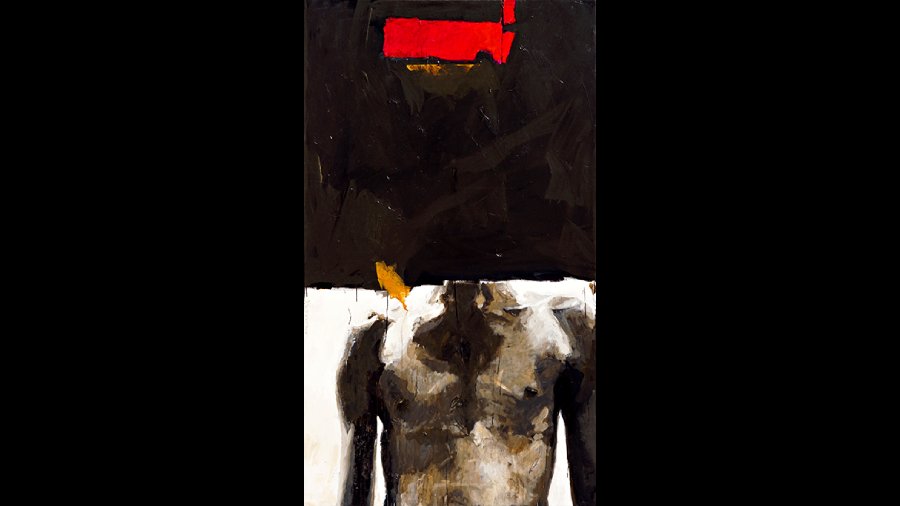 ---
Published 25.02.23, 04:03 AM
|
---
The exhibition, Freedom: From Despair to Dream (On the occasion of 75 years of Indian Independence), curated by Mrinal Ghosh and held at Aakriti Art Gallery (December 28, 2022 - January 28, 2023), may have sprung from a noble thought, but most of the 12 participants seemed to have forgotten the curatorial statement: "… these artists contemplate about the condition of freedom or lack of freedom in general and also in Independent India." The most eye-catching exhibit was Partha Pratim Deb's black-on-black painting, Darker Side, which contrasted with Brighter Side's whimsy. Chittrovanu Mazumdar's faceless man (picture) probably focussed on identity crisis in today's world. Its strength derives from its grey and black palette. Chhatrapati Dutta imagined the fractured Indian subcontinent as a huge tree that had been felled and chopped into pieces. He expressed the idea in a rather convoluted manner.
Debraj Goswami's works were inspired by the hot topics of ruthless bulldozers and a distressed Kashmir. Yet, dissent was expressed in a simplistic manner. During the pandemic-induced lockdown, Pankaj Panwar unleashed his imagination and the resultant drawings were quite strong.
Chandra Bhattacharjee's two watercolours in shades that resembled charcoal were subtle reminders of the tribulations that we have already been through to gain freedom and of the dark future that lies ahead if we aren't careful enough.
Debanjan Roy created a fibreglass Gandhiji, a solitary figure who had the courage of conviction to face the all-powerful raj on the strength of his unflinching faith in ahimsa. Bholanath Rudra painted a similar Gandhiji standing all alone in the middle of nowhere. The Gandhi figure is almost insignificant in the vast landscape.
The rest of the participants were either unaware of the purpose of the exhibition or were not bothered at all. This is not to say that the rest of the works were all weak, but they had no relevance to the theme. Why drag Krishen Khanna's bronze, The Tuba Master, into this? Jaya Ganguly's grotesques were, expectedly, creepy. Samir Aich was interesting. But what about relevance?