Between cosmos and earth
Kallat explores the complex equations that tie the cosmic and the terrestrial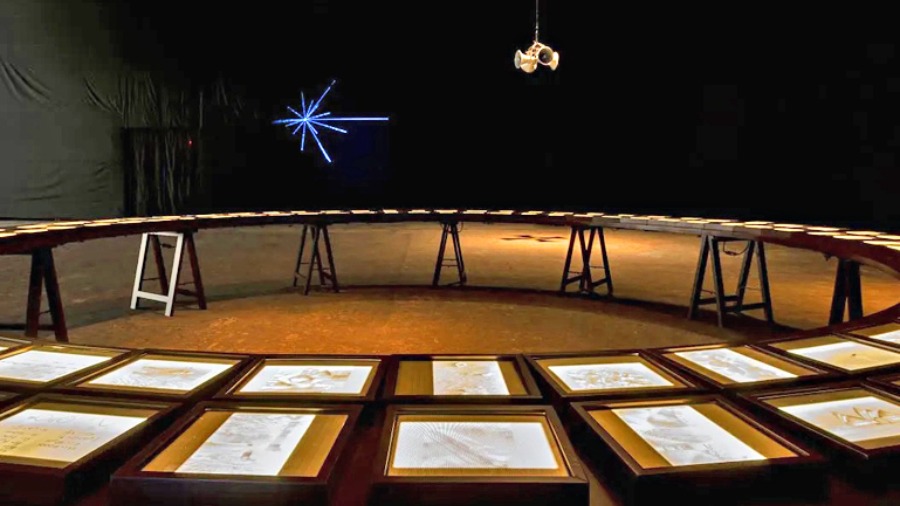 ---
Published 06.08.22, 04:04 AM
|
---
Human beings are insignificant and indispensable when it comes to the universe. This paradox is what Jitish Kallat probes in Order of Magnitude, an exhibition hosted by the Ishara Art Foundation. Kallat explores the complex equations that tie the cosmic and the terrestrial. He draws inspiration from seemingly mundane data, such as the census, and archival images by Nasa for his work. In Covering Letter (terranum nuncius) [picture], for instance, Kallat turns to an archive of images uploaded by Nasa onto the iconic Golden Records that are currently travelling on the Voyager 1 and 2 space missions. If chanced upon by extraterrestrial intelligence, the 116 images that constitute the work will become a summary of life on earth. Kallat attempts to better represent 'us' in a more collective, coherent manner instead of focusing on putting a face to the 'other' against the backdrop of our divisive times.
Then there is Epicycles — a sort of a ledger of seemingly incidental changes that occurred in Kallat's studio premises during the lockdown, such as a fallen tree stem, a dry leaf, or an emergent crack in the wall — which tries to put together a composite portrait of time and transience, ephemerality and expiry. In Integer Studies, the artist tries to triangulate life on earth by repeatedly plotting on a graph paper the population count of the planet at a given moment along with the number of people born and deceased up to that point on that day.
By alternating his focus between the cosmos and the planet, Kallat contemplates the overarching interconnectivity among the individual, the universal, the planetary and the extra-terrestrial dimensions.