As KCC turns one, Richa Agarwal looks back
'Collaborations are very important because it's not possible for one person to come up with so many versatile events — everybody has their own speciality'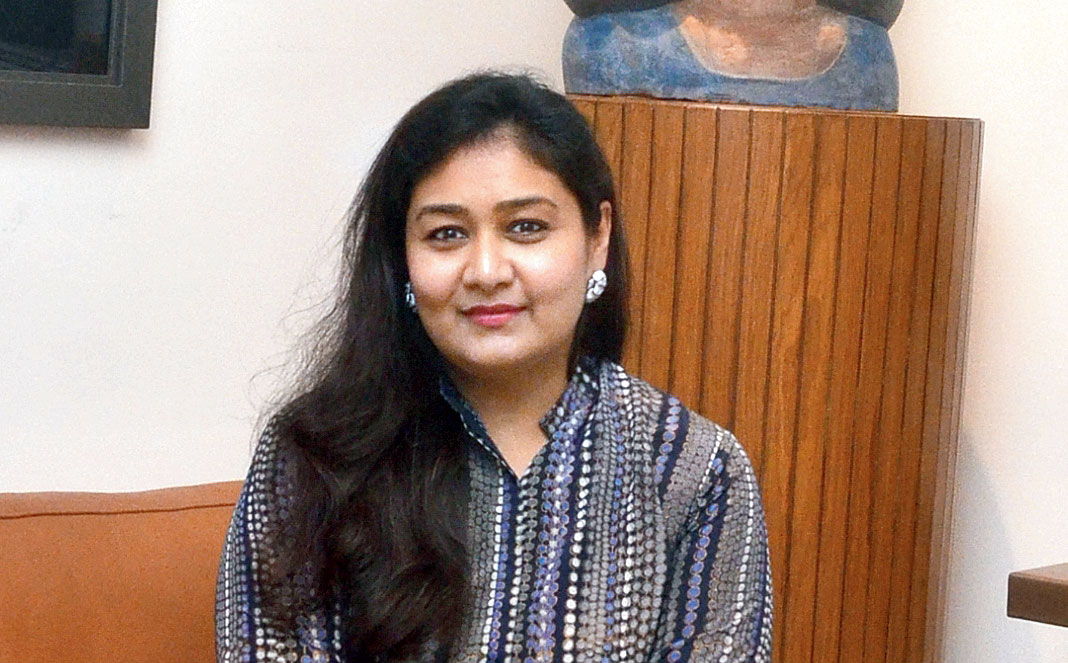 ---
|
Calcutta
|
Published 19.11.19, 03:18 PM
---
One year, 58 events and one six-storeyed expanse housing and honing art in all its forms — that's Kolkata Centre for Creativity, better known as KCC in the art fraternity. As KCC is poised to turn one on November 21, here's executive director Richa Agarwal recounting the year that was, in a t2 chat:
How has KCC in the last one year given a boost to creativity in the city?
I will never dare to say that KCC has done something to boost the creativity in the city, I think we are just like a small speck in the sand, trying to do our own bit and enjoying what we are doing really.
So what have been some of your highs and lows?
A lot of highs and a lot of firsts of everything because it's our first year. A lot of first mistakes that we have also made. But thankfully, with the team we have, everybody is more focused on improvising and doing the right thing. So we make mistakes, fall, pick up and then run again. It's been an exciting year. Personally, it's been a very elevating experience and the different kinds of people you meet have been like soul food to me.
How difficult is it to ensure proper representation of all forms of art?
It's not difficult once you put your mind to it — you just need to be a little organised. So we do have a mandate where we had decided at the beginning of the year, which are the verticals that we wanted to talk about — so it could be a learning event (learning in arts, marketing or even management), it could be our fair share of visual arts or it could also be performing arts, further divided into dance, music, theatre and more. So we have all the genres and most of them have one event that we plan in a month.
In terms of exhibitions, what have been some of your highlights?
I think My Kolkata In Kolkata (a photography exhibition) was very exciting because it was very inclusive. When we talk about creativity, it's important to kind of titillate the minds of those who are not connected to creativity in their everyday lives. We had people who don't photograph, coming and submitting their photographs. I am not a photographer either but even I have taken some good pictures, which I realised later didn't make it to the wall because there were so many other submissions, which were so good! Everything is done by a panel and it's a very democratic process and that's how you also ensure the freshness as otherwise, it becomes an individual's agenda and that is not how it works.
Collaborations are key today…
Collaborations are very important because it's not possible for one person to come up with so many versatile events — everybody has their own speciality. Collaborations are very big for us, in terms of practicality also because the minute you have other people invested in the same event, they bring in their audiences, who speak a different language. We always assure our collaborators our best. Any place is energised by the people who are in it. I can't have a dead space! The more people come in, the more energy and conversation — that's how you grow!
Are you happy with the response you have received?
Some of the shows have been very surprising for us. Two hours before an opening, we have gotten very jittery about whether people would come. But we actually had around 450 people during one such opening and we were so shocked! For a kids' event, we had 20 registrations and 80 people turned up — by the end of it, we were hugging our artwork and saving them (laughs)! Our musical events are also taken so well. It was really exciting and a different kind of a high.
It's been a year with your team as well so as the captain of the ship, how has it been?
I think we have all learnt a lot, grown, and one of our biggest learnings have been to learn to say no — it's difficult because you want to do everything but you know you cannot do justice to everything you take on so it's important to space it all out and take your time to do things right and to understand what we and our audiences reciprocate with. Second, it was important to learn that it was okay to make mistakes.