A long march of wounded spirits
Somnath Hore's idiom is marked by pain and torment on the one hand and a deep sense of humanity and empathy on the other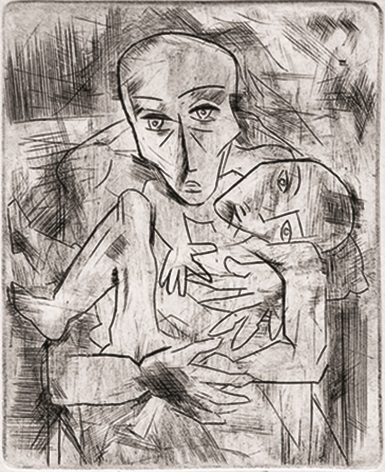 ---
---
One wonders how Somnath Hore would have portrayed the migrants who are trudging home amidst the nationwide lockdown. One of the woodcuts at the show, Somnath Hore: An Exhibition of Prints, at Galerie 88 (the show will resume when the lockdown is lifted), provides a clue. Silhouettes of men and women reduced to burnt-out stubs can be seen walking in a row, sticks and flags in hand. They are part of the army of the starving millions who invade the conscience only during a crisis. Yet, they are the spectres of history who spark revolutions, causing empires to rise and fall.
Hore's idiom is marked by pain and torment on the one hand and a deep sense of humanity and empathy on the other. A witness to some of the great upheavals of the 20th century (Partition, famine, the rise and fall of communism and fascism, the flowering of the Western avant garde in art), Hore distilled his vision of history and mortality into the image of the wound. Wounded bodies, scarred surfaces and battered objects have been integral to his imagination. The hauntingly white-on-white print of Wounds, (Artist's Proof - 1/10), 1977 bears proof of this.
But Hore could also be playful, allusive or teasing when he fancied as is evident from the pieces devoid of both macabre and melancholy — elements that bear his signature style. He shifted among styles with remarkable ease, drawing inspiration equally from Käthe Kollwitz and Pablo Picasso. A master draughtsman, Hore's lifelong venture was to transcend the visual and move into the visceral. So the human body in Hore's work went through a gradual rarefaction: it became progressively emaciated, reduced to skin and bone, and was finally transformed into pure abstraction.
This metamorphosis gains a unique edge, at once sinister and sublime, in some of the exquisitely textured intaglio prints and wood engravings in this show. Etchings inflicted on a surface of mossy green or burnt beige evoke desire and dread and violence. But shapes and bodies seem to fade into the earth, as if to suggest that from dust to dust all suffering shall pass.