Critical query
THEATRE: Drama and verbal wit elevate this play, the audience laps it up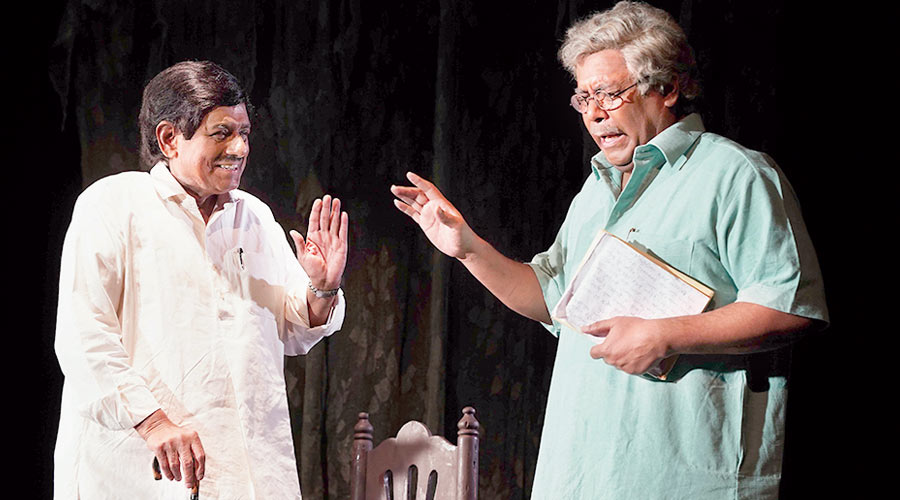 A moment from Pagalpara
[Dipankar Sen]
---
Published 19.02.22, 12:29 AM
|
---
The dramatist, Ujjwal Chattopadhyay, has mined two short stories by Bibhutibhushan Bandyopadhyay to come up with Pagalpara (produced by Purba Paschim and directed by Soumitra Mitra), an incisive exploration of the crisis of a forgotten and virtually failed writer. The uniqueness of Chattopadhyay's masterly text is that it effortlessly breaches the limits of its immediate concern to signal the anxieties and crises of writers and artists in general. Chattopadhyay raises a thorny question that must have exercised artists over generations, including the playwright in him: what makes a novel (or any work of art) sell?
Breaking into relatively new territory, Chattopadhyay richly infuses the drama with verbal wit, verging on the comic. It is this aspect that the lead actor, Debshankar Haldar, uses his formidable experience and supreme skill to latch onto in order to wring out the pathos that marks his character, Harihar Kundu, who is a writer. Haldar, visibly portly and sluggish, ingeniously builds his own handicap into traits of his character so that nothing seems amiss. His propelling of the entire play practically by himself, often reducing other characters to near redundancy, is theatrically problematic but readily lapped up by an indulgent audience. Haldar's measured portrayal of an intoxicated Harihar letting off anguished steam by the riverside is an outright treat.
The director, Soumitra Mitra, has chosen a zonal design for Pagalpara, with the stage sectioned off to indicate locales as well as time. Given the fact that the play does not have many characters, this strategy of having segregated action areas works well — with the pressure to 'cover the stage' eliminated, the actors remain tightly focused.
The opening scene and the Nasubala sequence have been crafted to produce effective visual theatre, which sadly cannot be said of the other scenes that exhibit pedestrian construction. Having Bibhutibhushan fictionalized as a foil to Harihar must have been a stimulating idea on paper, but with Soumitra Mitra failing to imbue the character with adequate substance, the contrast remains largely unrealized.