Imagining a living hell on canvas
ART: Pachpute has a stark and bleak vision and he conjures up a post-apocalyptic world devoid of greenery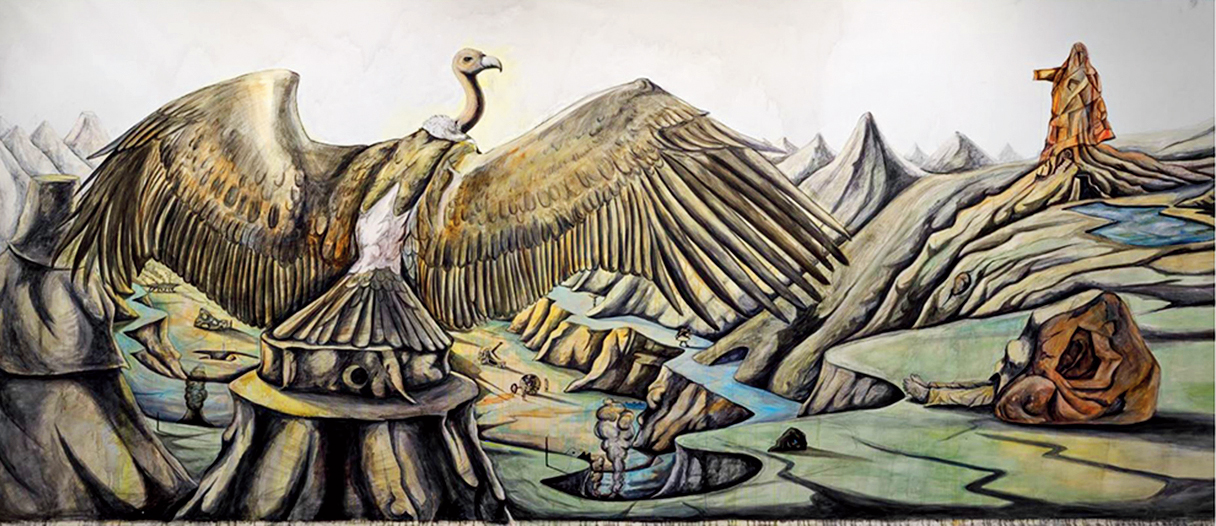 The Relic of Our Time, watercolour and acrylic paint on canvas by Prabhakar Pachpute
(Pic: Prabhakar Pachpute and Experimenter)
---
Published 21.02.20, 11:01 PM
|
---
Prabhakar Pachpute was born into a family of small farmers in Maharashtra. There were others in his family who worked in the mines near his home. He grew up and was schooled in small towns of Maharashtra. "Small" may be the operative adjective when one describes the early associations of this young artist, and although his sensibility developed from his surroundings, his vision has extended far beyond. And this is quite evident from his current exhibition, Beneath the Palpable, at Experimenter, Ballygunge Place (till April 4). Here, although the depredation caused by mining and the dehumanizing effect it has on its workers is the recurrent theme in his installations and set of images, Pachpute looks far beyond geographical boundaries and extends his field of vision to include farm workers and miners of India and the world over.
Pachpute has a stark and bleak vision and he conjures up a post-apocalyptic world devoid of greenery, where the barren, unyielding ground is dominated by bizarre formations resembling humans and beasts that have partially metamorphosed into predatory machines or vice versa. They also turn into spiraling structures like a snail's carapace that seem to have materialized from paintings of the Tower of Babel, a symbol of a collective of humans as well as hubris, cut down to size by a wrathful divinity. Pachpute is a sculptor by training and he mostly uses material that can be located at the sites he depicts.
He does the same when it comes to his giant charcoal drawings that stretch across a room. He uses bolts of canvas for his drawings, with a uniform background that looks as if ground brick has been rubbed on it, thereby imparting to it the look of reddish laterite soil. These have a theatrical effect, like the backdrops of folk theatre Pachpute may have witnessed in his growing up years.
It is the kind of inferno that a Salvador Dalí or a Hieronymous Bosch would dream of, although Pachpute is far more restrained in his depiction of a living hell, and his range of imagery, too, is far more limited. But the soul-killing condition that Pachpute has in mind is quite the same.
Thus, machines sprout legs and arms, and rock formations turn into a human visage with mouth opened wide in a silent scream. In a small drawing, one among several, an equine figure sprouts a giant boulder on its back. The horse is recreated in a sculpture in which the beast has turned into a mine complete with a shaft. Behind it is a panoramic view of mounds of earth like giant anthills spouting fire and brimstone. Runnels flow out of them like molten lava.
By sheer coincidence, those figures in hazmat suits spraying insecticide are eerily reminiscent of the pictures that are being transmitted from a China plagued by the novel coronavirus. It is as if the Black Death is visiting us once again at a time when man thinks he has made giant leaps in science. In another wall-to-wall drawing, death is an immediate presence in the image of the vulture looking down on a scarred and ravaged mining site, its outstretched wings holding the wasteland, as it were, in its deathly embrace (picture). It is a prescient warning of what's in store for us.