Blurry. Semi-lit. A wash of sunshine. The images of Within... From Within are hauntingly captivating, pregnant with poignancy. The series of six short videos is a result of the coming together of Raw Mango, Kathak pro Aditi Mangaldas and #ARTMATTERS (an initiative of Teamwork Fine Arts Society). The idea is a fundraiser for the artists who have been rendered jobless by the pandemic.
We caught up with Raw Mango's Sanjay Garg and Aditi Mangaldas who has conceptualised, choreographed and directed the videos.
Aditi Mangaldas
How have you been? How has the life-shifting pandemic treated you?
I have been well, thank you. The sense of anxiety slowly dissolved into acceptance, adaptation and slowly transformation took over. I belong to a small number of privileged artistes who can think of artistic endeavours, for which I am so grateful. There are many wonderful artistes in India who are struggling for their survival. I am lucky to be with my family at home and very blessed to be with my dance family over the Internet.
Where have you found your solace?
My first reaction was to reach out and touch people, even though virtually, by sharing dance online. People from as far as Peru responded! Which brought a sense of belonging and sanity in this unprecedented situation. It also helped me to get completely involved in dance — regular rehearsals with proper schedules and to find that creative spark within the current environment.
I think once the anxiety dissolved, the process took over and we have found new ways of communicating. After all, I am a Kathakar. So though my stories may have changed, my way of communicating the stories may have changed, I am grateful that the stories are still a part of me.
Have you been practising Kathak every day? That surely must have helped you retain your sanity?
As I mentioned earlier, much before the lockdown was announced, I had set down a routine. I do practise Kathak every day over the week, we have Zoom classes with the Drishtikon (Aditi Mangaldas Dance Company — The Drishtikon Dance Foundation) artistes, we have regular meetings with the office, we have organised interaction on different artistic platforms and keeping involved in dance activity keeps one's sanity for sure. Through riyaz one suddenly finds the bud in one's heart opening and blossoming!
What new art forms have you explored in this lockdown?
The lockdown came as a sudden bolt from the blue and initially one was shell-shocked. Realisation dawned that the virtual medium was the only medium by which we could communicate and one had to adapt to this new reality.
It is an interesting process to learn about light, camera angle — to shoot as though the eye is roving over the performance. New challenges bring new creative inspirations. To find different ways of communicating dance has been my major concern and inspiration. Film? Video? It's quite a new medium that I have discovered!
Within… From Within is innovative. Why did Within (an earlier production from 2013) seem apt to adapt to these challenging times?
Within is about an interplay of brutality and humanity within each of us. It is very disturbing to begin with but it shows us a way towards humanity. "To understand yourself you must create a mirror that reflects accurately what you are... Only in the understanding of what is, is there freedom from what is" says J. Krishnamurti.
In these uncertain times with seeming darkness around us, I felt compelled to be guided by the positivity that Within ends with. Even in the most dire circumstance, there can be light at the end of the tunnel.
By looking within, finding the right mirror to reflect our fears and anxiety — we could be free of them. Within offered us a way out, a way towards sunlight, a way towards beauty and love and back to maybe a new normal? Back to our humanity.
Can you take us through both the productions?
The original Within was a full-length work of over 120 minutes. We have taken the essence of that but related it to our current reality. Each artiste of my company contributed towards the making of these short films that reflect an essence of the original Within but that explore many more conflicting and diverse experiences as every member is within the confines of his or her home… and each film is just about 60 seconds-plus.
How different was this experience? What were you expecting the challenges to be? What was the most enjoyable part?
First we need to be able to transform a shared art, a simultaneous art like dance onto film. The challenge itself, in fact, was the inspiration for every member — how do we communicate our story on film without loosing either the essence of the original Within or the new reality? This challenge was what brought us a ray of sunshine — many little creative saplings grew — I am so grateful for that.
As an artiste, what will be your new normal?
Honestly, I am not thinking about the future right now. Just living each day. The return of dance to theatres or a live audience is many months away. By then, what dance will be left in us? What transformations will the dance have undergone?
So it's an unanswered question but we have to accept the reality and wait for whatever the new normal is and I am sure artistes will find their new journey and reimagine their art in the new tomorrow.
Nothing, however, beats the magic of a full auditorium, right?
Yes, what can beat the applause of a live audience! But theatres will open — humanity has in the past passed through difficult times — the World Wars, the Spanish flu… and yet the arts bounced back.
There may be change, but art is about being awake to that change, right? To be awake to the now, respond to the now and breathe the air of today.
Art can heal. What will be your message for your fellow artistes?
Art must always respond to the pulse of now. Accept, adapt, transform, find freedom, passion, abandon — let the creative spark turn into a fire.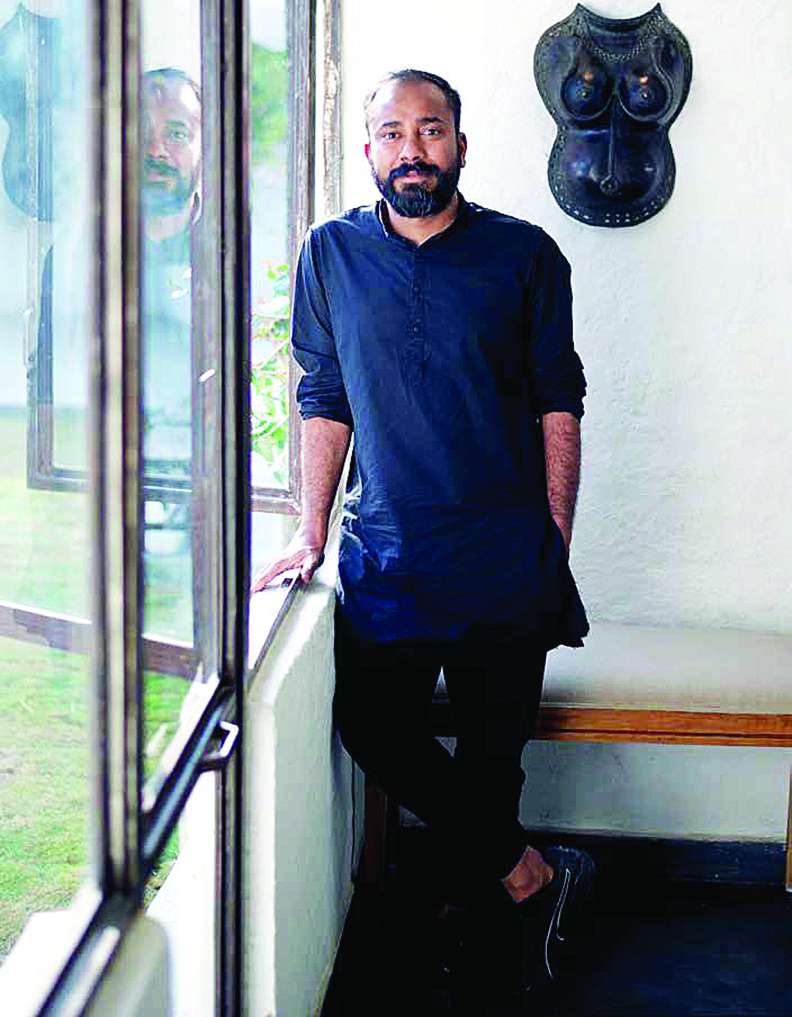 Sanjay Garg Sourced by the Telegraph
Sanjay Garg

Last time we spoke to you, you were having a tough time dealing with the lockdown. Hope you are doing better now. How have you coped?
Like many, I found myself going back to the things I love: went through many old and new recipes, planted many trees, watched countless documentaries and, most importantly, I was able to make time to rest.
Have you resumed work? What kind of safety measures have you put into effect?
We have been staggering our working capacity in accordance with government guidelines — those living in-state have resumed work for the moment. In the workplace, we have enhanced our health and safety protocols in guidance of health organisations as we begin to gradually and safely reopen our stores to protect our teams and customers. Some of which include the use of studio-stitched mulmul masks, health checks, regular sanitisation and social distancing.
It will take some time getting used to — just like I did with Zoom! It is a new normal for sure.
What has been your coping mechanism as an entrepreneur to deal with the pandemic and its far-reaching after-effects?
To go as slow as possible — we are producing the minimal amount to sustain our teams and artisans.
How people shop is set to change. How ready is the Indian art and craft sector to deal with it? Will this pandemic have any effect on your design psyche?
At Raw Mango, we usually have at least four collections to launch — this number will be reduced to two this year. The overall volume and buying patterns of consumers will impact the industry for a long time — I am not sure how ready anyone is, but I have great faith in the human capacity to rise, create and evolve.
Coming to Within… From Within, what was the genesis of the project?
During a conversation with Aditi (Mangaldas), she mentioned many artistes and performers have been left without a source of income during this time, and most importantly, without any glimmer of hope of a future where theatres and cinemas are open again.
In India, art, design or fashion were never seen as separate entities — you can't see them in a compartmentalised silo. Kala is a by-product of all forms of artistic creation — one should support the other. I am very glad to be supporting this project.
How did the collaboration with Aditi Mangaldas come about?
Aditi's performance at our Baithak in Delhi (Raw Mango's 10th anniversary celebrations) was our first collaboration. For her dance has been an expression of the times, an exploration. The way she has reimagined and questioned the norms within Kathak is inspiring. She depicts the art's evolution over time, shown in a continuum with the present and link to the future — there is a strong connection between narratives in this regard.
Art has the incredible power to soothe. What's comfort art for you?
Art strikes a chord — it touches deep, hidden emotions that could be in the form of anything — laughing, guilt, discomfort, or crying. It is all-encompassing. I tend to be drawn to folk art, and antique sculpture... within these broad categories I find pockets of comfort and joy.
Finally, what is the message from your within to your within?
Everything happens for a reason, even if it's negative. How will we evolve with time? We don't have control over many things, so how do we cope and coexist?