Against all odds
Kaagaz ke Gubbare, a theatrical piece directed by Anubha Fatehpuria, is true to Ismat Chughtai's resilient and joyous world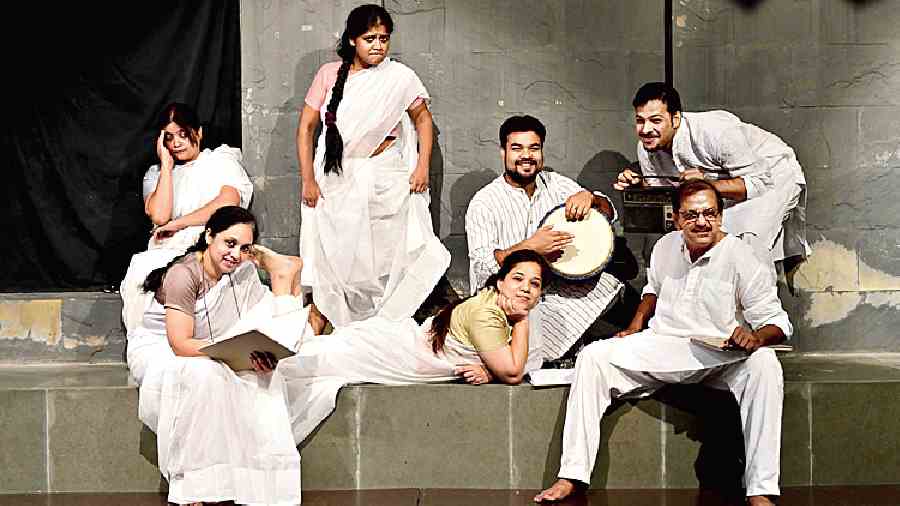 ---
Published 17.12.22, 04:27 AM
|
---
In her writings, Ismat Chughtai created a world where women could be unabashed about their desires, could be playful without a care, could care for a room of one's own, and could suffer loss with the urge to live. Kaagaz ke Gubbare, a theatrical piece directed by Anubha Fatehpuria, is true to Chughtai's resilient and joyous world. Fatehpuria stitches a vibrant patchwork with snippets from Chughtai's memoirs, interviews, essays and six short stories. Audio clips, dramatised readings, percussion, embodied performances, songs and poetry are fascinatingly orchestrated to mount a multi-tonal aesthetic experience.
I was ushered into an intimate community where the performative acts were anchored to literary texts and, yet, appealed with a theatrical language of their own. Interestingly, Chughtai is also present as a character in Kaagaz ke Gubbare — she observes, contradicts, assures and listens to her own characters. This theatrical layering allows the audience to acknowledge the subjectivity of the writer as well as to understand her position in relation to the forces around her. Rather than being a mere representation of her stories, this piece offers an extremely sensitive reading of Chughtai's compassion for, and faith in, the world of women.
The choice of music, spoken language and references to rituals situates the narrative in a specific cultural and socio-religious ethos. Yet, all kinds of biases and stereotypes are dismantled by the nonchalance of the characters that are powerfully portrayed by the performers. Fatehpuria creates a unique design by choosing white sarees and pastel blouses for the performers as opposed to Chughtai's riot of colours. In her note on the title, Kaagaz ke Gubbare, Fatehpuria says how the white kota sarees evoke a papery feeling and the colours of the blouses are inspired by the flame that is lit in paper lanterns, propelling them to fly high. Much akin to this beautiful metaphor, the women in Kaagaz ke Gubbare echo Chughtai's solitary voice that celebrated women finding their wings against all odds.