A contemporary touch
Local theatre groups with support from Union ministry of culture have consistently brought in ensembles from countries closer to home to fill vacuum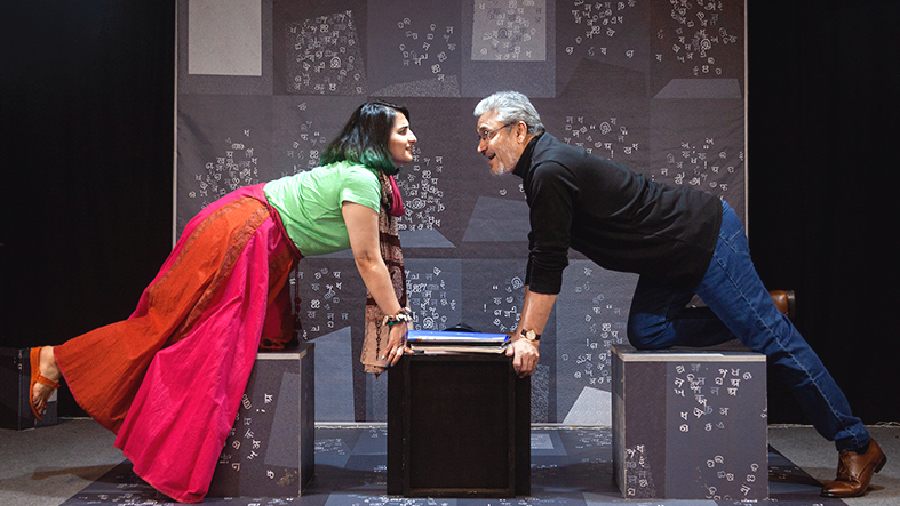 Scene from Shabdanchi Rojnishi
---
Published 03.12.22, 03:21 AM
|
---
Gone are the days when winter arrived in downtown Calcutta with the prospect of experiencing performance arts — be it music, dance or theatre — by groups from across borders, both national and international. The third week of November saw the Festival of Russian Culture in India. While music and dance hogged the limelight at Rabindra Sadan, theatre was missing. However, local theatre groups — with support from the Union ministry of culture — have consistently brought in ensembles from countries closer to home to fill the vacuum. 
Alternative Living Theatre's Para Porshir Theatre festival lived up to its name by inviting Htwe Oo Myanmar Puppetry Home from Yangon. The tradition of string puppetry exists all over Southeast Asia. The manner in which local narratives are translated into this highly sophisticated art form found a delightful display on the inaugural evening at Madhyamgram Nazrul Shatabarshiki Sadan (November 18). The two-member group, led by the artistic director, Khin Maung Htwe, and supported by the young Thet Paing Htwe Oo, used a dark backdrop placed centre-stage to demonstrate skillful manoeuvrings of six-string puppets. Although the tradition is dying out, the flexibility of indigenously produced puppets operated with remarkable agility left a mark. With a pre-recorded track playing, the piece with a horse transported us to an era when Buddhism.
Kasba Arghya's long association with Natakghar, Pune, reaped dividends at the inaugural session of Lokorango Phase II at Padatik Little Theatre (November 9). The intimate setting was adequate for the staging of Shabdanchi Rojnishi (picture). Originally written by the Calcutta-born Ramu Ramanathan, this Marathi adaptation of an urban fantasy on the loss of language in an aggressively homogeneous world by Amar Devgaonkar saw a richly layered treatment by the director, Atul Pethe. The action opens on the 321st floor of a high-rise; we are gradually drawn into a conversation involving a language archivist (played sensitively by Pethe himself) and a linguist (Ketaki Thatte) with a flair for extinct languages. The production makes fantastic use of animation projected on the screen that doubles as a wall. It also helps release the claustrophobia that permeates the play, yet leads us to introspect on the killing effects of technology as we enter the 5G regime. Pethe's versatility as a director is impressive.
Meanwhile, the headquarters of two sections of the Indian Railways situated in Calcutta made no bones about their fascination for tenders and red-tapism in bureaucratic circles. While Eastern Railway invited Delhi-based Mitr Rangmanch to perform Taj Mahal ka Tender at the Dr. B.C. Roy Auditorium, South Eastern Railway showed more intent by inviting the National School of Drama's Repertory Company to stage the same at Kala Mandir. This Ajay Shukla satire has seen numerous adaptations over the last three decades. Its innate flexibility allows any director or actor worth his or her salt to insert words and phrases suited to a contemporary register. When applied with precision, such insertions are sure to bring the house down.
I missed the Mitr Rangmach show as it was delayed inordinately. The NSD production, directed originally by Chittaranjan Tripathy, has seen numerous upgrades since I saw it first more than two decades back. The latest one, performed by new recruits, packs all the punches into a thoroughly professional display, leading to wholesome entertainment. The repeated use of "Bharat jodo" worked wonders before a politically conscious audience.