Art of commitment
Read more below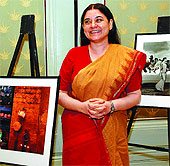 ---
Published 06.08.05, 12:00 AM
|
---
You?ve heard about Maneka Gandhi, the scorned daughter-in-law? And you?ve seen pictures of Maneka the minister. And, who hasn?t heard about Maneka, the fiery animal rights activist? But what about Maneka Gandhi, promoter of the arts?
Yes, that?s right ? up to a point. The lady who memorably stormed out of Mrs Gandhi?s house and then went on to build her own career as a politician and animal rights activist, is now a patron and promoter of the arts. Two weeks from now she?s hosting a mammoth photography exhibition with 2,500 shots by more than 250 star lensmen. Of course, all her forays into the arts have been to rake in cash for her People For Animals which runs hospitals around the country.
Gandhi is certainly more than just a photogenic face. She has persuaded some of the country?s biggest names to put their works on show. Ace photographer Raghu Rai helped her to put together the show that?s called The Incredible Moment. And another star shutterbug Atul Kasbekar made sure that the Photographer?s Guild was helping her all the way.
This isn?t the first time that Gandhi has thrown herself wholeheartedly into the bustling art world. In fact, she?s been making occasional forays into the sector ever since 1991 when she put together a giant-scale art show where over 250 artists displayed their works.
In yet another exhibition of painters, she brought together 15 of the biggest artists of the country under one roof. Says Gandhi, ?The art community is a very generous one. Which is why we could bring down the prices of Anjolie Ela Menons and M F Husains, Jogen Chowdhurys, Sanjay Bhattacharyas and Manu Parekhs to a level of Rs 40,000 each. The result was that the show which was supposed to start at seven in the evening saw people streaming in from eight in the morning and 640 of the exhibited 670 paintings were sold out on the first day of itself.?
Next she decided to take up pottery. ?I was very keen on pottery and have been collecting it since I was 18. We got hold of 180 potters including big names such as Daroz and Christine Michael. And we sold Rs 23 lakh worth in one day where everything was priced reasonably from Rs 100 to Rs 300,? she says.
Gandhi followed up the pottery exhibition with a show on candles. Actress Dimple Kapadia?s candles. ?We had 8,000 people at the opening and sold Rs 37 lakh worth of candles on the first night at prices ranging from Rs 50-Rs 5,000.? And a fashion exhibition with 33 Indian designers who made 10 T-shirts each. ?Here, you got a Tarun Tahiliani or a Neeta Lulla for Rs 400 only. Isn?t that a steal?? says Gandhi who?s worked with designers Ritu Beri and Rohit Bal for her PFA campaigns.
Ask her why she chose the arts and she smiles, ?People like buying them. We?re good at selling them and try to keep them at a level where everybody?s happy. The buyer is happy as it turns out to be a bargain, while we are happy because we get enough money for our hospitals.?
The images for the present exhibition now find pride of place at 14, Ashoka Road, where Gandhi has even put up eco-friendly cardboard stands from Ahmedabad. ?They?re all over the house. This show will be special because when I started with it, everybody announced that photography doesn?t sell. I could not agree. The same photographers that you don?t care about here sell for $2,000-$6,000 abroad. It?s only a matter of time before their worth is known and I think the time has come,? she says.
Sure enough, the images seem to be moving quickly. ?As of this morning I?ve sold Rs 55 lakh worth and the exhibition isn?t even underway. We have a crore-and-a-half worth of images. None of our exhibitions have ever raked in less than 80 per cent,? smiles Gandhi. Where will all the proceeds of the show go? Towards the making of the first animal hospital in Kerala by the PFA.
?Any exhibition, is a fundraiser for the PFA,? she says. ?Since PFA started, we?ve always needed money. Few people in India donate easily. So we?ve always had to think ahead and plan fundraisers that would attract people,? she explains.
The fascination for this art form however doesn?t stem from any personal experiences behind the camera. In fact, far from it, for Gandhi says she has never owned one. But the 49-year-old says she has always been fascinated by the image game, ?I?ve always been interested in photography even though there are no photographers in my family. It?s always been at the back of my mind. Only photography can capture an ever changing India, an India that is so enchanting, so incredible and where we live on the edge of madness.?
This draws her memory back to days in the Cabinet when she was the Minister of Culture. ?The first proposal I made was for a museum for photography. I wanted to start documentation in a proper museum because we?re losing a lot of historical photographs. We are going to forget what India?s been like soon as it?s changing so fast,? she says.
Land was acquired in Bangalore for the museum and a small committee of photographers, art buyers and art historians was set up. ?I wanted to put photography on the map of art. But I left my job and nothing happened,? sighs Gandhi.
Inevitably, Gandhi has always been surrounded by the whiff of controversy. In the Vajpayee ministry she was shunted from the culture ministry to the Ministry of Programme Implementation and Statistics. Also, there were hints that her sister-in-law and Congress Party president Sonia Gandhi had a hand in her removal.
But not a crack appears on Gandhi?s cool veneer as she parries references to controversies that she?s been linked to. For example, her accusations of South Korean diplomats? involvement in the disappearance of stray dogs in Maharani Bagh that caused a minor diplomatic row. ?A controversy is something where there are two points of view. This isn?t a controversy. These people were guilty. They were caught in Chennai later for the same issue. In fact, it used to happen right behind my house in Maharani Bagh,? says Gandhi who has 11 stray dogs inside her house. ?They share space with me,? she smiles as she adds that she?d like to add a pig to the coterie.
Gandhi has, over the years, had many reincarnations. But the lady who was born to a Sikh family and educated at Lawrence School, Sanawar, is always eager to deny that she was ever a model. Fresh out of school she had posed for a few ads for DCM towelling. ?I was never into modelling. It is a myth created by the media. At that time I was engaged to be married. My aunt happened to make an offer for the campaign. So I said yes to it,? she says.
An author of 11 books including those on Sanjay Gandhi, the mythology of Indian plants, animal laws, Hindu names and Muslim names, she is putting together articles that she?s written for newspapers during the past few decades. With exhibitions that are held once a year, looking after animal hospitals that have cropped up across the country, handling her constituency (Pilibhit in Uttar Pradesh) and being a member of a political party, there?s lots to do.
Confesses Gandhi, ?At times it does drive me mad. There are 500 other things going on together. But at the same time, you are saving a life, reducing pain whether it be for a child, an animal or a family. It gives you a feeling of elation that nothing else can bring you.?