An offbeat act
Tabu's the enigmatic star who delivers power-packed performances and refuses to play by Bollywood's rules, says Susmita Biswas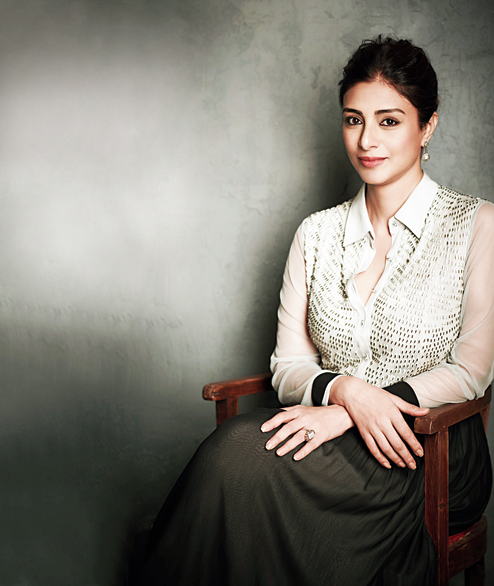 ---
Published 13.09.15, 12:00 AM
|
---
She's the unstarry star who vanishes from public view when she isn't onscreen. The ethereal beauty has earned
the label of being a serious, sensitive actress. But she doesn't take all this very seriously. On the contrary, she has always refused to play by the rulebook and chosen to create a space of her own. She laughs boisterously when asked about the mystique around her personality: "All this heavy-duty funda which is associated with me is a creation of the media. But in real life I am not what you see onscreen."
It's easy to be won over by Tabu who can melt hearts with her warmth and friendliness. After spending 30 years in the film industry, she insists she's still learning every day and wants to try out new things. She's famous
in the industry because she has never been on a signing spree. Off-screen she is fun, loves to laugh, has a great sense of humour and loves out-and-out mainstream commercial cinema.
In the film industry everyone testifies that she pours her heart into whatever she does. She says: "I like to challenge whatever is possible. I am not a believer in set rules but work hard to make things happen."
Certainly, her screen efforts are paying off. She has garnered heaps of critical acclaim for Vishal Bhardwaj's Haider and the more recent Drishyam in which she played a tough cop. Now, she's gearing up for her upcoming release Missing, a psychological thriller directed by newcomer Mukul Abhayankar. The film which also stars Manoj Bajpai and Annu Kapoor is being jointly produced by director Neeraj Pandey's Friday Fearworks and actor Manoj
Bajpai. She says: "The film was shot immediately after I finished Haider. The experience was quick as it got over in 20 days in Mauritius. It's a whodunit involving two people that unfolds in a hotel room. Manoj is an old friend and it's been a pleasure to work together after Ghaath and Dil Pe Mat Le Yaar!!"
In the aftermath of Haider and cop saga Drishyam, moviemakers have been courting her assiduously. And the role that's keeping her busy is eccentric Miss Havisham in Abhishek Kapoor's Fitoor, which is an adaptation of Charles Dickens' Great Expectations. In Fitoor,Tabu has recently replaced Rekha who was earlier supposed to play the Begum who is based on Dickens's famous character. Tabu refuses to talk about Fitoor and says: "I'll have plenty to say about it once the shooting's done. Right now, I cannot divulge too much." The film will release early next year. She will also be seen in a special guest appearance in Talvar, a fictional tale based on the Aarushi Talwar's murder case directed by Meghna Gulzar which releases next month.
Tabu with her taller-than-average frame and brooding eyes has always been a muse for thinking directors in Bollywood like Gulzar, Vishal Bhardwaj and Madhur Bhandarkar. Mira Nair had once famously said that "Tabu is India's Meryl Streep". The actress herself says modestly: "I just enjoy the process of bringing a character alive. But finally, a film is a director's vision. I can only speak about my part in it. I always like to reinvent my comfort zone."
But that's not the entire truth. A long time ago she became the first choice for many filmmakers when it came to women-oriented subjects. She herself doesn't remember when she started getting slotted in these women-oriented roles and says: "I don't understand why they say it is good time for Hindi film heroines. It's just a sign of the audiences' willingness to accept new stories."
In real life too Tabu doesn't have role models. "The fact is that I never wanted to take up acting. But since it happened by chance I never had any role models or reference points. Acting is more of an experience and it just happens."
Interestingly, Tabu has played in the Hindi movie versions of two of William Shakespeare's most memorable female characters. First, there was Vishal Bhardwaj's Maqbool in which she played the Hindi screen's Lady Macbeth and recently Gertrude (in Haider an adaptation of Hamlet). But she confesses she has never read Shakespeare and her only introduction to the Bard has been via Vishal Bhardwaj.
Since Tabu didn't harbour starry ambitions so obviously she didn't go to a film school to learn acting. "I don't know what method acting is. I have picked up acting mostly on the job. I got into movies by chance and timing," she recalls, adding that she has no regrets about turning down movies in which she thought she wouldn't fit. "Sometimes I go with my inner instincts and internal barometer when I sign a film."
Few actors can match her resume of path-breaking films. That's mainly because she has been extremely choosy about the films she does. But she doesn't like to look back and assess her own filmography and the different types of roles she has played. She reflects: "I wish I could assess it all and have an objective view of it. But I feel it's always my audience who must assess what I have done. For me it is difficult to review it because I have been part of that filmmaking experience."
Her reasons for being choosy have been many. Sometimes it was the role which did not appeal and at other times the dates didn't suit her. Nevertheless, she has definitely built up a credible body of work. She pauses to think and then says, "The priorities are different for every film. How I choose a film depends on my priorities at that point in time. You can never gauge the potential of a film before it is done. I can gauge the artistic merit of my role. Even then you can never understand how it is going to turn out and appeal to audience before it is completed."
Her tryst with Hollywood has been no less interesting. She has acted in Mira Nair's The Namesake and Ang Lee's Life of Pi but the reclusive actress loves being in Bollywood as this is where she started and doesn't want to pack her bags and shift to the US.
Tabu's family, which was based in Hyderabad, did have a few links with the movie industry but was never really a part of it. Shabana Azmi's her mother's cousin. Another closer link was Tabu's elder sister Farah Naaz who was an established Hindi cinema actress. And Tabu's (her full name is Tabassum Fatima Hashmi) first brush with the film world was when she accompanied her sister Farah to the sets during her school vacations. She first did a small role in Bazaar in 1980 at the age of nine. Years later in 1985 she was picked by Dev Anand to play his onscreen daughter in Hum Naujawan.
Her debut as a lead actress came later in a Telugu film Coolie No 1. But it was Boney Kapoor's big budget films Prem and Roop Ki Rani Choron Ka Raja that she signed for her Bollywood debut. Both the films tanked but her career took off in spite of the losses. As a leading lady, she came into prominence in Vijaypath opposite Ajay Devgn which brought her laurels.
Tabu who doesn't like to look back says: "I don't like to look back except when I meet people whom I worked with at that time. But of course I remember my first shot back then. I was 16 when I did my first shoot for Prem. It required me to climb down 50 steps without looking up. It was really unnerving."
However, it was Gulzar's Maachis in 1996, based on the Sikh insurgency and Hu Tu Tu (1999) that tapped her acting potential to the fullest.
Years later, Madhur Bhandarkar's gritty film Chandni Bar in which she played a bar dancer took her to another plane. But she displayed her acting skills to the fullest in films like Mahesh Manjrekar's Astitva and R Balki's Cheeni Kum. And in between she also juggled mainstream films like Aamdani Atthanni Kharcha Rupaiya, Chachi 420 and more recently Jai Ho. Of the many films she has done, she counts Vijaypath, Maqbool, Biwi No. 1, Virasat and Cheeni Kum as her topmost favourites.
Tabu (recipient of two times National Award for Best Actress), who's sometimes labelled as unapproachable, knows how to keep her private life away from media glare. Her biggest pastime is to spend some me-time at her house in Mumbai. She breaks into peals of laughter and says, "I am a very boring person, not an avid reader and love to waste my time just being at home."
Though there's not that much left for her to prove, she knows that she has evolved since her Ruk Ruk Ruk days in Vijaypath. She repeats that she's always looking ahead. "I am always at a loss when asked about my growth as an
actress. It's best for my fans to judge." And yes, audiences are waiting with bated breath for her to spring a surprise on them once again.