An Equal Music with Calcutta's own ensemble
The driving force behind it is Fauzia Marikar, a teacher, performer and music critic who has made her home in the city from her origins in the isle of Sri Lanka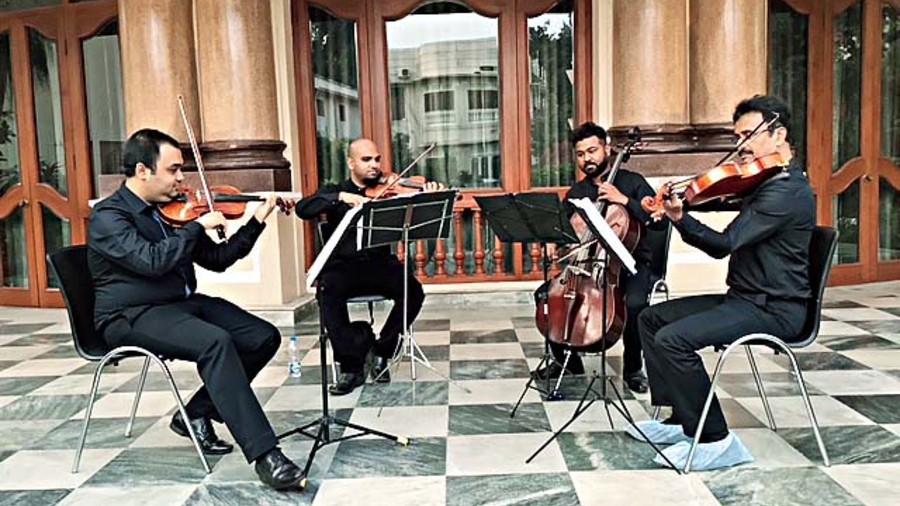 The Effem Ensemble
Rita Bhimani
---
Published 30.03.21, 12:59 AM
|
---
Calcutta has over the decades been home to some large orchestras — its own symphonic groups and in recent years, visitations from the Czech Republic with its own Calcutta connect conductor. Musicians of calibre have performed and graduated with the highest honours and music has been played in concert halls, churches, in quartets at hotels, in the dramatic backdrop of the Victoria Memorial and so on.
Music schools, specialised institutions, examinations at the highest levels, performances galore, countless dedicated teachers and a huge tranche of aspiring music students make up the musical DNA of the city.
The lockdown was a big disruptor of musical and other cultural activities. Yet, the spirit of musicianship and the desire to perform was alive, as we realised being witness to, in recent times, a concert presented by an ensemble in the verdant splendour of a private home.
Known as the Effem Ensemble, we discovered that the driving force behind it is Fauzia Marikar, the ensemble taking its name from her initials. A teacher, performer and music critic who has made her home in Calcutta from her origins in the isle of Sri Lanka, where she grew up in a musical family, she has been part of Calcutta's music scenario for decades now. And today, not being able to get out of her home easily after major surgeries, she has a group of dedicated students who learn in her home and perform whenever they are ready with a presentable repertoire. 
We often glory in our European chamber music experiences, but to have something right here in the city is a boon we cannot ignore. All it needed was an originator-music teacher, a facilitator-music student and a group of committed musicians and the stage was set for music share with an amalgam of aficionados.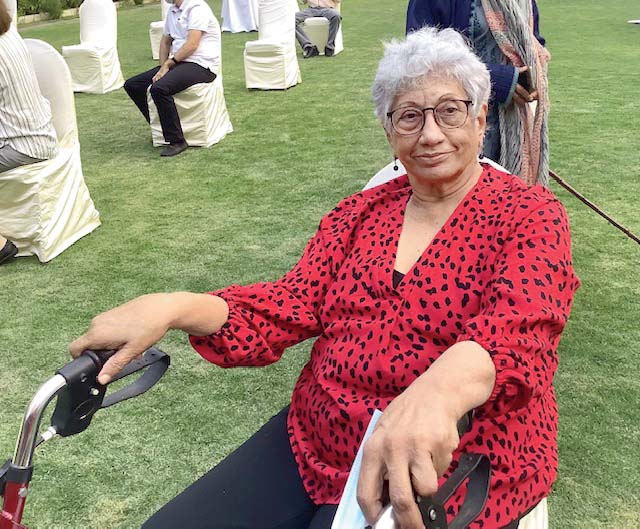 The originator, Fauzia Marikar, dreamed up Effem Ensemble in August 2019, and her newly-minted piano student, Varun Thapar, a dynamic young businessman, carrying on the legacy of the KCT Group, one of India's leading conglomerates, was drawn to the idea immediately. Funding the eager musicians with transport and token fees became a long-term commitment for Thapar. Not only that, his home was opened up as one of the most elegant venues to host the performances.
The pre-concert wine and amuse bouche would set the tone for these evenings of chosen music. One concert even took place at a musical instrument showroom where a joint performance took place with four clarinetists brought by pianist Jennifer Heemstra, who had done some superb concerts with visiting musicians during her stint in Calcutta.
Fast forward to an early spring evening, this time at the same venue, but in a garden setting, with the ensemble playing in the verandah.
As director Marikar beamed from her chosen spot, in a wheelchair, and introductions were made by co-founder of the ensemble, Thapar, the string quartet played out an eclectic selection, starting with a Sonata by Benedetto Marcello, a Quartet for Strings from Beethoven, Borodin's Notturno from Prince Igor and the haunting Adagio for Strings by Samuel Barber. In between were four miniatures for Oboe and Strings, transcribed for a String Quartet by Husain Mohamed, who had once been conductor of the Calcutta Symphony Orchestra in its early years. H.S. Mohamed, Marikar's uncle, was, incidentally, instrumental in her enhanced musical learnings.
What is so special about an ensemble? Marikar explains: "I love the idea of an 'ensemble'. There is no room for 'ego' here, no matter how diverse be the background, once the unit sits down to play the music. Vikram Seth illustrates it best in An Equal Music. The director chooses the music, carefully, within the scope and ability of her musicians and listens and advises on matters of interpretation. Being Bengali, and men at that, it was difficult to make them understand that I knew what I was talking about. But slowly, very slowly, it began to take shape and we did our first presentation in Varun's house on December 8 to a small and intimate circle of friends."
The musicians currently playing are Pallab Pramanick and Apratim Nayak on the violin, although Pramanick is equally deft on the piano, cellist Somnath Makhal, Subroto Makhal on the viola, and Vache Tadevosyan, the Armenian who uniquely performs with his cor anglais.
Playing in concerts gives them something to work towards, but the larger idea is to make music a part of their lives. The ensemble embodies Calcutta's musical aspiration in a microcosm. Performers are eager to come back to this city once travel restrictions abate, but meanwhile, there is plenty of hope in home-grown talent and in keeping music alive in the chamber format, for now.
The author is a public relations veteran and a music aficionado