All about the winners of Apple Music Award
The third annual event's awardees represent a global music spectrum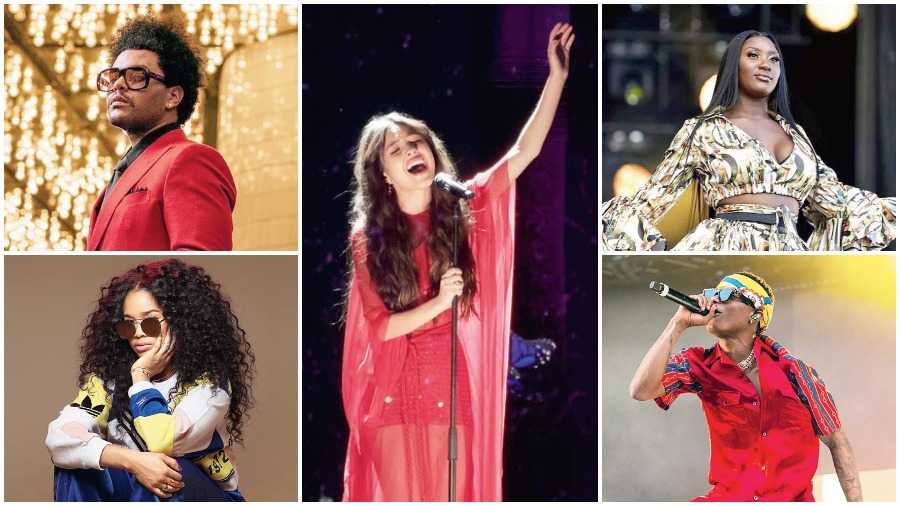 (Clockwise from top left) The Weeknd, Olivia Rodrigo, Aya Nakamura, Wizkid, H.E.R.
---
Published 02.12.21, 04:59 AM
|
---
Global Artiste of the Year: The Weeknd
Splendid '80s synthpop explosion meets minimalism on The Weeknd's After Hours, which has lyrics that can be abstract as well as personal. The smash single Blinding Lights peaked at the top spot on Apple Music's Daily Top 100: Global chart, and ranks as one of the 20 most Shazamed songs of all time. And these are songs that sound as good live as it does on the studio recordings. "I'm so grateful for this huge honour and want to thank Apple for all its support, not only for my work but also for great music by newer artists, where it matters so much for creators to be found and supported," The Weeknd has said.
Artiste of the Year (France): Aya Nakamura
French-Malian pop singer Aya Nakamura is the most streamed Francophone artiste in the world. Best known for her hit song Djadja, she has released three albums. Praised for her anthems against sexual violence, listen to Djadja if you haven't already: What did you think, that we'd never see each other again? I could expose you, but that's not my thing, she sings in French.
Artiste of the Year (Africa): Wizkid
Singer-songwriter Wizkid is one of Africa's biggest crossover acts, having worked with Drake, Skepta, and Chris Brown, among others. The Nigerian musician first found regional success in 2011 with the massively-popular single Holla at Your Boy, which appeared on his debut album, Superstar. Ayodeji Ibrahim — Wizkid — started singing at the age of 11 in the church choir and then moved from boy band to solo phase. The turning point for him has been the mid-tempo Ojuelegba, which captures a narrative inspired by the Lagos slum where he grew up.
Three-in-one: Olivia Rodrigo
Only 18, Olivia Rodrigo has become the symbol of a generation that is special because of what they are missing rather than what they have received. Unlike Lorde, Camila Cabello or even a Billie Eilish (who is just a year-and-a-half older), Rodrigo warmed up to teenage ears during the pandemic. She has taken home three awards — Breakthrough Artiste of the Year, Album of the Year, and Song of the Year. The song that has won over millions is Drivers License, which looks inward and then forward with her singing: I got my driver's license last week/ Just like we always talked about/ 'Cause you were so excited for me/ To finally drive up to your house/ But today I drove through the suburbs/ Crying 'cause you weren't around.
Songwriter of the Year: H.E.R.
Packed with moody narration and alternative beats, H.E.R.'s album, Back Of My Mind, finds inspiration in Lauryn Hill. Her songs pack raw emotions while her music exudes confidence. "As a young Black and Filipino artist, and a woman who is on the stage giving my all, there's no doubt that representation is important," she has said.
Other winners
Artiste of the Year (Germany): RIN — "2021 was such a good year for me because it has borne a lot of fruit of things that I postponed for a long time. My music has evolved in the same sense. I am much more personal."
Artiste of the Year (Japan): Official Hige Dandism — "We didn't know Japanese artistes could win this award and were shocked when we were told."
Artiste of the Year (Russia): Scriptonite — "This award is the culmination of an incredible few years."