The house that Caetona built
The author sends a long postcard from Goa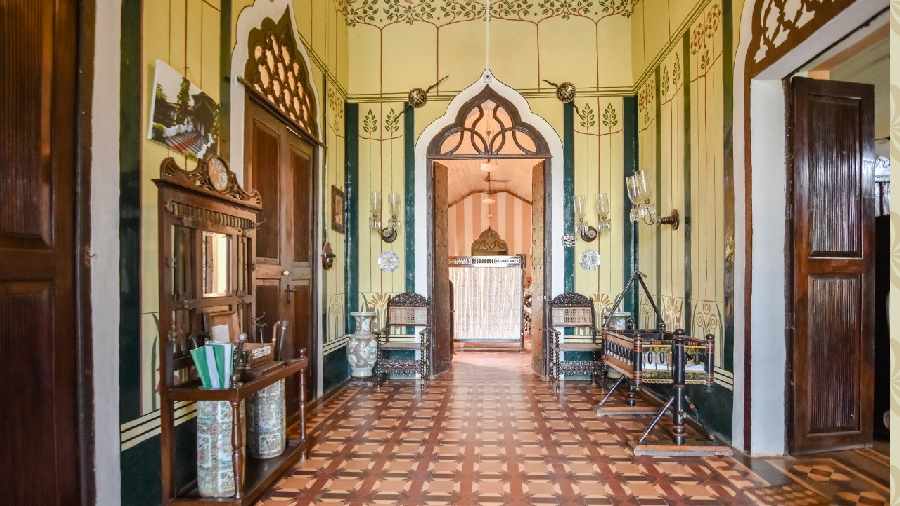 TIME TAVERN: A 300-year-old cradle that has been used through generations of the Figueiredo family.
Pictures by Pedro Figueiredo
---
Published 01.05.22, 04:38 AM
|
---
"Older than the Taj Mahal," says Maria de Fatima Figueiredo de Albuquerque, a statuesque lady with waist-length bleached hair. She's dressed in comfortable slacks, T-shirt and a kitchen apron. Fatima is talking about her family home in south Goa — Figueiredo Mansion.
The 71-year-old traces her roots to the Podiars from Sancoale, Saraswat Brahmins and among the biggest landlords of Goa in the 16th century. While one part of the family lived in Shiroda, some members moved to Loutulim, both places in south Goa.
The original Figueiredo Mansion, also called Old House, was built in Loutulim in 1590. Two centuries later, Fatima's great-great-grandfather Caetano de Figueiredo added 2,500 square metres to the original 2,500, creating what is today known as the Figueiredo Mansion. In between, the family embraced Christianity and became Figueiredo with a coat of arms granted by the Portuguese king. "The branch in Shiroda remained Hindus," says Fatima.
Caetano, who was a lawyer, appointed Jesuit priests to build the new portion of the house. Says Fatima, "In the 1800s, Jesuit priests from Europe were leading professionals in the field of architecture." Caetano added ceramic tiles from Italy and France to the main entrance, procured chandeliers from Belgium, furniture made of rosewood and teakwood. There is a 300-year-old cradle made of lacquer… "The cradle is of Gujarati design. I have slept in it as have other children of the family," says Fatima. Another piece is the machila or palanquin that ferried people to church. Then there was porcelain, all ordered from China and Portugal. Special dinner, tea and coffee sets in orange and 24-carat gold; made to order by the East India Company and bearing the coat of arms of the family; crystal baccarat glasses from France and silver cutlery in the style of King John V of Portugal.
In the new house, Caetano's family flourished. Fatima's grandfather Vicente Joao Filomeno de Figueiredo, the only son of nine siblings, was a judge. He retired from the Legislative Assembly of Goa under Portuguese rule. His daughter Georgina Natalia Filomena de Figueiredo was the first lady judge of India and practised at the Bombay High Court. She came back to Goa in the early 1950s. "Her father had left the house and the estate to Georgina with the intention that the house be preserved for its history," says Fatima. Fatima's mother Maria de Lourdes Figueiredo de Albuquerque was Georgina's sister. Her father Antonio Figueiredo de Albuquerque and her mother were distant cousins. Antonio first left for Portugal to study engineering and then to Paris for a postgraduate degree and, thereafter, returned to Portugal to work in the public works department of the overseas ministry. He was eventually posted in Mozambique.
Antonio and Maria lived between Mozambique and Portugal. Maria was member of Parliament in Portugal. She was, after all, a Portuguese citizen by birth as was everybody born during the Portuguese occupation of Goa. After Antonio died in 1988 and Maria's son in 1991, she chose to move to Goa. "In 2007, she moved permanently," says Fatima.
She continues, "After the takeover by the Indian government, there was encroachment, the government wanted to take over and approached the family twice about it. But my aunt refused. Things turned challenging after that but Georgina was a doughty lady."
After Georgina's death in 2008, Fatima promised her mother she would take care of the house. She quit as creative manager at Estee Lauder to return to Goa. "In 2014, I decided to return and I came back for good in 2016," she says.
The restoration started in October 2016 with the Old House. The garden was cleared and done up. Fatima added a swimming pool and started a winter garden. Most of the restoration Fatima did from her memory. "It was how I remembered it from my childhood. There were always big events in the house. My grandmother entertained and received people. My family was known for its hospitality," she says.
Costs ran into crores of rupees. Maria de Lourdes died in 2021 after having seen her beloved Figueiredo Mansion in its restored glory.
In 2016, when Fatima started to restore, she hosted a group of 15 from British Council at the heritage house. That was when the idea of converting Figueiredo Mansion into a homestay germinated.
Today, the ballroom, the dining room, an office space and a bedroom, all restored and done up the way it was in the 1700s, comprise what is called the Figueiredo Museum that is open to public. In a portion of the Old House, a space is dedicated to Georgina and Maria de Lourdes.
The Old House itself has been converted into a homestay, while Fatima and her son Pedro live in the new portion. Fatima receives guests from all over the world. Spanish writer Javier Moro spent 20 days; then there have been other guests such as German writer Lothar HellenKamp.
Figueiredo Mansion stands today as statuesque and stately as its owner, adding to the state's Portuguese heritage, the same that makes Goa what it is.