Disney Babu
A grand old cartoonist and illustrator Reboti Bhushan Ghosh was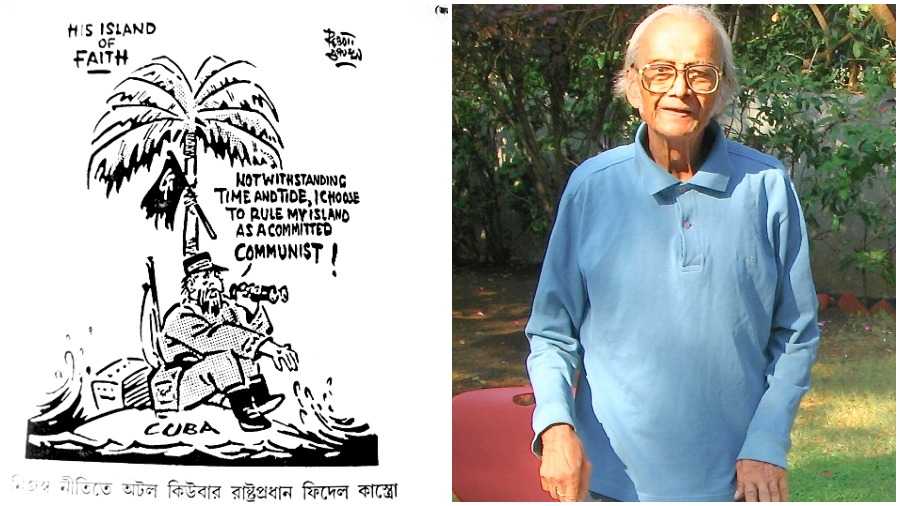 Picture, courtesy Ghosh family
---
Published 05.06.22, 03:04 AM
|
---
Had Reboti Bhushan Ghosh, the last disciple of Abanindranath Tagore, lived — he passed away in 2007 — he would have completed a century on September 5 last year. To mark the occasion, an eponymous book — Reboti Bhushan: Shilpi O Cartoonist — was brought out by Lalmati Prakashan.
"His illustrations for children's books have a certain simplicity that is rare. It is perhaps because he understood children," says Debashis Deb, who is an illustrator and cartoonist.
The artist spent a quartercentury of his life in New Delhi, where he was invited by cartoonist Shankar Pillai to join the Children's Book Trust (CBT) as an illustrator in 1970. But Ghosh was not to be tied to a cubicle 9-to5 — he was a freelancer for most of his life and at one point sketched political cartoons for five national papers at the same time. He quit the CBT but he didn't quit illustrating their books.
Ghosh contributed to all children's magazines of those times — Shishu Sathi, Mouchak, Ramdhanu, Rangmashal. This was in the fifth decade of the last century. That was also the time his first book was published. Sabuj Tiya was an illustrated story in verse, and both pictures and words were by the artist. "He was a powerful writer. There are few artists who have mastery over the written word too. This lent an extra dimension to his cartoons," says Deb.
Not only are the human figures drawn with an economy of expressive strokes, so too are the animals — the regal lion, the fierce tiger, the sly fox, the simple deer. Pillai used to affectionately say that after Walt Disney, Ghosh was the only one who could successfully capture an animal's soul on paper. Cartoonist Kutti called him India's Disney. In an interview to cartoonist Chandi Lahiri a decade before his death, Ghosh himself had acknowledged Disney's influence.
Ghosh was also part of the first Bengali animated film Akash Patal as well as the animator in Michke Potash, the second one. Satyajit Ray, who was his contemporary, had even expressed an interest in doing an animation film with him but it never materialised.
"One of his regrets was that he could not do anything great in the world of animation," says Subhrajit Chakraborty, a neighbour, the current custodian of Ghosh's work and a co-editor of the book along with cartoon researcher and collector Biswadeb Gangopadhyay.
The book on Ghosh was 17 years in the making and features an article each by Ghosh, Chakraborty and Gangopadhyay, nearly 200 pages of sketches, and a series of verses written on the occasion of Ghosh's wedding by friends as varied as poet couple Naren Dev and Radharani Devi, writers Ashapurna Devi, Premendra Mitra (Ghosh drew the illustrations when his Ghanada stories were published in comic form), Narayan Gangopadhyay (who created story spinner Tenida), Shibram Chakraborty (he wove his funny stories around brothers Harshabardhan and Gobardhan, whom Ghosh drew), poet Purnendu Patri, writer and editor of Desh Sagarmoy Ghosh and magician P.C. Sorcar Senior, among others. It gives an idea of the width and warmth of Ghosh's relationship with his contemporaries.
The editors had put together the book in 2005. They painstakingly scanned fragile newspaper clippings and faded pencil sketches on yellowed paper and tweaked them to make them ready for print. Unfortunately, all that work came to nought. The book did not get printed, and the authors did not even get back the manuscript until 2014. "We were nearly desperate — his centenary was approaching and we were adamant about marking it — when Lalmati agreed to publish the book," says Chakraborty.
The book gives pride of place to Ghosh's first sketch of Abanindranath Tagore — he did it at their first meeting and Tagore signed it with a verse about the young artist capturing the old artist on paper. When Deb captured an image of Ghosh on paper for the first time, the older man not only signed it but also added a verse.
"Ghosh had the innate ability to find the hidden truth in different incidents in the news, the true character of political leaders misleading the public in the name of nationalism, the ridiculous contradictions in social norms. He used this understanding to draw his incisive cartoons. At the same time, his artistic nature was also clear in his unique brush strokes," writes researcher Gangopadhyay in the book.
"If you ask me, Ghosh's one outstanding contribution was as a caricaturist," says Deb. Ghosh could capture the essence of a person in a few bold strokes. Deb recalls a four-page feature on Uttam Kumar and, later, Hemanta Mukhopadhyay, that Ghosh had done for a film magazine. "That sort of spoof has not been done before or since," says Deb. Uttam Kumar was not one of Ghosh's favourites to draw, says Deb.
The cartoonist's great peeve was that while the filmstar was good-looking, he didn't have any outstanding feature that lent itself to a good caricature!