Kite. Flying
The Telegraph reports from the ground a little business about the skies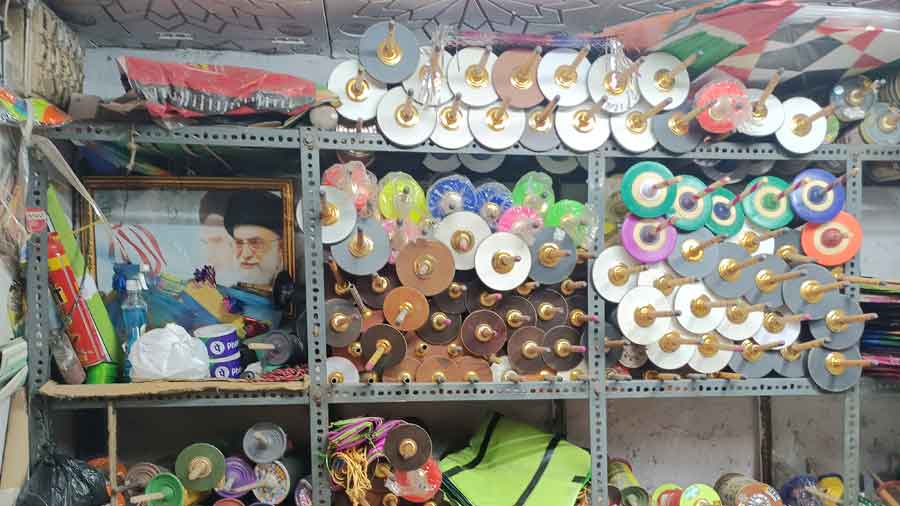 SKYLAB: A typical kite shop in Metiabruz
Moumita Chaudhuri
---
Published 16.01.22, 12:01 AM
|
---
Days ahead of Makar Sankranti, the last day of Poush on the indigenous calendar, the market off Bichali Ghat in southwest Calcutta's Metiabruz is aflutter with ghuris, or kites. There are kites of all shapes and sizes, with tail, without tail, with pictures of Aamir Khan and Salman Khan, cartoon characters Motu, Patlu, Doraemon and so on.
There are rows of kite shops on either side of the road. The wooden ends of the latais, or kite reels, can be seen sticking out of the shelves. A child appears and asks for some manjha and the shopkeeper complies. He slowly rolls the white thread onto the latai and then a brown-coloured string over it. "Be careful, your fingers will bleed if you touch that," he says.
Manjha is glass dust mixed with chemicals and coated onto the thread. It is what gives one kite the cutting edge over many others and quite literally too.
Metiabruz kites sell in Gujarat, Rajasthan, Punjab, Uttar Pradesh. They are flown on Independence Day all over India, on Vishwakarma Puja all over Bengal, and on Makar Sankranti in the northern and western parts of the country. They are also sent to Pakistan and Bangladesh, the UK and the US. It seems in London, children are taught to fly kites in school.
There are so many shops selling kites in Metiabruz, but where are the kite makers? "Everyone makes them in their houses," says Syed Mohammad Reza, a kite exporter.
In one of the lanes, Javed Akhtar and Taiyab Hussain are busy making kites. On one side lies stacks of purple tissue paper cut into diamond shapes. Taiyab is fixing bamboo sticks onto these — one horizontal and the other vertical — and passing them to Javed, who is then fixing the tail.
Thadda is the vertical stick that keeps a kite steady and kamani is the horizontal one that steers the kite in a certain direction. "I have to make sure that the thadda and the kamani are placed correctly," says Taiyab. "Each artisan makes 600 kites in a single day," says Javed.
No one can say how many years ago the kite industry started in Metiabruz but everyone knows snatches of how it evolved. Says Reza, who is in his sixties, "When my father got into the business of making and selling kites in 1964, the tradition already existed. If the kite industry had to be taken to the next level, wherein kites could be exported, then it was important to improve the quality of bamboo used."
The bamboo that grows in Bengal is heavy and stiff. It does not bend easily and only adds to the weight of the kites. The Assam bamboo is hollow, and the sticks are narrower and more flexible in nature. So, Reza's father started sourcing Assam bamboo.
The paper comes from Delhi and Mumbai. "It is of a very fine quality and mostly made in the paper mills of Mumbai," says Javed, when he finally looks up from his work. He slaps glue on the paper and then with his thumb and forefinger fix the triangle-shaped tail onto it with a big tap followed by many small taps.
Pure cotton thread comes from Bareilly in Uttar Pradesh. "Once the glue dries, the kites have to be framed with very fine but sturdy cotton thread. Or else the kite will tear easily when it goes up in the air," explains Javed.
The job of framing the kite with thread is done by women. He adds, "They do it at home and send it back to us. It is a very fine and delicate art. We depend on the women to finish it with their nimble fingers."
But the manjha makers are missing from the scene. "You will not find anyone now. They have all gone away to Ahmedabad," says Reza. It seems, lately, kite traders find it cheaper to hire artisans from Metiabruz, take them to Gujarat and make the kites there. "Assembling in Metiabruz and then transportation adds to the cost," he says.
But the manjha comes from China, no? Newspaper reports are replete with references to the killer "Chinese manjha". Kaif says, "There is nothing called Chinese manjha. The chemical polish is one and the same that is used on cotton threads. Only the thread is different."
He brings out small reels of thread — strong, fine and shiny — in green, blue, black, brown... "This is nylon. It is strong and will give a tough time to kites strung on regular cotton thread. This will not break easily and in fact never with the chemical polish on it," he adds.
And yes, they are dangerous, which is why they have been banned but are still available in shops for other use. Such as? "It is used for sewing and repairing fishing nets, sewing the uniforms of jawans, tying bidis, making ornaments with beads and other craft work. It has always been there in the market."
Out of the market area and close to the main road of Bichali Ghat, there is a green patch where Assam bamboos have been put out in the sun. They look like hundreds of sunbathing porcupines. Reza says with pride, "The Assam bamboo has been good for our business. Our kite industry now has an annual turnover of Rs 5 to 10 crores."