Ahead of her game
Read more below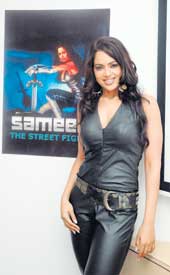 ---
---
Sameera Reddy is a child of the double 00 decade. She first stepped into the limelight in Pankaj Udhas' music video Aahista and made a lasting impression with her bee-stung lips and flowing locks. And now, with a few movies under her belt, she's getting ready to make a foray into cyberspace.
Reddy will be the star of a mobile game called Sameera: The Street-Fighter, that will make her India's own version of Rhona Mitra, the half- Bengali girl who has become famous as the queen of the video game, Tomb Raider.
But Sameera isn't just making it in cyberspace. She's hedging all her bets and keeping herself busy on screen. Her argument is that she wants to do a gamut of roles and not be stereotyped in any way — in other words keep busy and hope that one will click.
Stereotyped or not, she plays a TV reporter in the recently released Naksha in which she has Sunny Deol and Viveik Oberoi as co-stars. "It's an action-adventure film where all three of us get trapped in the jungle," she says.
Sameera ended up doing daring stunts in the movie. In one scene she even jumps off a cliff and admits that it wasn't easy. "We were shooting in Mahabaleshwar for this particular scene. Initially, I put up a brave front just like my Street-Fighter game image, but when I was dangling from the rope I was extremely scared. The houses below looked like tiny dots," she says. By contrast she says her co-star Sunny Deol, "behaved like he'd been doing these stunts every day".
In this industry of constantly changing fortunes, Sameera however is determined to make a mark by playing as many different roles as possible. In Kaalpurush directed by Buddhadev Dasgupta, she plays a middle-class Bengali housewife opposite Rahul Bose.
Was it difficult playing a totally de-glam role like this? "Not at all," she replies, "in fact, it was a huge learning experience. Dada is a very intense director and goes into every detail of the character." Sameera also picked up Bengali while shooting for this film and she says, "I spent the whole of Diwali, last yearlearning the language. And within a few days I even saw my name changing from 'Sameera' to 'Shomira'."
The film has garnered rave reviews from critics and Sameera has, apparently, impressed Dasgupta sufficiently because he has signed her on for another film. "The shooting will start very soon and I am honoured that Dada has again considered me for his next film," she gushes.
Her Bollywood career too, looks promising and she has signed on films like Fool and Final, Ghulami and Benaam. Breathing life into characters that linger on in a viewer's memory is her priority and that's why she says, that she's choosy about projects. She likes to call herself a "director's actress". Says Sameera, "There has to be a certain amount of understanding with and faith in the director I am working with."
While Sameera's debut film was Maine Dil Tujhko Diya with Salman Khan's brother Sohail Khan, it was her item number in Ram Gopal Varma's Darna Mana Hai, which earned her the sex-symbol tag. Next came Plan and Musafir in which she gave sizzling performances, but which both flopped at the box-office.
Finally, it was Milan Luthria's Taxi No 9211 in which she played John Abraham's love interest, that proved to be a major turning point in her career. Eager to explore newer horizons, Sameera is now working hard on scripts.
"Post-Darna Mana Hai, I was offered similar kinds of roles which were stereotyped. But I didn't bite the bait. Now, I want to experiment with different roles, so that critics can call me a complete actor."
Inevitably, Sameera hopes to work with industry heavyweights like Sanjay Leela Bhansali. She feels that there's a lot more to do in terms of meaningful roles. So she's even considering spurning bimbo-type roles for more serious stuff.
Photographer Sheena Sippy too believes that Sameera has an easy charm. "What's impressive is her expressive body language. She's a natural in front of the camera."
Much before her debut film, and even before her appearance in ghazal maestro Pankaj Udhas's video Aahista, Sameera had been offered the role finally played by Preeti Jhangiani in the film Mohabbatein. Sameera says she declined the offer as she was so scared by it.
And if you've been wondering about her dancing moves, Sameera is a trained Kathak dancer too. So what gives her a high in real life? "Gadgets and more gadgets," she giggles. Sameera says that her addiction to iPods and mobile phones even gets her father irritated at times. "I change my phone every month depending on the features."
If that's not enough, she's also an avid gamer and is addicted to playing games on her Playstation. So what kind of games is she into? "I love car racing and action-packed ones. After a long day, playing games on my Playstation energises me a lot," she adds.
And how have her sisters Sushama and Meghna reacted to her career choice? Sameera says her two sisters are pillars of strength. "Sushama has her own film career going and Meghna is in Greece. We never discuss work when we meet. But they're very supportive and protective about me. As for my parents, they are proud of our achievements and always encourage us," she says.
What's next? She says, "I live each day as it comes and every day I set new goals. Acting is very stimulating and I believe that if you're happy with the work you're doing, it's an overwhelming feeling."
Photograph by Gajanan Dudhalkar