Mood indigo
Adele, the defining voice of a generation, rolls with the punches and packs them too on her new album 30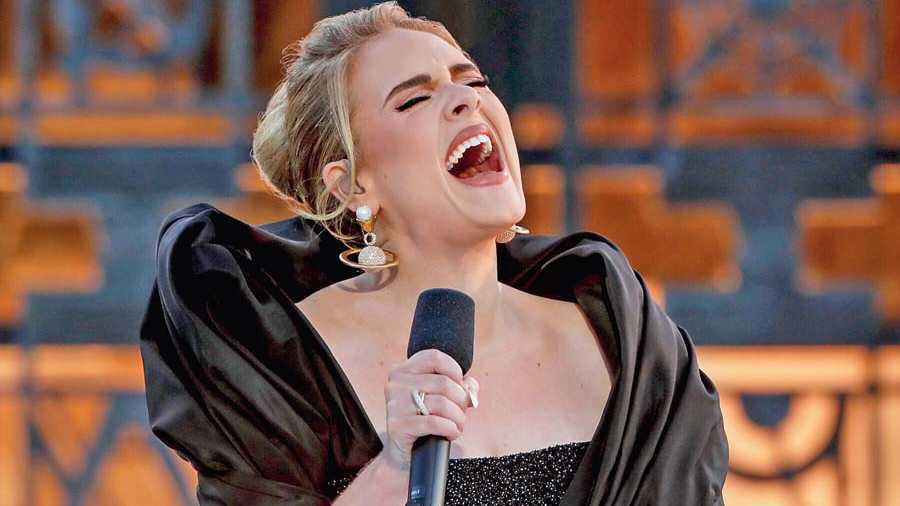 Adele during her CBS concert special Adele One Night Only.
Picture: CBS
---
Published 20.11.21, 10:54 PM
|
---
When Adele let her voice loose the last time in 2015, US President Barack Obama was still in the swing of things while streaming culture had just left the launch pad. The past six years have changed the very qualities that turn a song into a hit. Yet, some things don't change; some voices don't age. If Frank Sinatra was a man bruised with a swelling voice, Adele is a symbol of acceptance of loss. And both voices are majestic, booming and brooding. In fact, Adele is in many ways Frank Sinatra. What we get on Adele's new album, 30, which released on Friday, is the same high level of orchestration, the same emphasis on narrative, the same warm glow of lyrics.
Adele rolls with the punches when she sings I'm hanging by a thread/ My skin's paper thin, I can't stop wavering/ I've never been more scared on Cry Your Heart Out while packing in the punches on I Drink Wine: I hope I learn to get over myself/ Stop tryin' to be somebody else.
30 is an album that makes one follow up with Frank Sinatra's In the Wee Small Hours, which still makes people curl up on a pillow of sadness as Sinatra moves from Mood Indigo to What Is This Thing Called Love?
The last time we heard Adele she was madly in love but this time she has moved on from her husband Simon Konecki while finding it ever so difficult to explain what has happened to their nine-year-old son Angelo. "My marriage was very calm. We never got into a screaming match and if we disagreed we'd figure it out, very quickly, there and then. I got this rage, a lot, afterwards. And I think it was frustration of me ignoring myself for such a long time. And me feeling like I was falling back into my old habits and stuff like that, but it was scary to me. That was very… I mean... I can fight. If I need to fight, I'll fight. But I don't start arguments. I don't scream and lose my voice and stuff like that. Once I realised what it was, why that would happen, everything really started changing," said Adele during a recent interview with Zane Lowe on Apple Music 1.
Bookending the album are the tracks Strangers By Nature and Love Is A Game or the lyrics I'll be taking flowers to the cemetery of my heart and The feelings flood me to the heights of no compromise, respectively. The lyrics come thick and fast, and the voice never wavers. As always, it's her deepest feelings that find place on her albums. There was even a moment when she was in two minds about releasing 30.
"There were moments, when I was writing these songs, and even when I was mixing them and stuff like that, where I was like, 'Maybe I don't need to put this album out.' Like maybe I should write another. Just because music is my therapy. I'm never going into the studio to be like, 'Right, I need another hit.' It's not like that for me. When something is more powerful and overwhelming than me, I like to go to a studio because it's normally a basement and there's no f***ing windows and no reception, so no one can get a hold of me. So I'm basically running away. And no one would've known I'd written that record. And it's like maybe I just had to get it out of my system and stuff," she said during the Apple Music 1 interview.
The sound of the album has an old-fashion feel to it, which not only has to do with the orchestration but how Adele packs Barbra Streisand-style vocal mastery. Yet, the girl-next-door quality of her albums 19 and 21 is retained even though she is now living in Beverly Hills. During the move from Kensington to Beverly Hills many things could have gone wrong but the 33-year-old refused to make her life rewind and be unhappy.
"I've never been this well-known and been single. So I was with someone most of 19 and then I was in the studio. I was in the studio writing about who that album is about. And then straight after 21 I got with Simon. So I hadn't been... so I just never experienced dating as a grown-up really but also I didn't want to date anyone," she said. And LA is "not the f***ing place to go dating when you're Adele". "It was like watching my friends, it was all casual sex. And everyone had slept with each other. And I was like, I'm not doing that. I'm not, that's not... I've left my marriage to go forward, not to f***ing go backwards."
Recording 30, her son Angelo was on her mind and what he was going through. "While I was writing it, I just remember thinking of any child that's been through divorce or any person that has been through a divorce themselves or anyone who wants to leave a relationship and never will. I thought about all of them, because my divorce really humanised my parents for me. And that song, writing it, made me just be... kind of get over things that my own parents did or didn't do for me. And we all have our own expectations of our parents. Once we become a parent ourselves, I feel like we tend to be like, 'oh they did a s**t job.' But in reality it's f***ing hard. I feel like it was important for me to tell Angelo's story… it was hard and I wasn't doing a very good job at the most wild moment of his life probably," the singer has told Apple Music 1.
Let it be known that I cried for you… Let it be known that I tried sings Adele on To Be Loved, wearing her heart on her sleeves, like Frank Sinatra did on Angel Eyes: Drink up all of you people/ Order anything that you see/ And have fun you happy people/ The drink and the laugh's on me. That's life. That's Adele.