Power Flower
It is that time of the year when branches and spirits are about to burst into mahua. A tribute to a flower whose reputation is just a half-truth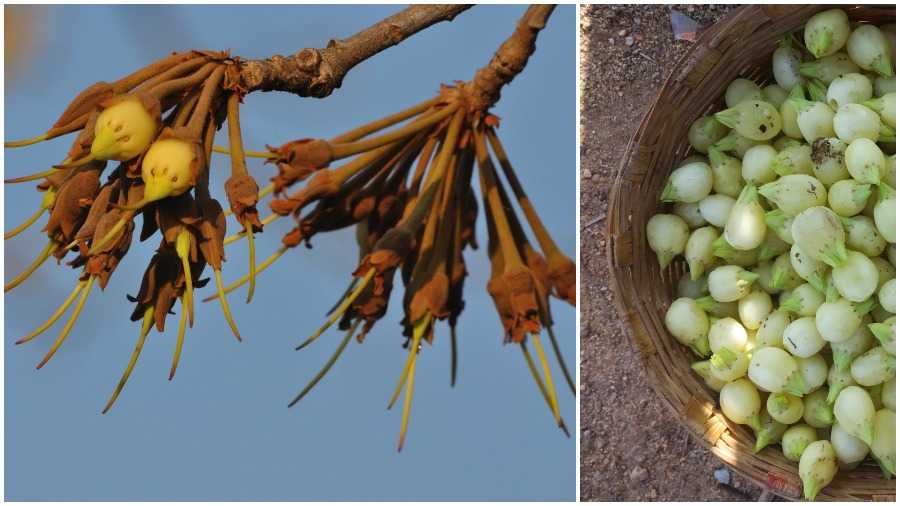 (L-R) Mahua flower, Mahua fruits
Shutterstock
---
Published 03.04.22, 12:42 AM
|
---
Mahua to most urban Indians is just another flower or a name, and for the past some years the name of a feisty MP. But in Bengal's Jhargram, West Midnapore, Bankura, Purulia, Burdwan and parts of western Birbhum, it connotes sustenance. It is a flower, of course, but also food, a source of oil and medicine. It also defines the culture and faith of several communities.
Mahua, or Madhuca indica, is also found in Odisha, Chhattisgarh, Jharkhand, Bihar, in parts of northern and central India, in Maharashtra, Gujarat, Telangana, Tamil Nadu and Kerala.
By the end of March or early April, just when the cuckoo starts to sing, the mahua tree is in full bloom with small round flowers. The greenish-white flower resembles a beli blossom. "It has tangible and intangible value," says Kalyan Chakraborty, an agricultural scientist.
Seema Soren, a Santhali from Ranibandh in Bankura, knows more about this deciduous tree than many experts. She says, "Mahua is considered holy amongst the tribes of India. It is called the 'Tree of Life'. Not just the flower, each and every part of the tree is used for something or the other. Even the shell of the fruit is used at the time of funeral rites." She adds with some exasperation, "But all that people associate mahua with is intoxication."
And who says the mahua flower is intoxicating, retorts Laxmi Mandi, a resident of Jhargram. "It is not," she continues without waiting for an answer; not that anyone is complaining. "It is very sweet and is nutritious. We eat it throughout the year. It is stored for future use after sun-drying," she adds.
Mandi talks about how she has seen her mother boil the flower with pods of raw, tender tamarind. "It would turn out to be this sweet-sour concoction. We used to consume it early in the morning for improved digestion," she says.
Mahua lends itself to other recipes. It is so sweet that it is often used as an alternative to cane sugar. Says Mandi, "We make mahuar payesh by boiling gobindobhog chal with the flower. It turns out to be a light brown dish." Some people also make laddus out of it. Mahua, just like cane sugar, has a sticky texture and when khoi, or puffed rice, is mixed with it, one can make small balls, locally called mahuar nadu.
Food researcher Aparna Pallavi has travelled across several states of India to understand the connection between mahua and the indigenous people. She has stayed with farmers and tribal communities and collected at least 35 mahua recipes across sweet and savoury preparations.
Apparently, mahua flowers should not be plucked. They are to be picked up one by one off the ground at dawn. Villagers leave a basket under the tree, some spread out a length of cloth. Soren says, "Children, with their tiny and nimble fingers, can pluck the flowers fast without bruising them. To them it is a sport — they compete amongst themselves as to who can collect more flowers."
The highly perishable flowers are dried after picking and sold in the market. Mandi says, "Though the mahua flower by itself is not an intoxicant, many people make liquor out of it by mixing some herbs with it. Also, the flowers can be processed very fast — brewing takes barely three to four hours."
And, in keeping with another gift of the summer, mahua ripens just when the mangoes start to turn yellow. "Like mango, the mahua fruit is eaten raw. Some make a curry of it and eat it with rice," says Chakraborty. 
But all this is disappearing with time. "Mahua is infamous by name itself. People set it aside as 'mohuler mod' — an alcoholic beverage," says Chakraborty. "More importantly, it is shunned and looked down upon by the educated, younger Santhals as it has been labelled as a food of the tribals, a food of those people who survive on wild roots and stems," says Soren. "A poor man's food," she adds.
When on one side, the young tribals do not talk about mahua enthusiastically, on the other, modern eateries are experimenting with it. Jams and sweet pickles are made from mahua flower. A café in south Calcutta serves puris filled with mahua flowers, yet another uses mahua flour to make puris.