A tale of desires with Millennium Mams'
Stage+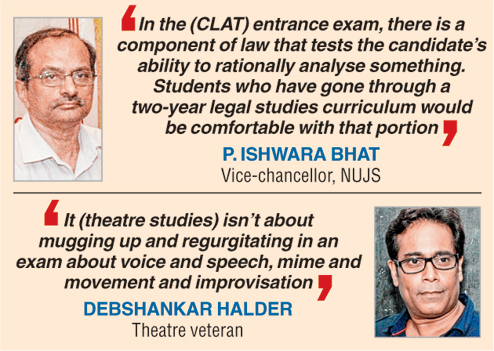 ---
Published 06.01.18, 12:00 AM
|
---
Eight women, disgruntled with their lot in life, meet each other while on vacation at a seaside resort with their families. On discovering they are faced with the same problems, they wonder if they can do anything to change their circumstances. What Happens in Neptune, Stays in Neptune, a production by Wajood, the theatre wing of Millennium Mams', marked the group's second stage venture after Virgin Merry, at GD Birla Sabhagar on December 18.

The women holidaying in Neptune Resort hold a deep-rooted belief that nothing but a monumental change can help them. But as soon as this 'change' comes along, they realise that they themselves are not aware of their desires. While the plotline focused on the flippancy of human nature and self-discovery, the story touched upon issues like women's empowerment, infidelity and financial disparity.

"The journey of theatre started with therapy for the members. It is a huge learning process for me as this is a new avenue. I don't know whether they will pursue theatre in the long run but this time they put their best foot forward," said actress Chaiti Ghoshal (inset), who directed the play.

With an elaborate set design and dashes of poetry and dance, the play drew a packed house.
Wajood, our theatre wing, has been a turning point for us. It has shaped the lives of so many women in our organisation. It has changed their perspectives and helped them express themselves in a better way. Glad that Chaiti Ghoshal agreed to take this initiative forward by dedicating herself to the regular classes for theatre therapy.

— Rachna Prasad, vice-president, Millennium Mams'
Theatre is therapy and the members have shared with me that this is helping them in solving their daily problems. I want to take it forward to other cities as well.

— Bishnu Dhanuka, founder-director, Millennium Mams'
It was wonderful to see so much talent in this group of women. They were immensely spirited and enthusiastic.

— Priti Patel, danseuse
Text: Drishti Sanyal
Pictures: B. Halder
BITE RIGHT
What: A Grand Buffet Menu

Where: Charcoal Grill, Park Circus

When: Noon to 3pm, 6.30pm to 11pm

Expect: A buffet comprising Chinese and Indian dishes for lunch and dinner including Chicken Lemon Coriander Soup, Chilli Potato, Veg Hara Bhara Kabab, Chicken Burrah Kabab, Tawa Bhindi, Dal Makhani, Fish Butter Masala, Mutton Rogan Josh and Chicken Bharta. Chocolate Pastry, Flavoured Mousse, Cheesecake and Gulab Jamun are some of the highlights of the dessert menu.

Pocket pinch: The buffet is priced differently on different days for lunch and dinner, ranging from Rs 586 to Rs 857 per person.
What: Pongal Menu

Where: Hotel Swagath, Hazra

When: January 12 to 14, noon to 10.30pm

Expect: Traditional Pongal dishes like Sweet Pongal, Milagu Pongal with Vegetables, Kuzhambu Pulao, Beans Poriyal, Mango Pachadi, Curry Leaves Thokku and Tomato Pappu.

Pocket pinch: Rs 450-plus per person.