A RICHER BREW
It's time to perk up as a host of young entrepreneurs pour out speciality and single-estate coffees, says Aarti Dua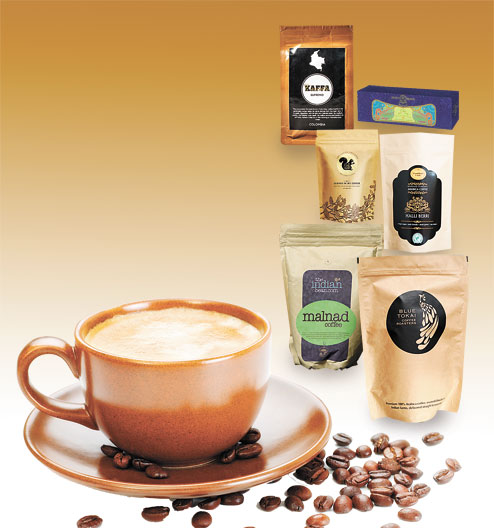 ---
Published 24.04.16, 12:00 AM
|
---
Would you like to start your day with a delicious Arabica coffee with nutty overtones from the award-winning Attikan Estate located in Karnataka's Biligiri Hills? This single-estate coffee is brought to you by Blue Tokai Coffee Roasters. Or would you rather wake up to the honey-dewed Halli Berri coffee from the Kambihalli Estate in Chikmagalur?
Alternatively, you might like to sip an Indian gourmet Monsoon Malabar coffee from The Flying Squirrel called Clouds in my Coffee. Or, you can enjoy an Indian coffee blended by an Italian roaster with Urja from the Seven Beans Coffee Company.
And, if that's not exotic enough, you might like to pour yourself a cup of Monkey Bitten Coffee from The Indian Bean, which the Araku Valley's (near Visakhapatnam) tribal planters make with beans spat out by monkeys. That's just like the prized Kopi Luwak coffee from Indonesia that's made from beans picked from the palm civet's excreta.
Yes, it's time to perk up and smell the coffee. A host of young Indian entrepreneurs is brewing a whole new world of speciality and artisanal coffees. They're eager to create a strong reputation for Indian coffees — and to get Indians to scale up from instant to freshly roasted and ground coffees.
"I'm determined to make Indian coffee cool," says Halli Berri's Tejini Kariappa, who, with her mother, Nalima, and sisters, Maanavi and Anusha, runs the Kambihalli Estate. The family has owned coffee estates for six generations.
"Indian coffee often gets tainted as mid- to low-quality compared to Ethiopian or Guatemalan coffee. I think that's unfair as there are farmers here who are producing high quality Arabica that can compare with any coffee produced anywhere," says Matt Chitharanjan, who, along with Namrata Asthana, founded Blue Tokai in 2012.
The players are wooing Indian coffee drinkers with speciality blends and single-estate coffees. Online companies like Blue Tokai and Kunal Ross' The Indian Bean source beans from estates and deliver them freshly roasted to order. The accent's on freshness as coffee loses its flavour within 25-30 days of roasting.
Then, there are coffee planters like Halli Berri's Kariappas, Seven Beans Coffee Company's Abhijit and Advith Shetty, and also The Flying Squirrel's Tej Thammaiah and Ashish D'Abreo, who've turned to the domestic market to emerge as farm-to-cup players.
And, there are entrants like Krittivas Dalmia with Kaffa Cerrado in Delhi, who's bringing the finest coffees from South and Central America and Africa — such as a Colombia Supremo — and roasting them fresh here. "Indians are involved with their food today and coffee is part of that," says Dalmia.
The players are banking on the grow-ing number of Indian coffee drinkers. India is the world's sixth-largest coffee producer but exports 70 per cent of its produce. Says Thammaiah: "You get good Indian coffee abroad but not in India." Domestic coffee consumption is growing by some 8 per cent a year with chains like Café Coffee Day and Starbucks getting Indians hooked to coffee.
"A lot of Indians who've studied or travelled abroad and had some of the best coffees want to replicate the experience here," says Seven Beans' Abhijit Shetty, who has invested over $1million in his venture.
True, the speciality coffee segment is tiny. Yet, the players are drawing streams of customers from the metros as well as Tier 2 cities like Chandigarh. They're selling online, and also to cafés. And their artisanal coffees, priced from Rs 300 to Rs 500 for 250g, are also in supermarkets like Foodhall.
"When we started, we had people ask us, 'How do we use this coffee?'. Now, three years later, they're our loyal customers. It's exciting to see the change," says Asthana.
Blue Tokai, which has raised seed funding, is rolling out big expansion plans. It has a roastery-cum-café in Delhi and will open another one in Mumbai in May followed by a café in Delhi.
Both Asthana, who worked in communications, and Chitharanjan, a developmental economist, got passionate about coffee while growing up and studying in the US. But their passion only percolated into a venture after they moved from Chennai to Delhi.
"In Chennai, you have tiny coffee kiosks, where you can blend your own coffee. But when we moved north, there was no way to engage with the coffee. So we said why not do it ourselves," recounts Asthana.
The two visited coffee farms and no sooner, they'd invested Rs 25 lakh to launch Blue Tokai in 2012. The response was instant and they now sell one-and-a-half tonnes a month, offering seven single-estate coffees like the
Attikan Estate Arabica. And, they plan to have a roastery with a network of cafés in each metro eventually.
For The Indian Bean's Kunal Ross it all began after he visited an organic coffee farm in Karnataka in 2011. "A lot of small farms sell their coffee abroad. So, it's impossible to access this unless you know a farmer," says Ross, who worked in advertising in Mumbai.
Spotting the gap, he started The Indian Bean in 2012. "I wanted to create a line of single-estate coffees that speak of India," he says. Within three months, he'd quit his job. Now, he sells seven coffees like the best-selling Watapi.
Coffee planters, too, are entering the home market. For years, Indian coffee was considered unremarkable. But over the last decade, they've improved the quality so that Indian coffees are now used in premium blends globally, and there are even Indian export brands.
"There's a lot of pride coming in for the produce," says renowned coffee cupper or taster Sunalini Menon, who has helped create export brands like Veer Attikan.
So, the 220-acre Kambihalli estate has been exporting its coffee to Italy. "We've had an AAA-graded coffee which we've been selling to luxury houses as white-labelled brands for years," says Tejini. She and her mother and sisters began running the estate after her father's demise eight years ago. But they only went local after Nalima opened their Coffee Barn Café three years ago.
"We'd get tons of travellers, who loved our coffee and would ask us for some for the road. We were giving kilos of
freebies when we said, maybe we should retail it," recounts Tejini.
So they branded it Halli Berri two years ago. Now, it has taken off with sales online and also in cafés like Indigo Deli. Says Tejini: "Three years ago, we exported all our coffee. Today, we sell 30 per cent in India. We want to build a brand that's based on our heritage."
Meanwhile, the Seven Beans' Shetty brothers too began with the idea of creating an export brand. They're both civil engineers and fourth-generation coffee planters and have four estates in Chikmagalur. "Until we started Seven Beans, the coffee was just sold to people who exported it," says Abhijit. But, then, they decided to "get to the next step of the value chain".
"We realised that while Indian coffee is sought-after abroad, it has never got the branding as we don't have the blending and roasting expertise. Also, nobody knows they're drinking Indian coffee as it gets blended with other coffees," says Abhijit.
So, the two partnered with a leading fourth-generation Italian roaster, Dante Cagliari. Cagliari worked with their coffees for two years before creating three blends: Urja, Eka and Mishta. He also helped them set up a high-tech 15,000sqft roastery. They launched Seven Beans with three Indian and three Italian blends in 2015. Apart from selling online, they're already selling to hotels like Udaivilas.
Globally, coffee drinkers are raising a cup to the third coffee wave — the first wave was instant coffee and the second began with Starbucks — where they're exploring artisanal coffees like they do wine. So, the Indian players expect this trend to percolate to India.
The Flying Squirrel's Thammaiah and D'Abreo feel that coffee planters can best leverage this trend. Flying Squirrel came about after D'Abreo, who runs an ad agency, and his partners teamed up with college-mate Thammaiah, a third generation planter, who owns the 145-acre Nilliked estate in Coorg.
Thammaiah actually began improving his cultivation six years ago. "We realised that you can bring about the flavours you want in the cup from the seedling stage," he says. Then, he and D'Abreo took two years to create their coffees before launching in 2014.
They have seven coffees like the best-selling Parama blend with chocolate notes. "We do a lot of interesting things to our coffee like growing it in citrus or vanilla patches," says D'Abreo. They're selling online and to cafés like Chef Manu Chandra's Toast & Tonic. What's more, they're opening a 1,400sqft café-and- roastery in Bangalore by June.
On the other hand, Kaffa Cerrado's Dalmia is serving up international coffees. A finance graduate from the US, Dalmia didn't want to join his father's real estate business. So since coffee was a passion, he headed to Italy to learn all about it. In 2013, he laun- ched Kaffa Cerrado with his sisters Saudamini and Rasalika, importing raw beans to roast them fresh here.
"We want to give a bouquet of coffees," says Dalmia. He adds: "Indian coffees aren't bad, but we have climatic limitations and can't grow coffee on high altitudes like in Africa, which gives them a unique flavour."
With high import duties, his coffees are priced at Rs 800 for 200g. But Dalmia's already finding buyers in
cafés like La Folie in Mumbai.
The players face challenges like educating consumers about coffee. But they're confident that the market will only grow. They've put the coffee market to percolate. And now, they're waiting for more and more Indian consumers to wake up and smell the coffee — and acquire a taste for it."