A Portuguese paradise
Lord Byron went into poetic rhapsodies about Sintra, the summer retreat near Lisbon with its whimsical palaces and castles, and so does Arundhati Basu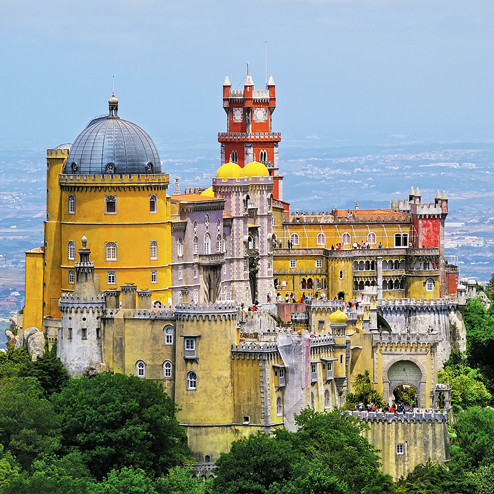 ---
Published 10.04.16, 12:00 AM
|
---
Two centuries before I trudged up the densely wooded hills of the Serra de Sintra, the "mad, bad and dangerous to know" Lord Byron had spent time contemplating its "variegated maze of mount and glen". My arrival in Sintra, however, was planned — unlike the Romantic Poet's visit. He'd missed the boat for Malta and had set sail for Lisbon instead. Yet it was not a mistake Byron rued. He declared himself enchanted by Sintra's "glorious Eden," its "palaces and gardens rising in the midst of rocks, cataracts and precipices; convents on stupendous heights."
The locals of Lisbon told me emphatically, "You cannot be in Lisbon and not go to Sintra." The Portuguese adore the resort town lying at the foothills of the Serra de Sintra, or Sintra Mountains. It's a mere 16 miles west of the Portuguese capital and was a coveted summer retreat for the Portuguese royals of yore.
As the train pulled into the station, a grey mist hung atop a beautiful yellow building crowned by mini-turrets and I spied a neighbouring house in faded pink, plaster peeling off its facades. I could already smell the promise of faded glory in the air.
Wandering into the old town, I found a pair of unconventional conical chimneys sticking out above a rambling and homely palace. Those chimneys lend an unusual character to the Palacio Nacional de Sintra (the National Palace of Sintra), which served as a summer retreat for the Portuguese royal family. Hans Christian Anderson, the Danish author of fairy tale fame, likened those quirky chimneys to giant champagne bottles.
There's a distinct Moorish touch to the palace. The fact the Moors were in Sintra was evident the moment I beheld the ramparts of the Moorish Castle, located strategically high above town, clinging dramatically to the ridges.
The other style of architecture distinctive to Portugal and reflected in the design of the National Palace is the Manueline school. It's a late Portuguese-Gothic style, a mix of Spanish, Italian, Flemish and Moorish lines named after the 16th-century king, Manuel I.
Opposite the palace, a maze of restaurants, cafés, shops and boutiques line steep alleys, offering a visual feast of geometric hand-painted tiles. You can also sample in these alleys Ginjinha — a Portuguese liqueur made by infusing Morello cherries in alcohol. For $1, I knocked back a shot of Ginjinha in an edible chocolate cup.
Fuelled by the sugary-alcohol-laden high, I negotiated stairs that snaked their way through aged buildings, past walls decorated with tiles, wrought-iron doors and the odd guitar-playing cupid statue. From a restaurant wafted strains of soulful Fado, a music genre beloved of the Portuguese, full of fatefulness and melancholia. It was impossible not to catch my breath in delight as I beheld pastel and faded-red rooftops of villas and palaces below. Imagine my thrill when I walked past a yellowed church and chanced upon a pale pink casa that belonged to Andersen.
Mossy stone stairs led up to the Castelos dos Mouros, a military ninth-century fort built by the Moors. Then the mist grew so dense I couldn't see the town I'd left below. There was a steady pitter-patter of water draining off the thick canopy of trees dwarfing me — yet not a drop fell on me. But after reaching the top, I realised it was not the day to walk the ramparts.
"Do you know how rare it is for Sintra to get blue skies?" a Lisbon cabbie had informed me earlier. Considering this, I struck lucky when I returned to Sintra. This time, I opted for a hop-on-hop-off bus that wound its way through the woods, giving me views above the town and revea-ling mansions such as Chalet Biester with its turquoise-trimmed black roof and black turrets.
Once we reached the top and the Castle of the Moors, I completed my earlier venture by walking its ramparts. Standing 1,300ft above sea level, the sun shining on me, I stared out from ivy-clad battlements. Centuries before, there might have been a Moor in a similar stance, gazing at the azure Atlantic waters and scanning the horizon for invaders. Following the course of the ramparts, I was rewarded by the sight of the pink-and-yellow towers and turrets of the 19th-century Pena Palace, a product of the remarkable imagination of Ferdinand of Saxe-Coburg-Gotha, who happened to be a nephew of mad Ludwig (the one behind the eccentric Bavarian castles).
Further along the woodland paths are more romantic pieces of architecture such as a chalet Ferdinand built for his opera singer mistress and the neo-classical palaces of Seteais and Monserrate. Their ornate beauty takes you back to another time just as does the Quinta da Regaleira. Designed by an Italian opera-set designer, the Quinta da Regaleira is an exercise in fantasy — a neo-Manueline mansion with turrets and finials, drooping willows and gardens that reveal secret follies, grottoes, fountains and lakes.
My mind in a romantic daze, I then boarded the hop-on-hop-off to Cabo da Roca, the westernmost point in mainland Portugal and Europe. At Cabo da Roca, the driver gave us half an hour to tackle the high rocky point with its cutesy lighthouse. I sauntered off to the furthest end where the cliff fell into the ocean and revealed a deserted beach below.
I had 10 minutes left so I gave into a demand of a trio of tourists to click their photographs and then raced to the bus. To my dismay, I spied its red top moving away at high speed. Frothing with righteous indignation, I checked my watch. I had five whole minutes to spare. Yet clearly not! I was joined by a couple who'd also missed the bus. We realised our only way back to civilisation was the evening's last local bus. But what's a trip without a few adventures? Such incidents acquire a rosy hue in retrospect. Especially when you reach a place like Sintra where palaces and castles crop up as naturally as houses and the Portuguese royals lived out their summers in dreamy elegance. Let there be no doubt - no place does "fairy-tale" as sublimely as Sintra.
READY RECKONER
♦ How to get there: From Calcutta to Lisbon is a two-stop flight via Mumbai or Delhi. Take a train from Lisbon's Rossio station to Sintra. It's a 30-minute journey.
♦ Where to stay: Lord Byron stayed in the historic Lawrence's Hotel, an 18th-century mansion which is a boutique hotel today (lawrenceshotel.com)
♦ What to do: Hike to Praia da Ursa, a spectacular, wild beach around Sintra.