A German Odyssey
It's a midwinter journey through history in the German cities of Hamburg, Bremen and Lübeck for Arundhati Basu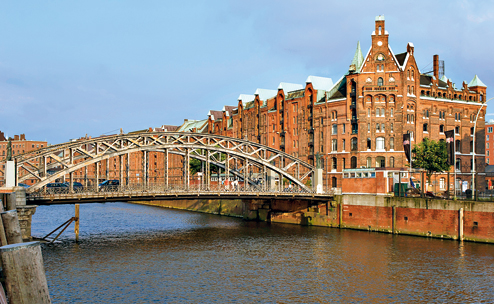 ---
Published 22.03.15, 12:00 AM
|
---
It felt almost as if I was on a film set playing a very chilly heroine, picking her way along the cobblestones of an alley flanked by medieval, half-timbered houses, as haunting jazz strains wafted in the winter evening air. I was in the northern German city of Bremen, in its quaint Schnoor quarter, and it was a moment that definitely demanded to be lodged firmly in the memory.
But before I reached Bremen, I had headed to two other cities — Hamburg and Lübeck. Hamburg is still Europe's second-biggest port while Bremen and Lübeck have receded slightly into history. But once upon a time, these cities were superpowers in their own right, lynchpins of the north European Hanseatic League. The League or Hansa was a trading bloc that came to prominence in the 13th century and lasted for four centuries during which it used its powerful fleet to protect the shared economic interests of up to 200 towns and cities.
My acquaintance with all this historical detail began when I saw a sign in Hamburg, "Freie and Hansestadt", which translates into the Free and Hanseatic City of Hamburg, and the 800-year-old port city on the River Elbe heaves with colour, culture and art.
I was initially a bit bemused by the architecture — modern facades that contrasted remarkably with baroque houses and churches. But the mainly neo-Renaissance Rathaus or city hall, which has nearly 650 rooms, leaves no doubt about the wealth and might of the one-time city-state. Hamburg's patron goddess Hammonia looked down at me from a building façade as she proclaimed: "Libertatem quam peperere maiores digne studeat servare posteritas" (May posterity strive to preserve the freedom won by our elders).
To know the city, you should be aware of two incidents which flattened large parts of medieval Hamburg. First, there was The Great Fire of 1842. Then the massive Allied bombing of the city in 1943 almost brought World War II to an early conclusion as it nearly convinced the Nazi Minister for Propaganda, Joseph Goebbels, that it was time for Nazi Germany to surrender.
My do-not-miss list included the ruins of Nikolaikirche, which was destroyed during World War II — just the spire and one wall have been preserved as an anti-war memorial. Then it was off to a narrow street called Diechstrasse where the Great Fire started in 1842. I also stopped to see the quaint Krameramtswohnungen, which were almshouses for widows of the shopkeepers' guild during medieval times. Then, another world suddenly loomed along Zolikanal or Tax Canal, on the other side of town with the Speicherstadt, a continuous stretch of red-brick warehouses — the line of warehouses is the largest such complex in the world.
Hamburg's maritime history is best discovered through the harbour tour — but it's better in summer. Even with heavy-duty clothing, my hair stood literally on end in the freezing breeze and it took me two hours to thaw out in a coffee-shop. I bid adieu to the city from the 348-foot-high tower of the iconic St Michaelis Church, one of the city's landmarks. A wicked, whipping wind ensured it was a brief farewell.
Then the train to Lübeck whisked me to an entirely different world of puppets — all kinds from glove puppets to marionettes and ventriloquist dummies — and delectable marzipan. The city is also proudly home to three very famous Nobel Laureates — Thomas Mann, Willy Brandt and Günter Grass. But the city's pride goes back to when the city was the 'Queen of the Hansa' as the capital and major trading hub of the Hanseatic League. It's easy to understand how Lübeck — with its mercantile past — was awarded Unesco's World Heritage Site status in 1987 even though it had been badly bombed during an RAF raid in 1942. Ironically, Hitler is said to have loathed Lübeck because it refused to allow him to campaign there in 1932.
I got a sense of the city's appeal when I spied the 15th-century main gate to the city, the Holstentor, with its robust towers and turrets, and the Salzspeicher, or salt warehouses. But before that, as I approached the city, I beheld the shapely buttocks of the naked Mercury. This was a statue which inspired a 19th-century German poet to write a ditty: "On Lübeck's bridge is standing/ The god Mercury proud and fine/ In every part, toned muscles form/ A statue Olympian/ In god-like contemplation/ To clothes he won't succumb/ So to all those people passing/ He bares his naked bum."
"Lübeck's many spires, puppets and hidden courtyards make it enchanting. First, there's the astonishing Theaterfigurenmuseum with its 1,200 marionettes, and then there's the romance of its cobblestone alleys opening up into beautiful courtyards with quaint cottages that at one time used to serve as poorhouses. There are also impressive 15th- and 16th-century patrician residences and churches."
The last city on my trail was the Free and Hanseatic city of Bremen, whose highlight is the eclectic lane known as Böttcherstrasse housing art-deco and brick-built shops and restaurants, museums, workshops and a carillon. At the start of the 20th-century, coffee baron Ludwig Roselius bought up houses in the dilapidated alley whose name derives from the coopers or böttcher who once worked there. Roselius then had them rebuilt as a tribute to German art and culture.
Bernhard Hoetger, a German architect and artist of the Expressionist Movement, helped implement Roselius's vision, designing the houses to be of special architectural merit. They dedicated the alley to Hitler by placing a bronze relief at its entrance called "The Lightbringer" that shows a man with a sword descending from the sky and attacking a dragon. Their aim was to glorify Hitler's victory over the so-called "powers of darkness". Their reward? The Führer rejected their efforts as "degenerate art". My pick of the alley was the chiming of the Meissen China Glockenspiel or carillon which has 30 bells of Meissen porcelain and a revolving panel depicting the city's adventurous Hanseatic merchants.
In the meantime, everywhere I went, I met Bremen's most famous citizens — a donkey, a cat, a dog and a cockerel — that find their way into the fabric of the town. They are the four musicians from the Grimm Brothers' fairy tale from which the town derives its nickname — die Stadt der Stadtmusikanten or the Town of the Town Musicians.
The marktplatz with its Rathaus, Dom, iconic Roland statue, the Schütting (or former merchants' guild-house) and the River Weser with its garden bars in the Schlachte area, are all charming but the part of Bremen that claimed my unreserved admiration was the Schnoor. In the 10th century, it was the poor corner, a district of fishermen.
Schnoor, which means string, gets its name from old handicrafts associated with shipping, such as ropes and anchors. The maze of lanes inside today is lined with art galleries, cafés and little boutiques. Adding a quirky touch to its medieval atmosphere is Birgittenkloster, a modern Bridgettine convent of bright orange-and-green buildings. In fact, Bremen so caught my fancy that I roamed its medieval lanes with nary a thought of the hour and that it might be time to head back to catch my train out of town.
READY RECKONER
Must Dos: In Hamburg, the free walking tours and the Sunday Fischmarket; In Lübeck the Café Niederegger and its Marzipan Salon; In Bremen, the Rathaus tour, St Petri Dom and Mühle am Wall
Where to Eat and Drink: In Hamburg, fish-burgers in St Pauli, dive bars, restaurants on Lake Alster; In Lübeck, Alte Mühle, an old mill-cum-bistro, and Brauberger, a traditional brewery; In Bremen, Traditional German baked goods at Kaffeehaus Classico and Schröters Patisserie, and the Ratskeller for 650 wines and gourmet North Sea fish