A cliffhanger holiday
It's a tough hike up to Pulpit Rock, high above Western Norway's scenic Lysefjord, but the amazing views make the trip worth it, says Arundhati Basu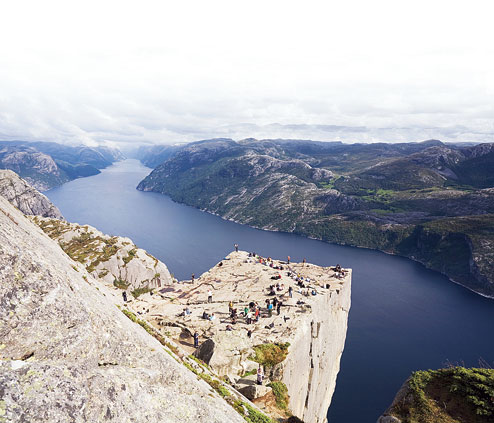 ---
Published 04.10.15, 12:00 AM
|
---
Ut på tur, aldri sur is a Norwegian phrase that translates roughly into 'Out on a hike, never gripe'. In sync with the Norwegian spirit of being adventurous, we were scaling steep boulders and craggy rocks. We paused frequently for breath and turned around to take in the spectacular landscape of gushing streams and the road ribboning into the distance far below us. The fjord and the lakes appeared as strips of hazy blue in the distance. And we valiantly kept going even though the rocks were frightfully slippery and we had to get on all fours to gingerly get over the massive boulders.

Ahead of us a scene played out that would have made it to Fifty Ways to Kill Your Mammy (an adventure series on British television that revolves around a 70-year-old Irish mother and her intrepid son). A portly British mum was toiling away while her teenage son fielded her questions, which ran along the lines of "Where is the lift?". He kept a straight face and in a chiding tone said: "Well, you asked for Norway. This is it, mum!"

The prize we were all heading to was Preikestolen, or Pulpit Rock, in Rogaland County, Western Norway, which juts out over the beautiful Lysefjord below. Getting to Preikestolen involves an almost 4km trek but it still gets about 200,000 visitors every year. Local lore says that Preikestolen, a giant rocky outcrop, will crumble and fall off the mountain into Lysefjord that it towers above the day that seven brothers marry seven sisters from the area around the fjord. The improbability of it happening? As English writer Richard Dawkins puts it: "By all means let's be open-minded, but not so open-minded that our brains drop out."

But even if the seven brothers marrying seven sisters doesn't happen, there's always the chance that geo-logical forces will triumph — one day. Along the plateau of the rocky outcrop is a deep crack that might lead it at some point to break off. Still the geologists assure us: Not in the immediate future.

After a couple of hours into the hike through the scenic Norwegian wilderness, we were in sight of the flat bit of rock jutting out about 600m above the fjord. If I had superhero powers of stretching myself like rubber, I would have hugged that 25m x 25m piece of rock out of sheer joy.

The occasion demanded a daredevil stunt, or a mini one at any rate.

Adrenaline pumping, I walked right up to the edge. Stopped. Sat down. Dangled one leg off the edge. I looked down at the sheer, vertical drop and the second leg refused to follow the first and be dangled. My heart thumped away but I was on the edge of Pulpit Rock above the Lysefjord, which was shrouded in its smoky blue hues with the striking granite cliffs standing like silent witnesses to its beauty. Large wads of white clouds were rolling off into the horizon.

It is easy to be one with nature in Norway. Around us on Pulpit Rock were mothers with toddlers strapped on their backs, young children and old couples sporting trekking poles — and also the young and superbly fit. Everyone sat around quietly munching on their packed lunches or scampering to the edge of Preikestolen for photo ops.

Preikestolen was carved out naturally by frost during the Ice Age, about 10,000 years ago, when a glacier came up next to the cliff. It has sensibly been left in a pristine condition by the Norwegians. There are no fences and none of your usual paranoia about safety.

If there is a place for a perfect moment of peace, it's up on Pulpit Rock.

A little earlier we had been taking a blustery cruise on Lysefjord. The 42km long Lysefjord has only two villages along its length, Forsand and Lysebotn, both of which are lightly populated. We had to get off at Forsand and then catch a bus from a village called Oanes to the base point where the Preikestolen trek starts.

On the boat, I realised that the bomber jacket I had carried with me was one of the most sensible things I have ever done in my life. Even with the jacket on, my teeth were chattering as I stood on the boat's sun deck. But that didn't stop me from realising I had reached one of the most beautiful places I had ever seen as I gazed out at the steep, light-coloured granite cliffs that rose up dramatically on both sides of Lysefjord (which gets its name meaning 'light fjord' from these cliffs).

To get to Pulpit Rock, the ideal place to stay is the oil-boom town of Stavanger, which is Norway's fourth largest city, with occasional beautiful 18th and 19th century houses and a cheery harbour flanked by wooden warehouses that are now restaurants, watering holes and shops stuffed with trolls in all shapes and sizes.

Did I alarm you, dear reader? I meant papier mâché trolls. I sheepishly admit that I was fascinated by this part of Scandinavian lore — the ugly, long-haired and abnormally long-nosed mythical creatures that fit right into the landscape of rocky, dense woods and mysterious fjords. My favourite Norwegian troll-ish reference is Trolltunga, or Troll's tongue, a long slab of rock jutting out 2,300ft above a lake. Recently, and sadly enough, an Australian woman fell to her death from Trolltunga.

Stavanger's most beautiful and oldest part is Gamle Stavanger, which is a residential area. Only a handful of tourists saunter through its cobbled alleys, so it's easier to enjoy the unspoilt beauty of the cutesy, white wooden cottages all in a row.

Rose-trellised doors, baskets of black petunias, vibrant hydrangeas and weeping willows add to the idyllic beauty of Gamle Stavanger, where the 18th century cottages were conserved post-WWII. The fishing heritage of the city is preserved in the canning museum that is tucked away unobtrusively among the winding lanes of the old quarter.

Gamle Stavanger lies on the west side of Vågen, the harbour at the heart of Stavanger, with its busy little sailing boats and ferries, and also the occasional, giant cruise ship. The day we were to leave Stavanger, the Caribbean Princess, a spectacular cruise ship, came into Vågen, standing athwart the city's skyline like a giant surveying its kingdom.

Adding character to the eastern part of the harbour is a colourful street with a more modern feel. Øvre Holmegate, as it's called was conceptualised by a hairdresser in consultation with an artist. They did a bang-up job. Buildings painted in fresh colours pop out, giving Stavanger a cutting-edge, bohemian touch.

With its small lake, Breiavatnet, the adjoining old cathedral and artistic iron sculptures, the waterfront bars and extremely well-dressed populace, Stavanger was a town that won our hearts. As we left town, a Belgian-chocolate coated waffle in one hand and coffee in the other, we figured it was serendipity that had brought us here.

My husband had first seen a shot of Preikestolen in a coffee-table book in his teens. It had stuck itself firmly in his mind, and one evening sitting in a hotel room in Berlin, he could find tickets to nowhere for a bank holiday weekend, except to Stavanger. That is how some trips are just meant to be, and the universe, once in a while, conspires to make them happen.
READY RECKONER
♦ How to get there: Etihad, Emirates Scandinavian Airlines and KLM fly from Calcutta to Stavanger in Norway via places like Abu Dhabi, Dubai, Oslo and Amsterdam.
♦Where to Stay: Why not in a lighthouse to spice up a Norwegian holiday? Feistein lighthouse (www.klepp.kommune.no) and Obrestad lighthouse (www.ha.no) are both exclusive options short distances away from Stavanger.
♦What to do: Hike to Preikestolen, Kjeragbolten and Trolltunga.