A chilly Nordic break
In the historic Swedish cities of Malmö and Lund, Arundhati Basu discovers equestrian statues in windy squares and medieval timber-framed houses flanked by cobbled lanes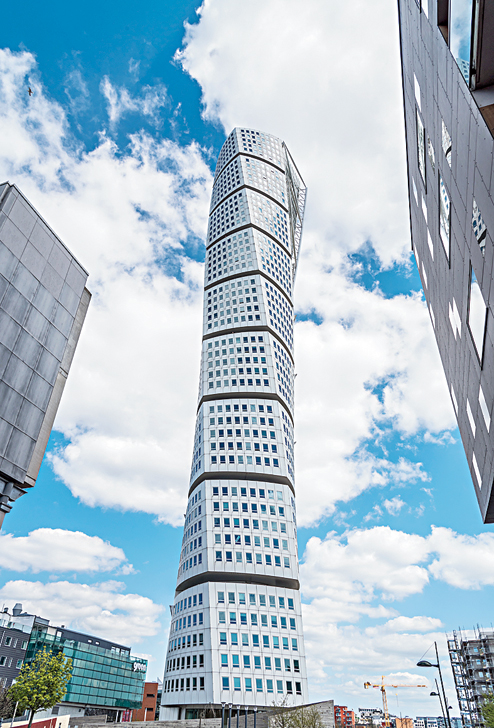 ---
Published 13.03.16, 12:00 AM
|
---
We crossed The Bridge with heightened anticipation. A few weeks before I had watched a politician's body, cut in half, lying on that bridge. Now don't swoon on me, dear reader. I'm merely referring to a Scandi-navian crime drama called The Broen (The Bridge) that was my introduction (and a rather dramatic one at that) to the Øresund Bridge — the longest road-and-rail bridge in Europe linking Denmark and Sweden.
The cities of Copenhagen in Denmark and Malmö in Sweden lie on either side of the Øresund strait after which the bridge is named. On a cold winter's day, we took a bus from Copenhagen to Malmö and in just a matter of 186 Swedish Krona (20 euros) and 40 minutes, we were in another country. I could not help but be caught up in the infectious glee of my husband.
The journey was punctuated by a stop at the Swedish toll booth where a couple of Swedish cops, with a young German Shepherd in tow, carried out on-the-spot checks. They scoured every possible nook and corner of the bus, and then some more, as they prodded their canine friend to inhale a bit of every passenger including all bags. Once he gave us all a clean chit — not a single lawbreaker on the bus and therefore no drama — we continued to Malmö. The idea was to ferret out drugs. After all, we were coming in from Copenhagen, home to the druggie-hippie haven called Christiania.
Ahead of us lay the skyline of Sweden's third largest city with a twisty silver building emerging out of it. The Turning Torso, named aptly for a tall, modern structure that seems to have been wrung out at 90 degrees all along its length, looms above Malmö's low-rise skyline. It happens to be Sweden's tallest building at 620ft.
Malmö is a formerly fortified Hanseatic port that traces its roots to the year 1272. It was for years under Danish dominion till Denmark ceded it to Sweden in 1658 as part of the Treaty of Roskilde. Yet my three discoveries in the old town square in Malmö that had me thrilled to bits had nothing to do with its history.
The first was a shoe shop that had Crockett and Jones emblazoned across it. It's a shoe brand that was started by two heavily moustachioed men from Northampton, the town where we live in England and which is known for its tradition of shoemaking. A Charles Jones had got together with his brother-in-law James Crockett "to encourage young men of good character in the towns of Northampton and Coventry to set up business on their own". In all these days of living in Northampton, I had never laid eyes on shoes that are actually from there.
The tall Swede inside the shop held up a pair of one of the finest shoes I had seen (with prices to match) and said: "They come from Northampton, an English town that is renowned for its shoes." Fancy that. That is travelling in a nutshell for you. You really never know what lies around the corner.
The second instalment of thrills took place in a small kiosk where I bought a box of Summerbird chocolates. Tasting a morsel from this Scandinavian chocolatier brand is akin to stepping into chocoholic heaven. They are pompously priced but when a piece of chocolate is nobly made with Trinitario cocoa beans, it wins all arguments.
Now, it's important that you picture a very windy, cold day. Then imagine us walking across the three squares in the city as icy blasts whipped around us. You will then be able to appropriately make soothing noises of empathy when I say that an indescribable plea-sure surged through me as I laid my eyes upon coffee shops — their warm interiors beckoning to me with the words: "Come, child, come".
The coffee shops in Sweden are a coffee lover's dream — they are straight out of the pages of a glossy décor magazine, made up of warm wooden interiors, white walls for contrast, books stacked by the dozen in shelves and incandescent yellow lighting. I had to give in to the Swedish coffee culture of fika, or a break that demands a cup of coffee and a slice of cake.
Having experienced the vibe in the world's most avid java-swigging countries such as America and Italy, my self-respecting, coffee-loving genes were swept off their feet in Sweden. Historical customs records state that the first shipment of coffee arrived in the country in 1685 but King Karl XII kicked off the trend of drinking coffee in the 18th century when he returned to Sweden from Turkey with a Turkish coffee kettle in tow. Coffee, in those days, was an expensive drink but who can stop the 'bon ton' when there's a statement to be made?
Stepping out of my coffee haven, I came across the equestrian bronze statue of King Karl X Gustav in the middle of Stortorget (Malmö's Big Square) who seemed impervious to the wind's chill blast. The worthy king was Karl XII's grandfather and an illustrious figure who had wres-ted the city's freedom from Denmark.
Leaving the urban, arty sophistication of the city behind, we caught the train to Lund from Malmö's train station which was chock full of refugees camping and hoping for a better life. It was an incongruous sight but one overtaken by the beauty of the Skåne (southern Sweden) region of which both Malmö and Lund are a part. The Skåne, which was once known to be a romping ground of the Vikings, is patch-worked by an open, flat countryside of lush farms, forests, lakes and manors.
At the end of our brief journey lay the town of Lund, the wonderful quaintness of which reminded us of Bruges. Lund is a university town, the second oldest university after Uppsala in Sweden. Therefore, it's a town packed with students bicycling through its charming cobbled lanes and pathways. Medieval timber-framed houses, often with very colourful facades, flank its cobbled paths and leafy parks abound in Lund.
We spent our time traipsing down those lanes, passing by its old libraries and university buildings which are all dwarfed however by the Lund Domkyrka (Lund Cathedral) — a paean to its historical status as the religious capital of Scandinavia during the 12th century. Its 27 churches and eight monasteries were razed by King Christian III of Denmark for the construction of the Malmöhus Castle. Yet Lund is known to be one of the oldest European towns, tracing its roots back to the year 990.
The cathedral, an impressive grey stone affair in the Romanesque style of architecture typical of medieval Europe and with a giant troll called Finn carved into its crypt, dominates the landscape of Lund.
There are museums where you can spend time in Lund but we preferred to explore its medieval buildings and leafy environs, browse its boutiques and spend time in a café rather than spend the hours boxed up inside a building.
READY RECKONER
♦ How to get there: One can fly from Calcutta to Copenhagen with a couple of stops on airlines like Etihad Airways, Lufthansa, Air India and Swissair. From Copenhagen, it's best to take the bus to Malmö since it gives you a view of the Øresund Bridge.
♦ Where to stay: Hotel 71 Nyhavn (www.71nyhavnhotel.com), a designer hotel in Copenhagen, which is conveniently located for you to take the Øresund Bridge to visit Malmö and Lund in Sweden across the strait.
♦ What to do: Spend time with locals, eat and chat with them through an outfit called A Slice of Swedish Hospitality (www.mication.se).