Banglar gaan is a song of humility, says Pratul Mukhopadhyay
A candid chat with Pratul Mukhopadhyay, the man who composed the anthem for Bengali speaking people here and everywhere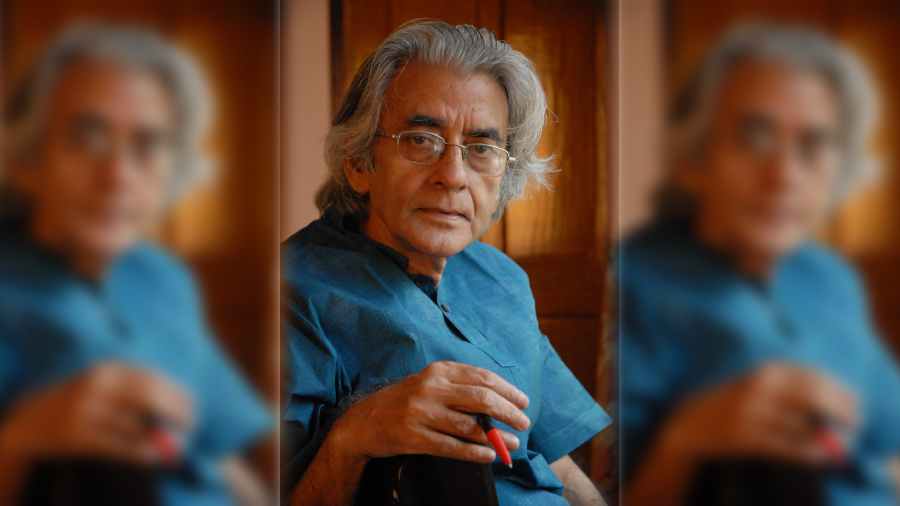 Pratul Mukhopadhyay
Subhasish Bhattacharjee
---
Published 20.02.22, 12:05 AM
|
---
The first time I saw Pratul Mukhopadhyay, he was walking down Calcutta's College Street as part of a procession on Children's Day. The frail-looking, white-maned man with the expressive hands was singing a song he had composed on child labour, nodding his head in time to the snap of his fingers, waving his hand every once in a while. It was about how there is a wholesale market for children as there is for fish, and Mukhopadhyay had written the lyrics. I could never look at the small boy who served tea at my favourite tea stall the same way again.
This was 2001. Even then, as now, Mukhopadhyay was known as the man who sang Ami Banglay Gaan Gayi, which is really a celebration of the Bengali language.
Twenty years on, Mukhopadhyay or Pratulda, as he is known to all Bengalis, proves a little harder to track down. Age and a recent heart attack have slowed him down, he says. Meeting him proves impossible given the pandemic, but he is happy to chat on the phone.
A discussion about language unravels and meanders its way to last year's Assembly elections. Mukhopadhyay says, "I don't think the BJP could not connect with the people of this state because their star campaigners spoke in Hindi. Whenever national leaders have held public meetings in West Bengal, be it Jawaharlal Nehru or Indira Gandhi, they have always spoken in Hindi and we Bengalis have always gone to hear them out of respect." He points out that everyone's favourite slogan "Inquilab Zindabad" is Urdu. "Jai Hind" is Hindi. "The main language used by the Azad Hind bahini was Hindi. Its slogan, its song were in Hindi. But that didn't stop us from identifying Subhas Chandra Bose as quintessentially Bengali, did it?" So what was the problem? Disdain displayed towards Bengal and an apathy towards Bengali culture, he replies.
According to him, it was this gap in understanding that created space for slogans such as "Bangla nijer meyekei chaye", meaning Bengal wants its own daughter.
While Mukhopadhyay is known far and wide as a man of letters — songwriter, composer, historian — his day job was that of a man of numbers. At the time of retirement, he was the head of the statistics department at the United Bank of India. Ami Banglay Gaan Gayi, the song that has come to define him, was written in snatches while he took a break from doing the annual report for the chairman of the bank in March 1993.
It was only in 1982 that Mukhopadhyay started singing his own songs. He says, "I don't know how to sing. People say my voice is very bad. People do not recognise that there is such a thing as a tenor voice. It was natural that I would have to struggle." The chief guest at Mukhopadhyay's first programme was revolutionary Bengali poet Birendra Chattopadhyay. It led to a long and fruitful connection. Mukhopadhyay set about 24 poems of Chattopadhyay to tune, including Chhokra Chand or The Youthful Moon, which is really a song about sramiks or workers. Mukhopadhyay has always sung for workers and causes, at protests and trade union meets and has never charged a fee.
He sings without any musical accompaniment. Snaps his fingers, slaps the air, brings his fist down on the table. Anyone who has heard his songs — the ones he has written and those he
has set to tune — will have no doubt about his politics. One of his first compositions was Mukto hobe priyo matribhoomi sedin sudur noy aar. The words were based on a speech by Charu Mazumdar (of Naxalbari fame) and the tune was based on a Chinese marching song.
Also, sample this line, Bandhu tomar lal tuktuke swapno becho na... friend, don't sell your red, red dreams. And this, Slogan dite giye ami bujhechhi ei sar/Sabash jodi ditei hobe sabash debo kar. It is about the epiphany of a political footsoldier. He has sung Tomar achhe bonduk, the Bengali translation of Guatemalan poet Otto Rene Castillo's You have a gun, and I am hungry.
Mukhopadhyay returns to the story behind the creation of his iconic song. He says, "A programme had been organised at Coffee House on College Street; people like (Rabindrasangeet exponent) Pijush Kanti Sarkar were supposed to be in attendance. I wrote the song but I did not sing it. I just read it out." It wasn't very well recieved. Some called it too long, some said it was influenced by Nazrul.
Gradually the song gained traction. And Mukhopadhyay came to be known as the man who sang the song that Bengalis all over identified with. The Trinamul too borrowed some lines as it went from a grassroots identity to a nativist one. Says Mukhopadhyay, "People started asking me — I was then quite the Leftist — whether the party had taken my permission. But no one needs permission to use four lines from a song."
For Bengalis all over the world, Mukhopadhyay's song is a celebration of an identity, a kind of patriotic song. Is that how he meant it to be? Mukhopadhyay replies, "In patriotic songs, typically there is an element of boast, an arrogance, a tendency to say 'we are the best'. This song is not written in that spirit. It is about assimilation and humility and a language that is representative of these things."
Ami Banglay gaan gayi, ami Banglar gaan gayi.
Têtevitae
1942: Mukhopadhyay is born in Barisal, now in Bangladesh, to a high school teacher. Is one of eight children
1952: Starts going to school. Is admitted in Class IV
1954: Stage debut in a school play as a "singing actor" 
1962: Composes his first song. He composed a slew of gana sangeet right through the decade. No one knew his name, he was known by the code name Sejda Comrade among Naxalites
Starts his career as a banker
1994: First solo album Jete Hobe is released
2016: When 14,000 farmers are returned their land in Singur in the presence of chief minister Mamata Banerjee, he sings Ami Banglay Gaan Gayi at the event
Some of his popular numbers are Charlie Chaplin, Dinga bhashao, Alu becho