Neighbours in my Mirrors
A British Bangladeshi singer's engagement with Bangla music speaks to a larger cultural behaviour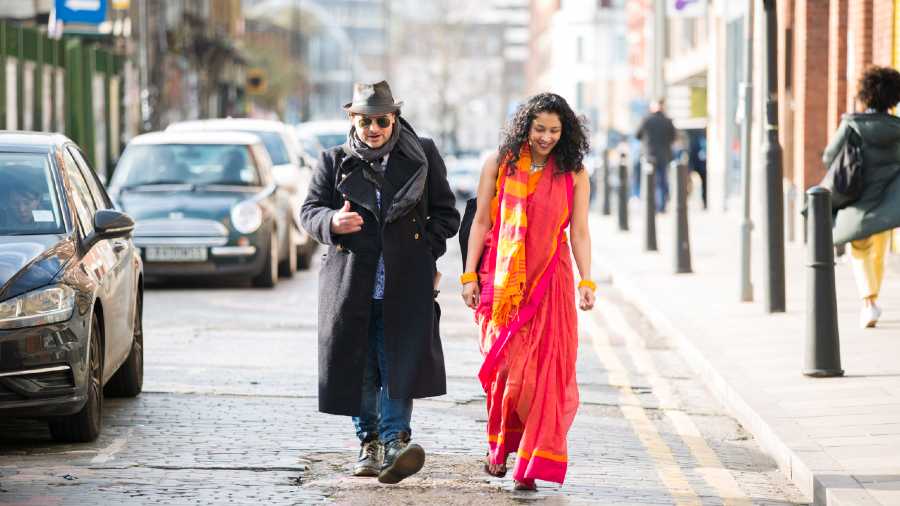 Sohini Alam and Oliver Weeks
Shuvasheesh Das
---
Published 20.03.22, 12:58 AM
|
---
In March 2012, London-based British-Bengali band Khiyo released an audio version of Amar Sonar Bangla, the Bangladeshi national anthem. "One of the people to hear it was Shahriyar Rahman," says Sohini Alam, the vocalist of Khiyo. She continues, "He asked if we were interested in making a video for the song... he would like to direct it. We agreed, and the video was out in December. By January it was viral among Bangalis worldwide."
Amar Sonar Bangla is a composition by Rabindranath Tagore. The first 10 lines of it constitute the national anthem. But Khiyo flipped it, and Sohini began the song from the middle.
But first why name a band after a consonant that produces a sound like a dry cough? Sohini says, "Olly (Oliver Weeks, British musician and co-founder of Khiyo) and I found that most Bangladeshi bands tend to have English names. As we were a London band making Bengali music, it was important that our band have a Bengali name. Olly had been going through his Bengali dictionary and pointed to the letter Khiyo. It worked for us as it is the amalgam of two sounds (k and sh), which is similar to our concept of presenting Bengali music with a London sound."
National anthems are typically sung in chorus, drummed out with patriotic pride, stomping over every other emotion. In the video, Sohini stands ramrod straight, very Madonna Evita, sings alone. She begins at "Ki sobha, ki chhaya go", counting the ways in which she loves the country of her origin and thereon journeys to the exhortation of love, instead of the other way around.
The recording is awash with sounds of the guitar, the bass, the tabla and the viola, which amplify the emotions she channelises — now celebration, now yearning, now pride, now tenderness. When the line, "Shonar Bangla ami tomay bhalobashi", finally presents itself, it is ripe with sentiment.
Some senior professional musicians publicly weighed in with their thoughts. "One declared that starting the national anthem from the middle amounted to treason and called for punishment. In Bangladesh, the punishment for treason is hanging," says Sohini.
As videos go, this one makes for a curious one — an Asian woman singing in Bengali and mostly white musicians at the instruments. But Oliver, who plays the guitar, can read and write Bangla; he spent one year studying Baul music in Calcutta. He and Ben Heartland (who plays the bass)
were in the band Parapar with Bengali singer-songwriter Moushumi Bhowmik. Besides, Sohini transliterates and translates the songs (with Leesa Gazi), be it Lalon Fakir's Bareer Kachhe Arshinogor or Kazi Nazrul Islam's Rum Jhum Rumu Jhumu.
Sohini has grown up in Bangladesh, London and the United States. Primarily trained in Nazrulgeeti, she admits to being a "rock chick" at heart. "Led Zeppelin is one of my all-time favourite bands. As I grew older, I discovered Buena Vista Social Club, which led me
to explore more Latin music. I never imagined I would one day meet Kishon Khan and end up singing in an Afro-Cuban-Bengali jazz band (Lokkhi Terra)…" she continues.
And yet Bangla remains the primary language of her music. She says, "I have a great love for the language that has grown stronger over time. Being able to read the words of Tagore, Nazrul, Jibanananda in their original form is a great gift." And goes on about how even as children Bangladeshis are taught about Bhasha Dibosh, how students took to the streets of Dhaka to demand Bangla as their state language and sacrificed their lives in doing so, how there are recreations of Dhaka's Shaheed Minar across Bangladesh, and one in Altab Ali Park in East London.
As for Bengali music, over the years, she has learned songs by D.L. Roy, Rajanikanta Sen, Atul Prasad, Ramprasad, S.D. Burman,
Sandhya Mukherjee, Hemanta Mukherjee, Manna Dey, Abbasuddin, Abdul Alim, Lalon, Hason Raja, Shah Abdul Karim... She recalls how as a child she would listen to a recording of Begum Akhtar singing Jochhona Korechhe Aari on repeat. "I have found myself gravitating towards women with deeper voices throughout my life."
Sohini has worked across mediums — films, theatre, television. Besides Khiyo and  Lokkhi Terra, she is involved with the all-woman band, GRRRL. She has sung in Akram Khan's Until the Lions, a dance performance based on the Mahabharata. Her aim, as she puts it, is to get Bengali music to as many non-Bengali ears as possible.
She says, "This is because I have found that international audiences know about Indian classical, Bollywood, Afrobeat, Highlife, etc., but not about Bengali music. I have come to realise that representation is important, particularly for Third Culture individuals, so I make it a point to sing in Bengali in mainstream venues."
Her other projects — be it theatre and arts company Komola Collective, her music courses for SOAS University's online music school and her stint as music director for Leesa Gazi's docufeature Rising Silence — are all entwined with her Bengali, Bangladeshi identity.
In India and Bengal, there is an ongoing conversation and debate about who the true custodians of Bengaliness and Bangla might be. Many believe those would be the people of Bangladesh. Sohini's response: "True custodians sounds like something out of Guardians of the Galaxy. What makes one 'true'? The representation of Bangla internationally in formal settings owes much to Bangladesh because it is the county's official state language as opposed to a regional one. There is power in that."
Lalon sang, Bareer kachhe arshinogor/Shetha porshi boshot korey… Close to my home is the city of mirrors/And that is where my neighbour lives. Ami ekdino na dekhilam tarey... I have never had a glimpse of my neighbour, not even for a single day...