Worst over as JSW Steel ramps up output, demand improves
India's second-largest private sector steel maker reports a Rs 581-crore loss in the first quarter on the back of lower volumes and realisation as demand shrunk during the lockdown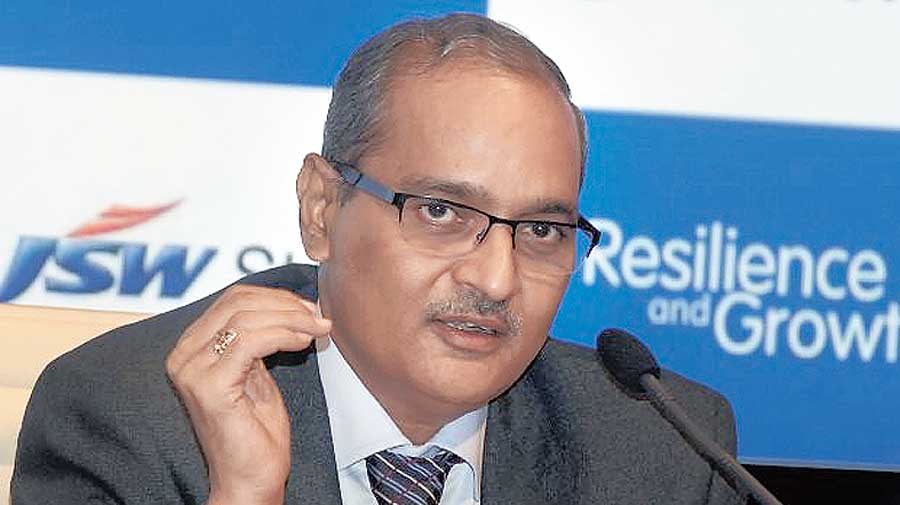 ---
|
Calcutta
|
Published 27.07.20, 12:42 AM
---
JSW Steel, India's second-largest private sector steel maker, reported a Rs 581-crore loss in the first quarter on the back of lower volumes and realisation as demand shrunk during the lockdown and the company resorted to exports. Seshagiri Rao, joint MD and group CFO of the company, however, tells Sambit Saha of The Telegraph that JSW would do much better in the next nine months and the colour of the company will change in 2021-22.
⚫ How do you look back at Q1?
For JSW, this is only a result for two months as April was a washout. April's cost could not be recovered in the subsequent months. Capacity utilisation was only 66 per cent. As domestic demand had fallen, we resorted to exports. Demand shrunk 91 per cent in April, improved to 65 per cent in May and 45 per cent in June.
Our export was 57 per cent in Q1 but it was 70 per cent in April. With gradual improvement in domestic demand, exports are coming down. Moreover, the export spread was more towards semis — billets, blooms, slabs. India's export was 5.5 million tonnes (mt) in Q1 compared with 1.83mt in the same period last year. About 41 per cent of the exports were semis and they went mostly to China. Our sale of semis was around 20 per cent compared with 2-3 per cent usually. So, it was more semis and exports and April.
⚫ How do you look at the rest of the 2020-21?
It will be a year of consolidation. The Vijaynagar plant is now doing well. Capacity utilisation is inching up to 90 per cent. We will be back to normality in production this quarter. Retail is doing extremely well because of the rural area and second-tier cities as they do not depend on migrant labourers.
Credit flow is also better. Plus, recovery in two-wheelers and tractors is strong. Passenger vehicle recovery is also better. Only problem area in auto is the commercial vehicle segment.
⚫ Where do you see prices heading?
Domestic prices have scope for going up, if I consider $500 a tonne landed price now, which after many years is more than the threshold import (anti dumping) price of $489 a tonne. This is because China is not spoiling the market by exporting more, they are consuming internally. In China, prices are at $480 a tonne, up from the lows of $397 a tonne in March. They are exporting less, importing more. Indian steelmakers are taking benefit by exporting to China. Around 48 per cent of the 5.5mt export in Q1 went there.
⚫ What is the impact on the raw material prices?
As China does not import coking coal and everywhere else (US, Europe, Japan, Korea) demand has shrunk, prices have crashed to $110 a tonne from $150 a tonne. But as China imports iron ore, the prices have gone up to $110 a tonne from $85 a tonne. But India has an abundance of iron ore, plus, JSW is doing captive mining.
⚫ Will you meet the guidance on production and sales?
We have given a guidance for 16mt production and 15mt sales. JSW has produced 2.96mt in Q1. We are confident of delivering the balance. Likewise, I don't see any difficulty in doing sales at the rate of 4mt in the next three quarters. Lower coking coal prices along with captive iron ore will bring down operational cost. Plus, higher volume and better product mix indicate that JSW would do better in the next nine months than the previous quarter.
⚫ Ongoing projects are delayed though...
We will complete the expansion of the Dolvi unit to 10mt between September and March and of the downstream units from 5mt to 9mt and also complete the coke oven plant, pellet plant and wire rod in Vijaynagar. The colour of the company will be much different from next fiscal when we complete all that. Now, the total loan which we have raised for the projects was Rs 16,000 crore. It will start giving returns starting next year.
⚫ Give us an update on the ongoing acquisitions.
The acquisitions of Bhushan Power and Steel Ltd and Asian Colour Coated are in their last lap. Under the BPSL resolution plan, we have to acquire it ourselves but our plan is not to consolidate it in the JSW balance sheet (It inducted a financial partner in Monnet).
⚫ How are the new iron ore operations shaping up?
We finalised mine development operators and transporters in Odisha. We will do a production of 1.2mt in July. Going forward, we expect the requirement of Dolvi and Salem to be fully met by the Odisha mines. In Vijaynagar, we will produce 7mt as opposed to the requirement of 21mt, rest will be bought from Karnataka.
We have a JSW Infra-owned port terminal at Paradip. It is already commissioned. The entire evacuation can be done by it without going to Haldia or Dhamra. It will reduce cost and we can also move higher volumes.
⚫ JSW is proposing a Rs 10,000-crore NCD...
NCDs open up the market to mutual funds and insurance companies apart from banks. We raised Rs 3,000 crore last year. This year, we will raise at least 40-50 per cent (of Rs 10,000 crore).
⚫ Foreign assets continue to be a drag...
We took full write-down on the Chile iron ore mine already. Now we will get out of that. The coal operation in the US makes money. It will stay as also in Mozambique, which has very good proven reserves but no infrastructure to evacuate to India. It is for the future.
The story is different for forward integration. The plate and pipe mill in the US was always profitable at the operating level except the last quarter which was badly hit because of the pandemic. We are investing $80 million in modernisation.
It should be profitable again going forward.
Ohio: We won't operate the plant till expansion which gets over in Q4. Losses will come down.
Italy: Losing money because of Europe's weak economy. We decided to shut down the loss making wire rod and bar and operate rail. Losses will be lower this quarter but it will be positive from Q3.