Wholesale price inflation hits record high of 15.1%, rupee sinks to new low
Data adds to pressure on central bank to hike rates but analysts worry higher borrowing costs may hit recovery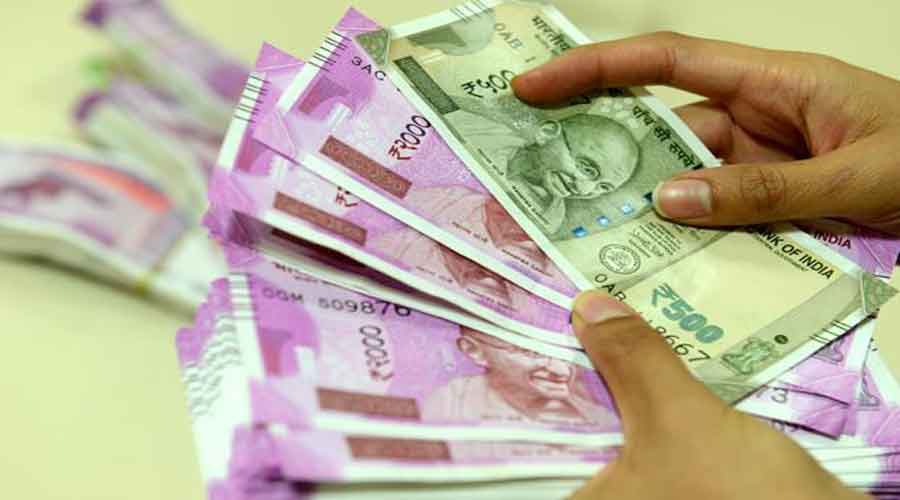 Rupee sank to a fresh all-time low against the US dollar, dropping 51 paise to 77.78 against the US currency as investors look for safe-haven assets
File Picture
---
New Delhi
|
Published 18.05.22, 07:36 AM
|
---
Are you feeling the squeeze on your food and fuel bills? Here's more confirmation that you are paying more for your vegetables, fruit and petrol:  India's Wholesale Price Index hit a fresh year-on-year high of 15.1 per cent in April, fuelled by surging prices of vegetables, fruits, milk and fuel, government official data showed Tuesday.
The latest numbers pile pressure on the central bank to hike interest rates further when it meets in June. The Reserve Bank of India increased its trendsetting repurchase rate, known as the repo, by 40 basis points at an emergency meeting earlier this month.  
Meanwhile, the rupee sank to a fresh all-time low against the US dollar, dropping 51 paise to 77.78 against the US currency as investors look for safe-haven assets. The rupee later firmed to 77.63 to the dollar on the back of intervention by the central bank which has been deploying its hefty reserves and a dollar which eased slightly from a two-decade peak against a broad basket of currencies. But analysts say the rupee could fall to as low as Rs 80 to the dollar in coming weeks. They only expect the central bank to seek to avert a "disorderly" fall.
While a weakening rupee makes our exports cheaper, it makes our imports more expensive, fuelling domestic inflation. 
Analysts say raising interest rates may not be the answer to dousing inflation as much of it comes from supply constraints caused by Russia's invasion of Ukraine, rising global fuel prices and the pandemic rather than excessive consumer demand. All increasing rates may do is douse economic recovery, they say.
Fears of a global recession have been amplified by new Chinese data showing a sharp slowdown in retail and factory activity.
The new Indian wholesale price figures come after the more widely tracked consumer price inflation index hit an eight-year peak of 7.79 per cent. 
The wholesale price index has been in double-digits for 13 straight months.
The unrelenting heatwave for the last two months has pushed up prices of perishables like fruits, vegetables and milk, the Wholesale Price Index showed. Month-on-month, overall food inflation in April was 8.8 per cent. Vegetable prices increased 23.24 per cent month-on-month from March.
Fuel prices rose a massive 38.66 per cent while prices of manufactured products have climbed 10.85 per cent. Supply disruptions stemming from the Russia-Ukraine conflict and the pandemic have fed inflation.
Analysts are forecasting a 40 basis point increase in the repo rate in June and expect the central bank to raise the rate by at least further 35 basis points in August. The rate-hiking cycle could peak in mid-2023 at 5.5 per cent.
"With the source of inflation being global supply issues and not exuberant domestic demand… over-tightening will douse the fledgling recovery without having a commensurate impact on the origins of inflationary pressures," said ICRA chief economist Aditi Nair.
The State Bank of India echoed the concerns about how effective rate hikes can be in dampening inflation in current circumstances. "The important challenge facing the central bank remains whether inflation will tread down meaningfully because of such rate hikes, if war-related disruptions, do not subside quickly," SBI Chief Economist Soumya Kanti Ghosh said.