Waterways body IWAI opens up to private role
Garden Reach, Patna terminals handed over to Bangladesh's Summit Alliance in revenue sharing deal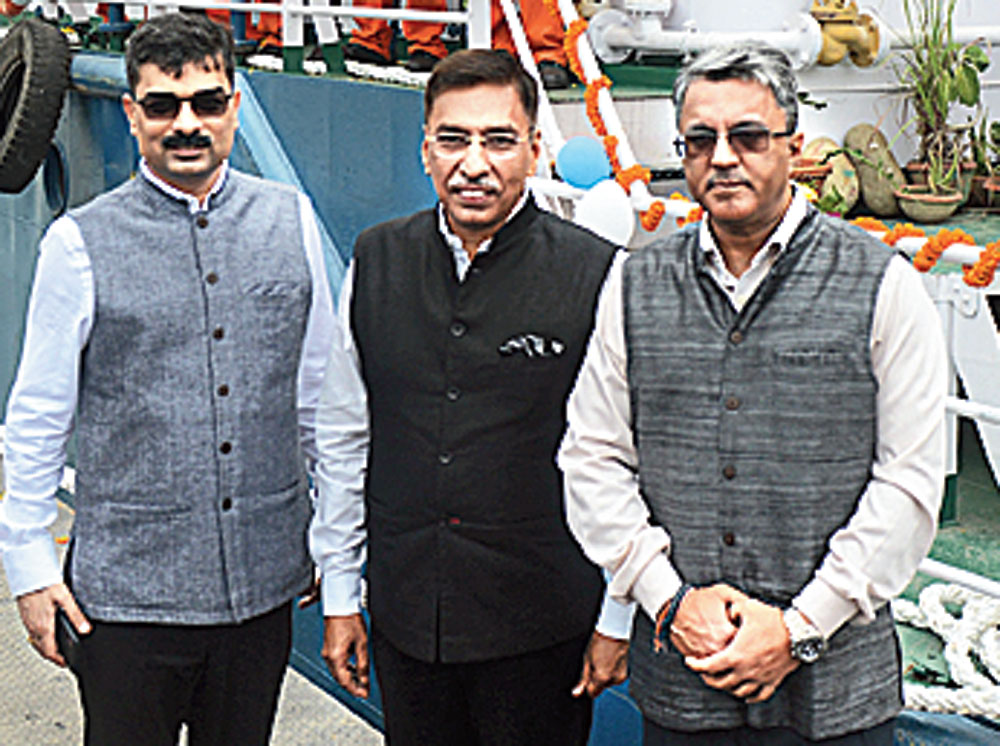 Shipping secretary Gopal Krishna with IWAI chairman Pravir Pandey (right) and KoPT chairman Vinit Kumar in Calcutta on Tuesday.
(Bishwarup Dutta)
---
Calcutta
|
Published 30.10.18, 09:39 PM
|
---
The Inland Waterways Authority of India (IWAI) will have revenue sharing arrangements with private parties to operate its terminal in Calcutta amid rising corporate interest in inland cargo on account of the possibilities of cost saving compared with road and rail.
The IWAI has handed over the operation and management of its terminals at Garden Reach in Calcutta to Summit Alliance Port East Gateway (India) Pvt Ltd on a supply, operate and maintain model for a period of 30 years. The firm will also operate the IWAI terminals in Patna.
The operator, the Indian arm of Bangladeshi company Summit Alliance Port Limited, will collect user fees as per tariff notified by the IWAI. There is a revenue sharing arrangement of 61.7 per cent for the private operator and 38.30 per cent for the IWAI.
The private operator envisages an investment of $8 million in phases to build up cargo and container handling capacity at the IWAI terminals. The current handling capacity of the terminal will be ramped up three times from 1.6 million tonnes in the next five years.
"Under the transactional structure worked out by International Finance Corporation, the private operator operation and maintenance services at both Calcutta and Patna clusters and invest in cargo handling equipment, container handling equipment and warehousing," said Pravir Pandey, chairman of the IWAI.
According to estimates by the IWAI, the proposed project could facilitate a shift of up to 55 per cent of cargo to water transport .
Existing potential of anchor cargo of 56000 TEUs is expected to grow to 250,000 TEUs over the next 15 years. IWAI also envisages tapping into Nepal-bound container cargo in the future.
PepsiCo (India) on Tuesday utilised the inland waterways for transporting its product from Calcutta to Varanasi.