Vodafone CEO upbeat after bailout talks
The Supreme Court is due to hear the telecom case on March 17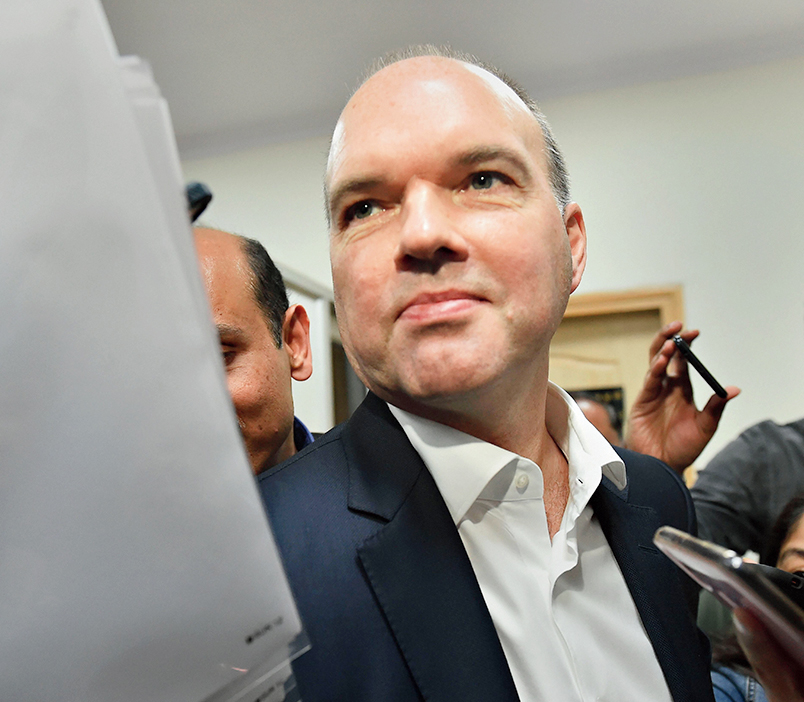 Nick Read leaves after meeting telecom minister Ravi Shankar Prasad in New Delhi on Friday.
(PTI)
---
New Delhi
|
Published 06.03.20, 08:41 PM
|
---
Vodafone Global CEO Nick Read, on a fire-fighting mission to save his joint venture in the country, said the company wanted to make a new and good beginning in India amid growing signs that the the government would offer some relief from the crippling burden of the AGR dues.
Read met finance minister Nirmala Sitharaman and telecom minister Ravi Shankar Prasad ,separately, on Friday to seek government assistance to keep afloat joint venture Vodafone Idea.
"It was a good meeting," Prasad said when asked about the discussions with the Vodafone bosses.
The meeting assumes significance as Vodafone Idea Ltd, where the British telecom giant holds just a over 45 per cent stake, is staring at Rs 53,000 crore in unpaid statutory dues, having paid only Rs 3,500 crore in two tranches.
Vodafone Idea has said its self-assessment puts its AGR (adjusted gross revenue) liabilities at Rs 21,533 crore, which is just 41 per cent of government estimates.
Read, in a 40-minute long meeting, discussed the company's current situation with Prasad and telecom secretary Anshu Prakash. The Vodafone executive did not comment when asked for his views after the meeting.
Relief measures for telecom firms are a work in progress, government sources said, adding Vodafone Idea will have to pay at least the principal amount of its AGR dues at the earliest. The Supreme Court is due to hear the telecom case on March 17.
They said Read also acknowledged the AGR issue should have been addressed long back by the company.
During the meeting, Prasad made it clear that the government is against a monopoly in the telecom sector, and wants Vodafone Idea to survive and remain invested in India, sources said.
Earlier, Sitharaman said the central government was looking at the options and will take a decision on relief to telecom companies on AGR soon. Read had met the minister and revenue secretary Ajay Bhushan Pandey.
Vodafone Idea has been at the forefront of seeking a bailout package from the liability imposed by the Supreme Court ruling.
It had recently told the government that it would not be able to pay the full dues unless state support is extended to the company survive the present crisis.