US Trade Representative visit to provide platform for negotiations
This will be Katherine Tai's first visit to India since she took over as USTR with the Biden administration coming to power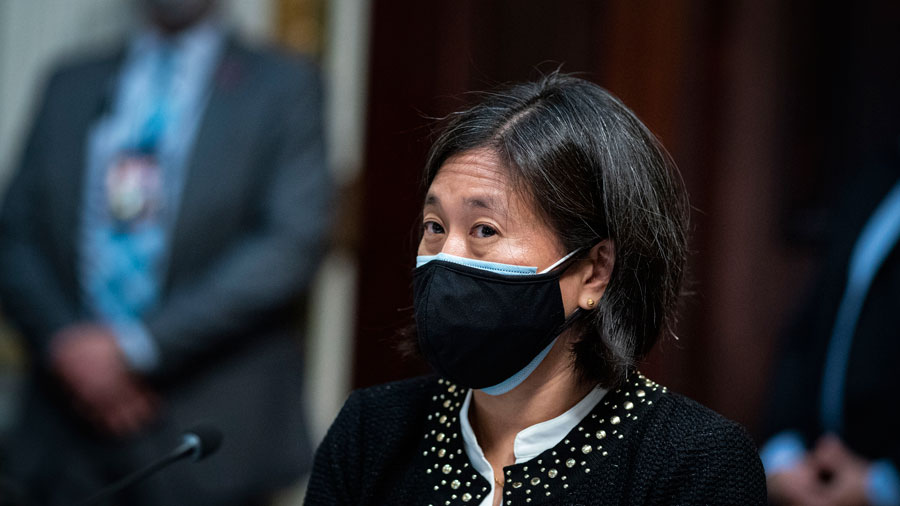 U.S. Trade Representative Katherine Tai during a meeting in Washington, Sept. 9, 2021.
Al Drago/The New York Times
---
New Delhi
|
Published 01.11.21, 12:45 AM
|
---
The visit of US Trade Representative (USTR) Katherine Tai later this month is expected to provide a platform for negotiations on some of the pressing issues such as the equilisation levy even as the position of the two sides is expected to become clear on some contentious issues at the WTO such as patent waiver on Covid equipment and fisheries subsidy.
India's equalisation levy and IPR issues are likely to be discussed, Gupta said. He is also the Policy Leader Fellow, STG, European University Institute.
This will be Tai's first visit to India since she took over as USTR with the Biden administration coming to power.  She will be accompanied by Deputy US Trade Representative Sarah Bianchi as part of the Indo-Pacific region strategic dialogue process. Tai will be in Japan, Korea and will come to India on November 22. Besides bilateral trade issues, she is likely to take up trade in the Asia-Pacific region.
Arpita Mukherjee at the Indian Council for Research on International Economic Relations (Icrier) said "the visit is expected to kickstart the dialogue to remove the trade irritant. The trade policy forum likely to be held during the visit would help the two sides to understand the areas to focus on in strengthening bilateral trade". 
She said the visit comes ahead of a WTO meeting on November 30 and could provide direction on where the two parties stand on the India-South Africa proposal on TRIPS vis-a-vis Covid-19 treatment. "But the crux of the visit is strengthening Indo-Pacific strategic ties which would have global implications."
"Outcome of the upcoming ministerial conference of the WTO particularly with respect to fisheries subsidies negotiations, India and South Africa's TRIPS waiver proposal at the WTO for Covid vaccines to which the US expressed support in May are likely to come up for the discussion," Pralok Gupta, associate professor, IIFT, said. 
India's equalisation levy and IPR issues are likely to be discussed, Gupta said.
Tai is likely to hold a bilateral meeting with commerce and industry minister Piyush Goyal, where she may discuss pruning fisheries subsidies and agriculture support at the WTO ministerial conference. The visit comes amid the two sides planning to hold the India-US trade policy forum, after a gap of four years.
Ajay Sahai, Director General and CEO, FIEO said "the visit should result in further strengthening the trade ties between two countries. US concerns of a trade deficit are largely addressed through imports of crude and gas from the US besides aircraft and defense imports which will balance the trade deficit to a large extent. "
He said, "we should flag some of the irritants between the two countries like tariffs and non-tariff issues as both the countries cite them as market barriers and multiple practices and regulations that disadvantage foreign companies."