US Federal Reserve raises interest rate by 75bps
Officials predicted that the unemployment rate will increase to 3.7 per cent this year and to 4.1 per cent by 2024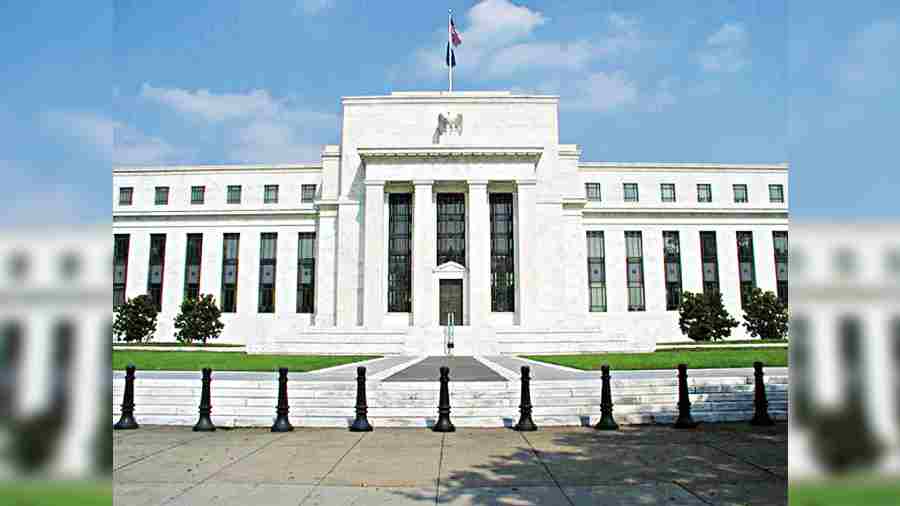 The Federal Reserve building in Washington
Telegraph Picture
---
New York
|
Published 16.06.22, 03:07 AM
|
---
The US Federal Reserve has raised interest rates by three-quarters of a percentage point on Wednesday, its biggest move since 1994, as the central bank ramps up its efforts to tackle the fastest inflation in four decades.
The big rate increase, which markets had expected, underlined that Fed officials are serious about crushing price increases even if it comes at a cost to the American economy.
Officials predicted that the unemployment rate will increase to 3.7 per cent this year and to 4.1 per cent by 2024, and that growth will slow notably as policymakers push borrowing costs sharply higher and choke off economic demand.
The Fed penciled in interest rates hitting 3.4 per cent by the end of 2022 — a level that would be the highest since 2008 — and officials saw their policy rate peaking at 3.8 per cent at the end of 2023. Those figures are significantly higher than previous estimates, which showed rates topping out at 2.8 per cent next year.
Fed officials newly expected to be cutting rates in 2024, which could be a sign that they think the economy will weaken so much that they will need to reorient their policy approach.
The major takeaway from the Fed's economic forecasts, which it released for the first time since March, was that officials have become more pessimistic about their chances of letting the economy go down gently.
Underlining that, policymakers cut a sentence from their post meeting statement that had predicted that inflation could moderate while the labor market remained strong — a hint that they believe they may have to slam the brakes on job growth to wrestle inflation under control.
Inflation pain
"Inflation remains elevated, reflecting supply and demand imbalances related to the pandemic, higher energy prices, and broader price pressures," the Fed reiterated in its post meeting statement. One official, the president of the Federal Reserve Bank of Kansas City, Esther George, voted against the rate increase.
Though Ms. George has historically worried about high inflation and favored higher interest rates, she would have preferred a half-point move in this instance.
Until late last week, markets and economists broadly expected a half point move. The Fed had raised rates by a quarter point in March and half a point in May, and had signaled that it expected to continue moving up at that pace in June and July.
New York Times News Service