Engineers flag safety
The Jet Airways' Aircraft Maintenance Engineers' Union wrote to the aviation regulator on Tuesday morning that three months' salary was overdue to them and flight safety "is at risk".
Jet Airways has nearly 560 engineers to maintain its fleet of over 100 planes. The engineers' union claims representing around 490 engineers.
"As of now, three months' salary is overdue to us," the association said in an e-mail to the DGCA.
"It has been arduous for us to meet our financial requirements, which has resulted in adversely affecting the psychological condition of engineers at work and therefore, safety of public transport aircraft being flown by Jet Airways across India and the world is at risk."
The pilots of Jet Airways have threatened to stop flying from April 1, if they do not get a substantial part of their pending salaries, aggravating the crisis at the airline.
Piling on the airline's agony, Jet engineers said they were due three months' salary and warned flight safety "is at risk".
The pilots' decision was taken at the annual meeting of Jet Airways' domestic pilots body National Aviators Guild after a meeting in Mumbai lasting for over 90 minutes.
The guild, which came into being almost a decade ago, represents around 1,000 domestic pilots at the airline.
"If there is no proper clarity on the resolution process and salary payments, by March 31, we will stop flying from April 1," the guild said.
Guild officials said they had not been paid salary on time and in full since September. At present, 87.5 percent of December and the full salaries of January and February are pending.
Having failed to get any assurance from the management on salaries, the guild last week had written to Union labour minister Santosh Gangwar, seeking his intervention.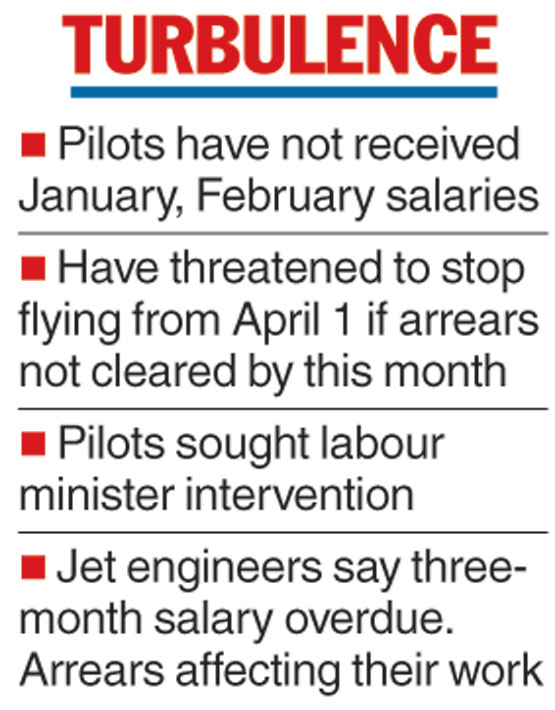 The Telegraph