Tatas reclaim Air India, four govt nominees on board
Salt-to-software group wins bid with an offer of Rs 18,000 crore which includes an upfront cash payout of Rs 2700 crore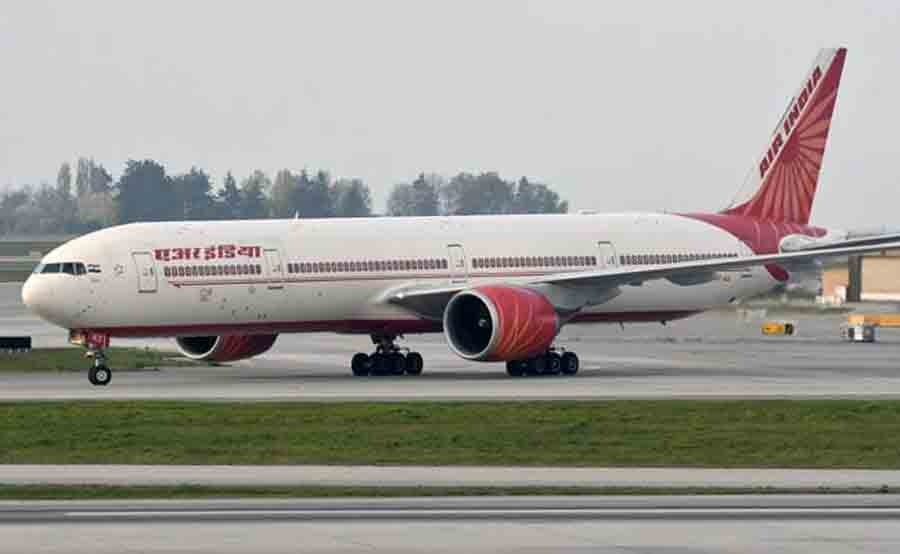 A new board, consisting of Tata group executives, will take charge in the coming days.
File Photo
---
New Delhi
|
Published 28.01.22, 02:28 AM
|
---
The historic handover of Air India to the Tatas after 69 years threw up a surprise with four government nominees retaining their positions on the board of the airline.
Disinvestment secretary Tuhin Kanta Pandey told a television channel that "the new Air India board has already met; four existing directors will continue on the board".
It wasn't immediately known why the four government nominees were retained on the board after the government had sold its entire stake in the carrier. There was no clarity on the role they would play and how long their tenures would be.
There was even more confusion when the Tata camp said officials of Tata Sons and Air India had met informally and that there had been no meeting of the airline's board of directors.
Last October, when the Tatas won the bid to take over Air India, there had been no indication that the government would ask for board positions after handing over the airline. On the other hand, there was a clear suggestion that the Tatas would have a free hand to run the airline though they would have to put up with some operational restrictions. Air India chairman and managing director Vikram Dev Dutt, director finance Vinod Hejmadi and government nominee directors V.A. Patwardhan and S.K. Mishra are part of the current board.
Sources said the existing board of Air India will resign, and a board, consisting of Tata group executives, will take charge in the coming days. Among the names being mentioned for the restructured board include Nipun Aggarwal, senior vice-president at Tata Sons, Saurabh Agrawal, CFO at Tata Sons, Suprakash Mukhopadhyay, group corporate secretary at Tata Sons, Eruch Noshir Kapadia, former CFO at Tata Sons and Sunil Bhaskaran, CEO of AirAsia India.
Tata Sons in a statement said "Ratan N. Tata joined N. Chandrasekaran, chairman, Tata Sons in expressing his thankful recognition to the Government of India and its various departments for the successful completion of this important transaction."
The Tata had won the bid for Air India with an offer of Rs 18,000 crore which included an upfront cash payout of Rs 2700 crore. The rest is in the form of debt worth Rs 15,300 crore that the Tata group will shoulder. The Tatas would pay Rs 2,700 crore cash and takeover Rs 15,300 crore of AI's debt.
Pandey in a tweet said, "The strategic disinvestment of Air India successfully concluded today with transfer of 100 per cent shares of Air India to M/s Talace along with management control. A new board, led by the strategic partner, takes charge of Air India."
Asset transfer
A government notification issued earlier this week has clearly demarcated the core assets that will go to Air India and the noncore assets that will be with special purpose vehicle AI Assets Holding Ltd (AIAHL).
Four Air India subsidiaries — Air India Air Transport Services , Airline Allied Services, Air India Engineering Services and Hotel Corporation of India — along with noncore assets and other nonoperational assets will go to AIAHL.
As on August 31, 2021, Air India had a total debt of Rs 61,562 crore. Around 75 per cent of this debt or Rs 46,262 crore will be transferred to the special purpose vehicle, AIAHL. Besides, the noncore assets of Air India, including land and building, valued at Rs 14,718 crore are also being transferred to AIAHL.
Tatas would not get to retain assets such as the Vasant Vihar Housing colony of Air India, Air India Building at Nariman Point, Mumbai, and Air India Building in New Delhi. Of the 141 Air India aircraft that Tatas would get, 42 are leased planes while the remaining 99 are owned.
Air India will give it access to a fleet of 117 widebody and narrowbody aircraft, besides the control of 4,400 domestic and 1,800 international landing and parking slots at domestic airports as well as 900 slots at airports overseas such as London's Heathrow. The Tatas will also get 24 narrowbody aircraft of Air India Express Ltd.