Tata's e-commerce venture at root of Goyal outburst?
Opposition leaders wonder if the minister, known for being abrasive with industry leaders and journalists, could have been speaking without official sanction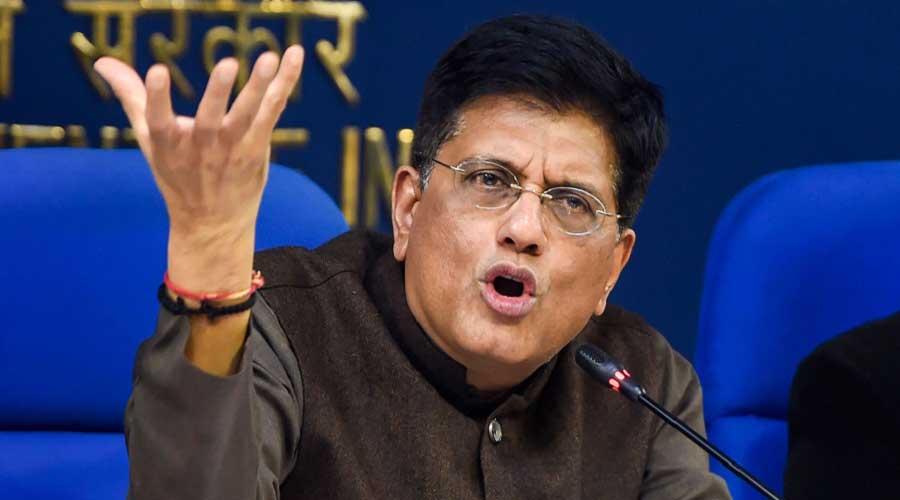 Piyush Goyal.
File picture
---
New Delhi
|
Published 15.08.21, 10:11 AM
|
---
A frenzied guessing game is underway to figure why Commerce Minister Piyush Goyal unleashed a scathing attack on Indian industry at the CII annual meeting 2021. In a 19-minute tirade, Goyal attacked first the Tatas and then industry as a whole with remarks like, "At least you should resist the greed of these foreigners. You are welcome to do good honest business. But in wrongdoings … when I read the names of that have entered into partnership with Falana dhimkana (anyone and everyone)….".
Top industrialists are still reeling after the unexpected attack at what, till then, had been a love fest between the government and industry with Prime Minister Narendra Modi and Finance Minister Nirmala Sitharaman making speeches on earlier days. "India Inc has been taken by surprise," said one observer. "Nobody has a clear idea about why he said all this."
Congress leader Jairam Ramesh labelled Goyal's comments "a bizarre tirade" and wondered whether they had been made without "official sanction." Congress spokesman Jaiveer Shergill added that Goyal had massively undermined Modi's pitch about "Ease of doing business India."
CII moved quickly to first edit Goyal's speech, taking out the 19-minute attack on industry, and then to take his speech down from YouTube completely. The speed with which it moved triggered speculation that it had been ordered to take it down by the government. However, The Hindu had a recording of the speech and reported it on Saturday.   "CII should demand an apology instead of helping him by pulling down the video. Stand up to bullying!" Shiv Sena Rajya Sabha MP Priyanka Chaturvedi said.
One line of thinking is that Goyal was aiming primarily at the Tatas because he's infuriated that the Tatas have strongly opposed some clauses of the proposed Consumer Protection (e-commerce) rules, 2020, and had raised these objections at a Government-industry meeting in July. Goyal, who also heads the Consumer Affairs Ministry, has been looking to move quickly to bring these rules into force but found that both Amazon and the Tatas were requesting more time to study the new changes.
The new rules forbid sales by group companies that have a link with the e-commerce site owner. The Tatas pointed out that this would stop them from selling products from several newly acquired group companies. It would stop it from selling products from Starbucks, which has a tie-up in India with the Tata Group, like coffee or anything else on the proposed Tata e-commerce platform. The Tatas have bought companies like online grocery store BigBasket and online pharmacy 1MG and it would have difficulty selling products from these companies also. The Tatas are still a small player online and the group has been hoping to change that in the coming months. If the Tatas can ramp up their online presence, this could impact existing heavyweights like Amazon, Reliance Industries's Jio and also Flipkart-Walmart.
Zeroing in on the Tatas, Goyal said a "company like yours, maybe you bought one or two foreign companies, now their importance is greater than national interest?" 
He specifically attacked Banmali Agarwala, the Tata Sons President for Infrastructure, Defence and Aerospace, for opposing the e-commerce rules, saying, according to The Hindu, "Me, myself, my company. We need to go beyond that approach." He added that he had already conveyed this message to Tata Group Chairman N. Chandrasekharan.
Alternatively, there is the possibility that Goyal had been instructed to convey government displeasure with industry in general but that he overstepped the mark. The minister has been known to be abrasive at times both with industry leaders, journalists and others who meet him.
In a broader attack, he also accused industry in general of structuring FDI deals so that they stayed within the four corners of the law but violated the spirit of the rules.
However, he could have been instructed to make a limited show of displeasure with the Tatas. There's also speculation that the government is counting on the Tatas to buy Air India and that the Tatas are possibly being difficult about what might be an expensive purchase that would be difficult to return to profit.
Also, the Tatas already have two airlines, Vistara, which is a full-service airline, and Air Asia which is in the low-cost carrier segment. An additional complication for the Tatas is that they have agreements for both airlines that they would not invest in a competitor.
Interestingly, the CII president for this year is Tata Steel Managing Director T. V.  Narendran. Goyal, in his speech, questioned industry's commitment to India and challenged Tata Steel to sell its products in countries like Japan and South Korea. He insisted that both countries were "nationalistic" and so wouldn't buy steel made in other countries. "When we talk of the 'nationalistic spirit,' many in the media call us orthodox and backward. Nobody in Japan, Korea calls this backward."
However, till Goyal made his appearance, the CII annual meeting had been proceeding smoothly with non-controversial speeches by Modi and Sitharaman. Both laid strong emphasis on Atmanirban Bharat. Sitaraman attempted to nudge industry to be more adventurous, saying, "It is time for Indian industry to come around in a big way and it is time to show its risk-taking capacity."
Adding to the mystery around the sudden outburst is the fact that Goyal had taken part in two CII meetings, one this month and the other in the last week of July where nothing untoward had happened.
Inevitably, Goyal's remarks triggered a Twitter storm with TV producer-turned-politician Nivedith Alva remarking that, "When a minister singles out India's biggest companies – it's almost as if he is upset that he wasn't dropped along with Mr Prasad, Mr Javadekar etc. Headed in that direction."
Goyal's outburst follows his welcoming in Parliament earlier in the week of a Supreme Court decision that Amazon and Walmart's Flipkart should face investigations into alleged anti-competitive behaviour. In welcoming the court's decision, he invoked the "Quit India" campaign, Mahatma Gandhi's movement demanding an end to British rule. Commentators said that Goyal's "Quit India" talk sent a bad message to investors.
"These companies (Amazon and Walmart) used legal tactics to stall the investigation ... I'm happy to tell you that yesterday, on the day of the Quit India Movement, all the efforts of these companies failed," Goyal told Indian lawmakers.
Goyal has been in the headlines before for making strange comments. Two years ago, he was mercilessly mocked on social media for telling a meeting of the board of trade that "maths did not help Albert Einstein to discover gravity."