Tatas work on plans to acquire 'historic' order of aircraft for Air India
AI is implementing a long-term revival plan and over the next five years, it aims to grow its wide-body and narrow-body fleet and expand the global network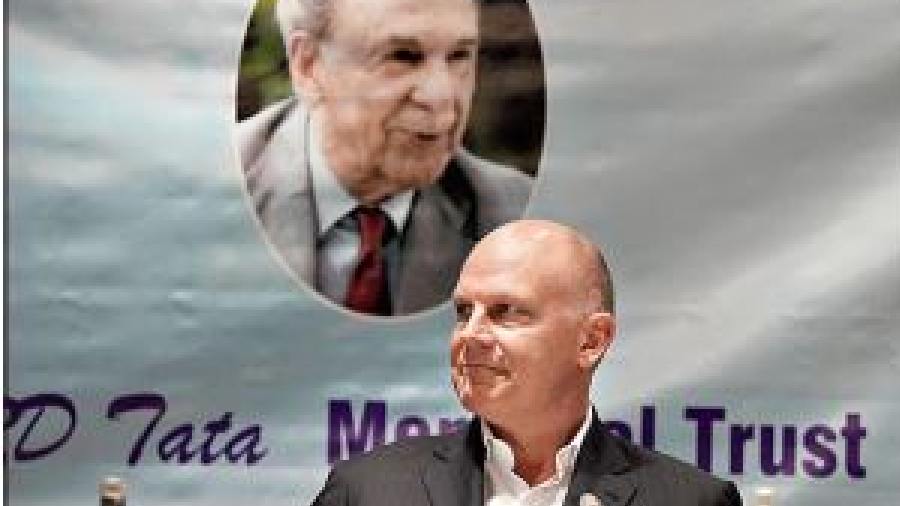 Campbell Wilson at the 118th birth anniversary celebrations of J.R.D. Tata in Mumbai on Saturday.
PTI
---
Mumbai
|
Published 21.11.22, 01:25 AM
|
---
The Tatas have drawn up ambitious plans to transform Air India — acquired by the $128-billion conglomerate in January — as it looks to add destinations and increase its market share, Campbell Wilson, managing director and CEO of the airline, said.
Air India is in discussions with Boeing, Airbus and engine manufacturers for a "historic'' order of next-generation aircraft, even as it has finalised leases for 30 additional planes that will be delivered over the next 12 months.
Wilson said the airline has repaired nearly 20 aircraft grounded because of a lack of parts and money and introduced premium economy class in some of the long-haul international flights. He was speaking at an event organised by JRD Tata Memorial Trust on Saturday.
He said the airline would increase its market share to at least 30 per cent in domestic and international routes.
Air India is implementing a long-term revival plan and over the next five years, it aims to grow its wide-body and narrow-body fleet and expand the global network.
"The short-term actions have been to replace carpets, curtains, seat cushions and covers. To fix defective seats and inflight entertainment systems as fast as supply chains allow. And where parts are no longer available in the market, to work with the likes of Tata Technologies to design and manufacture parts ourselves."
"We've recently completely revamped the domestic inflight menu, and will be doing likewise, as well as launching premium economy on certain long-haul international flights next month," he said.
The airline has finalised leases for 30 additional aircraft to be delivered over the next 12 months, starting next week.
"Beyond these short-term additions, we are in deep discussion with Boeing, Airbus and engine manufacturers for a historic order of the latest-generation aircraft that will power Air India's medium- and long-term growth. At the risk of gross understatement, the investment will be substantial," he said.
He pointed out that Air India will take a gradual approach in its transformation wherein over the next six months it will focus on fixing the basics.
"For the subsequent year, we'll start the take-off run, building for excellence and attracting those who may not have considered Air India before, and by April 2024 or thereabouts, we will leverage the work done in the earlier phases to climb rapidly, so that by 2027 we have scaled the heights of our aspiration."
He said Air India has expanded to more international destinations. including Vancouver, Sydney and Melbourne.
Besides flying non-stop to London from seven Indian cities, the airline will add non-stop services to San Francisco, New York and Newark starting in a few weeks from Mumbai.
"Turning around Air India and restoring it to glory is a test match, not a T20. It will require patience, fortitude and partnership. Though there will be the occasional six and four, it'll mostly be the steady accumulation of singles and doubles," Wilson said.
VRS relaxation
Air India has given an option to the cabin crew who have opted for voluntary retirement scheme (VRS) to extend their tenure until January 31 next year, amid shortage of cabin crew and long waiting period for US visas, according to sources.
The Tata group-owned airline offered VRS to its employees, including the cabin crew, in June this year. The relieving date for those who opted for the VRS was fixed as November 30.
The sources said around 4,500 employees had applied for the scheme.
"The release date from the services of the company for VRS crew has been extended. Crew members may choose to extend their release date till January 31, 2023," the airline said in a communication on Saturday.
A query sent to Air India seeking comments on the matter remained unanswered.