Tata Steel BSL Ltd reduces debt by 60 per cent
The big-ticket purchase of Bhushan Steel Limited (BSL) three years ago potentially makes it the most successful acquisition by the company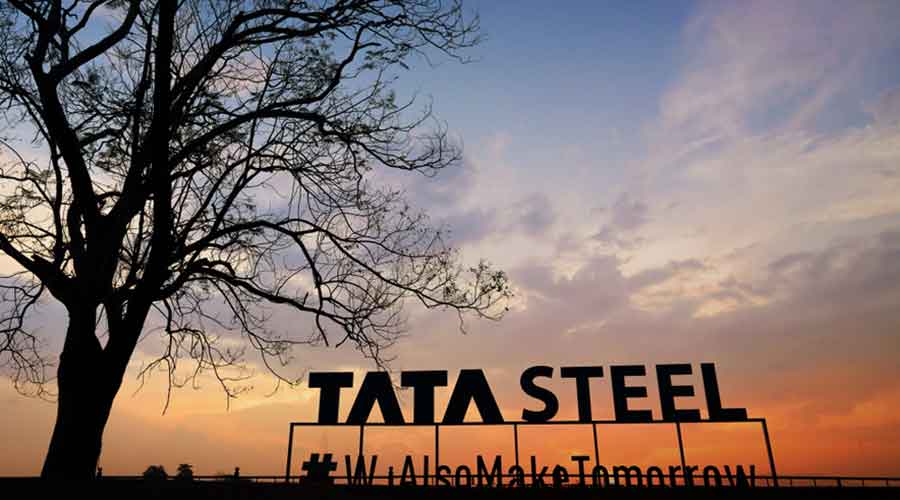 Tata Steel Ltd
File picture
---
Calcutta
|
Published 14.06.21, 01:11 AM
|
---
Riding on the commodity boom, Tata Steel has been able to significantly make good on its big-ticket purchase of Bhushan Steel Limited (BSL) three years ago that potentially makes it the most successful acquisition by the company.
Within three years of taking over the stressed company from the bankruptcy court, Tata Steel BSL Ltd (TSBSL) has been able to reduce debt by 60 per cent already, thereby paring down the acquisition cost significantly. If the steel market continues to remain buoyant as it is, more deleveraging is on the way.
Tata Steel Ltd had stumped up Rs 35,200 crore for the Odisha-based plant which can produce 5.6 million tonnes. While the parent invested Rs 19,700 crore from its own balance sheet, it also put in place a 12-year long-term take-out financing of Rs 15,500 crore for Tata Steel BSL.
A back of the hand calculation suggests the company has been able to reduce leverage by Rs 9,300 crore, majority of which was achieved in the last fiscal alone.
The gross debt at TSBSL came down by Rs 5,500 crore in 2020-21 due to strong cash flow from the business.
"It is important to mention that since acquisition, Tata Steel BSL has reduced its leverage significantly by 60 per cent and, therefore, has significantly paid back the acquisition cost," Tata Steel disclosed in its latest annual report.
Tata Steel BSL is on its way to be merged with the parent as shareholders of the respective companies have approved the plan.
TSBSL shareholders will get 1 share of Tata Steel for every 15 shares held in the company. The scheme of arrangement is pending approval from the National Company Law Tribunal.
During the January-March quarter, the company achieved an earning before interest, depreciation, tax and amortisation (EBIDTA) of Rs 21,648 a tonne, an EBIDTA margin of 35.3 per cent. It posted a profit of Rs 1,912 crore for the quarter and Rs 2,516 crore for the full year. It had recorded Rs 8 crore profit in the fourth quarter of 2019-20 and a loss of Rs 617 crore for the full year.
Deliveries also rose to 4.31 million tonnes in the last fiscal from 3.57 million tonnes in 2018-19, the first year after coming under the Tata fold.
Compared to TSBSL, the other big-ticket acquisitions of the company, namely Corus Group Plc, acquired in 2007, Natsteel and Millennium Steel (now Tata Steel Thailand) acquired in 2004 and 2005 respectively, have not panned out according to the plan.
The acquisition of Usha Martin's steel business in India in 2019 by Tata Steel subsidiary Tata Steel Long Products also fared well compared with the global adventures.
Strong momentum
Indications are that the first quarter of this fiscal could even be better than the last. Icra reported that steel makers will tide themselves over the second wave of Covid on the back of supportive international prices.
While domestic steel demand was down 22 per cent in April compared with March and further by 1 per cent in May, the consumption in the domestic market was much higher (150 per cent) compared with the same period last year, which had much more stringent lockdowns.
Moreover, the export momentum continued with 122 per cent year-on-year growth in April and another 30 per cent rise in May, as Chinese demand ensured strong demand and the price of the alloy rose in the international market.
SteelMint data show that leading primary steel producers have increased prices by Rs 2,000 to Rs 5,000 per tonne, depending on grades from June onwards and the benchmark hot-rolled and cold-rolled prices perched at Rs 70,000 a tonne and Rs 85,000 a tonne, respectively.