Steep tax drives tweak in Toyota hybrids
Hybrid cars attract the highest tax among cars raising investment concerns for Toyota Kirloskar Motor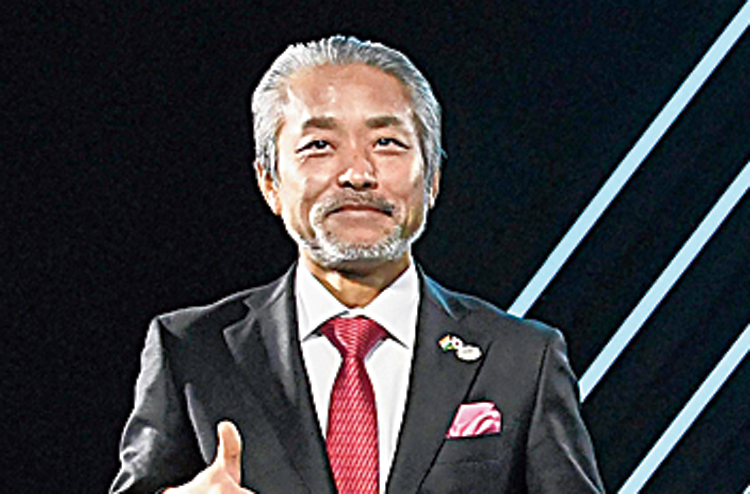 Masakazu Yoshimura, Toyota Kirloskar Motor MD
PTI
---
New Delhi
|
Published 03.02.19, 06:57 PM
|
---
Toyota Kirloskar Motor (TKM) has started calling its hybrid cars "self-charging electric vehicles" after it failed to convince the government to lower taxes on such models. Hybrid cars use a system of gasoline engine and electric motors.
"Probably the government officials think the word hybrid means something impure so we can't seem to convince them," the newly appointed TKM managing director Masakazu Yoshimura said at an interaction with reporters last week in New Delhi.
At present, hybrid cars attract a total tax of 43 per cent — 28 per cent GST and 15 per cent cess — the highest among cars, apart from imports.
The company, which sells the Camry hybrid in India, plans to introduce similar drivetrains for all its other models "at some point of time". It continues to offer petrol and diesel power trains, too, the latter for its Innova and Fortuner models.
"Taxation should be emission-based," said Yoshimura, who was in China when pollution was at its highest there.
"India is now where China was five to six years ago. I was playing golf there where I lost the ball to the haze. I experienced the same pollution levels there five years ago."
China invested in hybrids and shifted to electric vehicles (EVs), nuclear energy vehicles, fuel cell and hydrogen technology.
The Chinese government also offered incentives to both consumers and manufacturers to generate less emissions.
"India is a diversified country with its traffic of two-, three- and four-wheelers, old vehicles, diesel vehicles, not much different from China, Brazil or South Africa," said Yoshimura.
China also introduced a scrap policy giving tax benefits to those replacing their old cars with new ones and more sops on purchases of hybrid. In India, a clear scrap policy is yet to be formed.
Building a cause for hybrids, the new MD said: "These self-charging electric vehicles solve the problem of charging infrastructure while giving drivers the chance to experience driving a vehicle with an electric motor and at the same time reduces emissions by 48 per cent cent, and more particularly carbon dioxide emissions by 28 per cent."
Calling for a stable regulation and taxation regime, he warned: "If taxation changes frequently, we have to stop investment."