JSW and Arcelor differ over Essar Steel offer to clear debt
JSW Steel, India's largest steel maker, may join hands with the Ruias for Essar in the future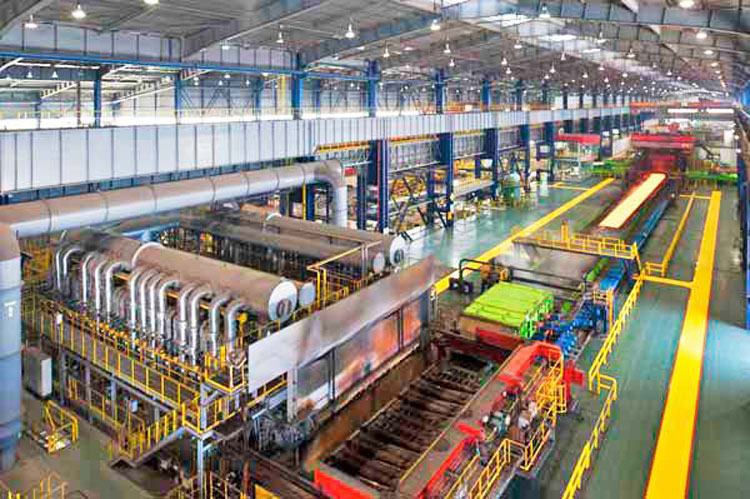 An Essar Steel plant
Source: Essar website
---
Calcutta
|
Published 22.01.19, 07:48 PM
|
---
Sajjan Jindal has backed the Ruia group's proposal to repay the entire outstanding debt of Essar Steel, prompting a sharp response from ArcelorMittal, the selected top bidder for the bankrupt company.
"They (Ruias) should be given a chance. It is their company, if they're paying 100 percent of the money, so why not," Jindal told a TV channel on the sidelines of the World Economic Forum in Davos.
His comments come days before the National Company Law Tribunal in Ahmedabad decides if Ruias' Rs 54,389- crore offer, including a Rs 47,507-crore upfront cash payment, is legally valid.
The committee of creditors had trashed the proposal, which came after the bidding process was complete. Moreover, the Ruia proposal did not elaborate how they were going to fund it, lenders argued.
Jindal said JSW Steel, India's largest steel maker, may join hands with the Ruias for Essar in the future. JSW had taken a 26 per cent stake in a step-down subsidiary in Russia's VTB Bank-led Numetal during the re-bid for Essar Steel. Numetal was found ineligible by the Supreme Court for the "looming presence" of Ruia and it was asked to clear all dues linked to the Ruia group firms. Numetal did not do it. Instead, the Ruias came up with the unsolicited offer.
ArcelorMittal, which has promised close to Rs 42,000 crore as upfront cash payment to the creditors, came back with a strong retort without directly naming Jindal.
"It appears there are certain parties in India who would like that the IBC not be implemented according to the law. The IBC was introduced for a very serious reason — to address a major problem with bad loans. If the law is not implemented correctly and the rules are flouted, as suggested by some, this sends a negative signal about the certainty of India as an investment destination," the company promoted by Lakshmi Niwas Mittal said.
"The opportunity to make an offer for the assets in the IBC process has been very transparent. No company or individual can say they were not aware of the process and, therefore, should not expect to come in at a late stage, providing no details as to the financing of their offer after a decision has been taken by the committee of creditors. In the case of Essar Steel, opportunities have been provided to bidders for nearly a year to first be eligible and second, to make a compelling offer. ArcelorMittal has followed the process from the start," the statement said.