State Bank of India net profit jumps 81%
During the quarter ended June 30, the lender earned a profit of Rs 1,540 cr after it sold a little over 2% of SBI Life Insurance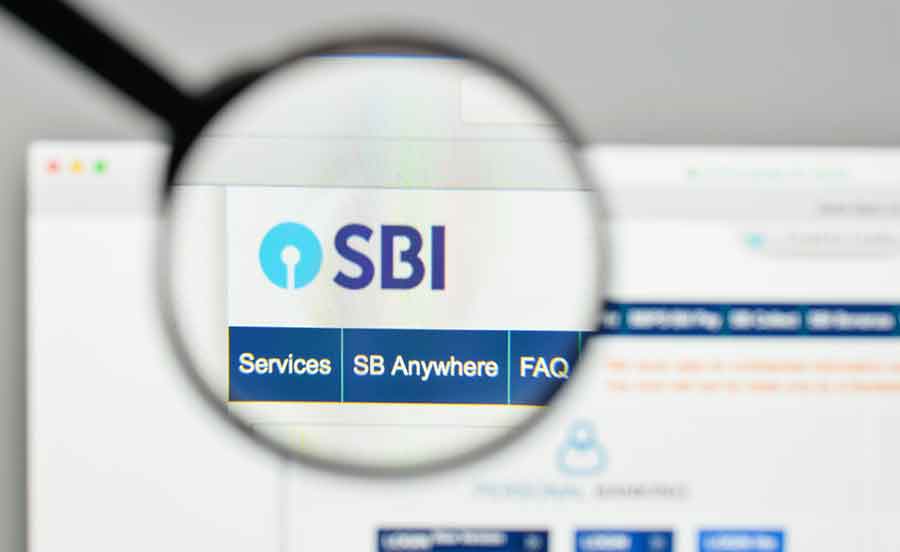 ---
|
Mumbai
|
Published 01.08.20, 04:55 AM
---
State Bank of India (SBI) on Friday beat analyst estimates by posting an 81 per cent growth in net profits for the quarter ended June 30 with the bottomline getting a boost from a stake sale in its life insurance business.
The country's largest bank reported a standalone net profits of Rs 4,189.34 crore compared with Rs 2,132.20 crore in the same period of the previous year. Analysts were expecting the bank to report net profits of around Rs 3,500 crore. During the quarter, the lender earned a profit of Rs 1,540 crore after it sold a little over 2 per cent of SBI Life Insurance.
Though overall provisions rose to Rs 12,501.30 crore from Rs 9,182.94 crore in the year ago period, it declined sequentially from Rs 13,495.08 crore. Of this, provisions for non performing assets (NPAs) also fell to Rs 9,420.46 crore from Rs 11,893.73 crore in the preceding three months.
There was an improvement in the bank's asset quality with the absolute amount of bad loans coming in at Rs 1,29,660.69 crore against Rs 1,49,091.85 crore in the January-March quarter.
Similarly, the percentage of gross NPAs fell to 5.44 per cent (net NPAs 1.86 per cent) from 6.15 per cent (2.23 per cent) during the same period. Slippages or fresh bad loans also fell sharply to Rs 3,637 crore from Rs 8,105 crore sequentially.
Speaking to the press through a video meet, SBI chairman Rajnish Kumar disclosed that there has been a decline in its customers opting for the moratorium. This has now come down to 9.5 per cent of the total term loans of Rs 16 lakh crore, while 23 per cent of the loan book were under moratorium in the preceding quarter. These are the accounts where customers have either not paid their EMIs after March or paid only once.
The SBI chief, who was cautiously optimistic on how the trajectory of bad loans would unfold in the second half, said that the bank will be "on guard" though much would depend on whether an economic recovery would happen.
He added that while large corporates are in a position to sustain a couple of bad quarters, the bank would be closely watching the SMEs and the lower end of the mid-corporate segments where there could be bad news.
During the first quarter, SBI's core net interest income (NII) grew 16 per cent to Rs 26,642 crore. Its numbers were also helped by a 18.49 per cent rise in non-interest income.
Uco Bank
Uco Bank on Friday posted a net profit of Rs 21.46 crore, aided by lower bad loan provisions. The bank had registered a loss of Rs 601.45 crore in the corresponding quarter of the previous year.
The public sector lender's total income during the April-June quarter was slightly lower at Rs 4,436.57 crore compared with Rs 4,446.61 crore in the year-ago quarter.
Interest income fell to Rs 3,662.64 crore during the quarter from Rs 3,816.53 crore a year ago.
Provisions for bad loans and contingencies for the period came down to Rs 1,180.37 crore as against Rs 1,802.89 crore a year ago. Of this, the provisions for bad loans stood at Rs 564.78 crore, lower than Rs 1,374.97 crore a year ago.
The city-headquartered lender showed a consistent improvement in its asset quality by bringing down the gross non-performing assets (NPAs) to 14.38 per cent of the gross advances as on June 30, 2020, from 24.85 per cent in June 2019 and 16.77 per cent at the end of March 2020.
Net NPAs also fell to 4.95 per cent by the end of quarter from 8.98 per cent a year ago. It was at 5.45 per cent by the end of the fiscal ended March 2020.
Shares of UCO Bank at Rs 14.07 were down 0.78 per cent at the Bombay Stock Exchange.
There was a robust 16 per cent rise in total deposits out of which current account deposit grew by 12.98 per cent while saving bank deposits showed a rise of 17.29 per cent. As expected, the credit growth was timid at 6.58 per cent mainly driven by retail (personal) advances which showed a rise of nearly 13 per cent over the same period last year. SBI added that home loans, which constitutes 22 per cent of its domestic advances, grew by 10.72 per cent.