StanChart base in GIFT City
GIFT City is being developed by Gujarat government as a hub to attract international entities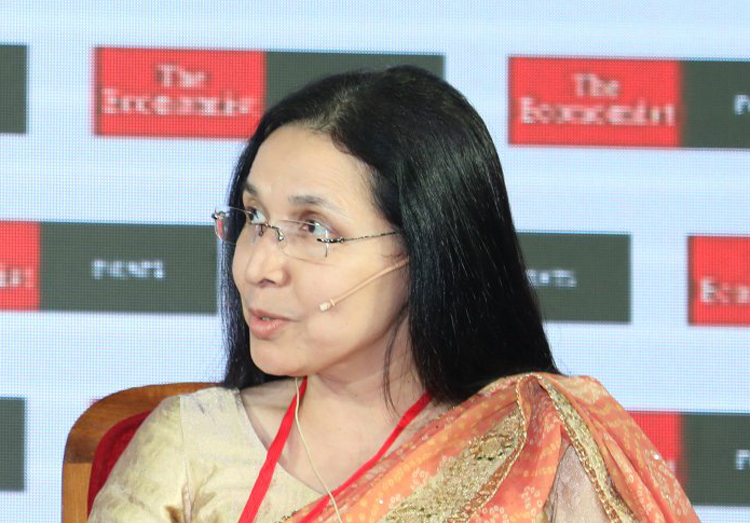 Zarin Daruwala
Picture tweeted by @StanChartIN
---
Calcutta
|
Published 16.07.19, 07:12 PM
|
---
Standard Chartered Bank expects to open an international banking unit in Gujarat International Finance Tec (GIFT) City this year.
GIFT City is being developed by Gujarat government as a hub to attract international entities offering services such as offshore banking, asset management, insurance, capital markets IT and allied services, backed by fiscal concessions. The minimum alternate tax for the International Financial Services Centre has been lowered to 9 per cent from 18.5 per cent.
"There is a plan to open an offshore banking unit in GIFT City. It will hopefully come by the end of the year," said Zarin Daruwala, CEO of Standard Chartered Bank, on the sidelines of an event organised by the Ladies Study Group, affiliated to the Indian Chamber of Commerce.
An offshore banking unit could allow Indian companies having a global presence to avail themselves of credit in other currencies, while foreign portfolio investors could use the services to invest in domestic securities.
The Union government has announced a series of fiscal incentives in its latest budget on July 5 to attract investors to GIFT City.
These include a 100 per cent tax holiday for 10 out of 15 years, no dividend distribution tax out of current and accumulated profits and long-term capital gains exemptions to Alternative Investment Funds (AIFs).
There is also an exemption from withholding tax on interest paid on debt securities issued at GIFT.
Overseas borrowing
Daruwala feels the decision of the Centre to tap the overseas market to raise a part of its gross borrowing offers a new source of funding for the government and lays a benchmark for corporate houses.
"The sovereign bond is something that a lot of governments do. India has not done it but China does it. It's a new avenue of raising money. It also sets the benchmark for borrowing," she said.
The move will also have a beneficial impact on the demand situation for the government securities in the domestic market.
Stronger NCLT
Daruwala said there is a need to strengthen the administrative setup under the Insolvency and Bankruptcy Code.
"Clearly there is a gap between the number of cases and the number of judges," she said. The NCLT benches need further strengthening, she added.
She added that the decision of the Reserve Bank of India to change the guidelines on resolution of stresses assets and allow a 30 day review period from the date of default instead of the February circular which said that lenders must start action against a corporate account immediately after default is more practical.