SpiceJet shares surge nearly 18 per cent to hit over two-month high
Low-cost carrier is looking for urgent recapitalisation to maintain smooth operations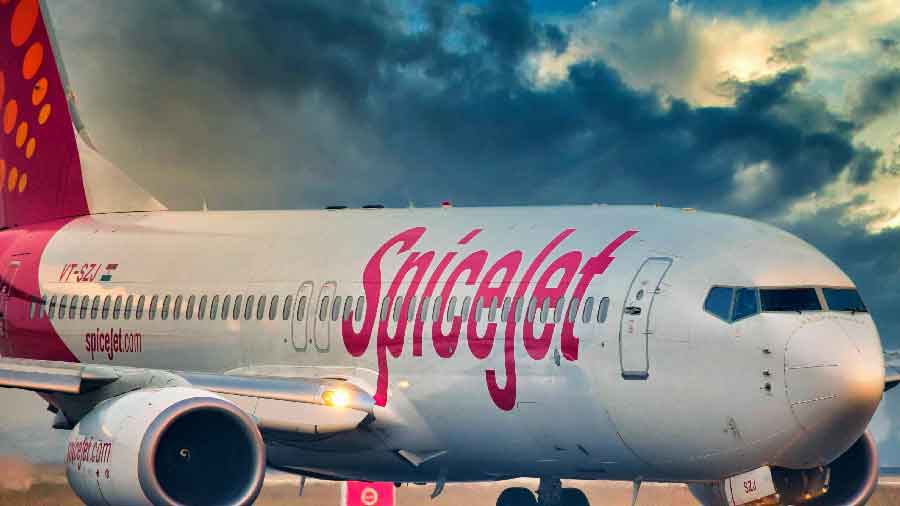 SpiceJet has cleared all its dues to the Airports Authority of India and switched back to an advance payment mechanism from a more rigid "cash and carry" regime at AAI-run airports.
File photo
---
New Delhi
|
Published 04.08.22, 01:37 AM
|
---
Shares of SpiceJet Ltd surged nearly 18 per cent on Wednesday to hit a more than two-month high following reports that promoter Ajay Singh was exploring the possibility of selling a part of his 59.4 per cent stake to raise funds for the troubled airline.
Industry sources said the cash-strapped carrier was in talks with a West Asian airline, which has expressed interest to pick up a 24 per cent stake and a board seat in SpiceJet.
The budget carrier has also been approached by a big Indian conglomerate for a stake in the airline.
The low-cost carrier is looking for urgent recapitalisation to maintain smooth operations. The airline is in talks with investors who could infuse capital into the business in exchange for partial equity.
A SpiceJet spokesperson said: "The company continues to be in discussions with various investors to secure sustainable financing and will make appropriate disclosures in accordance with applicable regulations."Shares of SpiceJet intra-day moved 18 per cent higher to Rs 52.40 on the BSE and ended the day at Rs 50.05 over the previous close at Rs 44.40. Dubai's Emirates has no plans to acquire a stake in any airline in India or elsewhere, a spokesperson for the company said, according to Reuters.
Abu Dhabi's Etihad Airways, which had a stake earlier in Jet Airways, refused to confirm whether it was in talks to acquire a minority stake. Qatar Airways and Saudia did not immediately respond to emailed requests for comment, Reuters said.
SpiceJet has cleared all its dues to the Airports Authority of India and switched back to an advance payment mechanism from a more rigid "cash and carry" regime at AAI-run airports. The AAI will now release SpiceJet's Rs 50-crore bank guarantee following the airline clearing all its principal dues. This will result in additional liquidity for the airline.
The DGCA has allowed SpiceJet to operate half of its approved schedule of flights this summer following multiple technical snags. It has also heightened surveillance on the safety culture of the airline and is doing spot checks on the airline's fleet. An increase in operations will be allowed only if it can prove to the regulator it has "sufficient, technical support and financial resource to safely and efficiently undertake such enhanced capacity." This will require capital infusion.
The airline has changed hands several times during its existence. For the airline started by Ajay Singh in 2004- 05 by tying up with NRI Bhulo Kansagra, it has been a tumultuous journey. They had bought erstwhile Modiluft from industrialist S.K. Modi in 1999-2000. SpiceJet started on Modiluft's licence.
Singh re-acquired the airline when it was on the verge of shutting down from Kalanithi Maran in 2015. The airline staged a recovery under Singh in the first few years of the second innings.
However, the aviation sector has been badly hit in recent years. First Covid-19 impacted the sector, and as it showed signs of raising its head, with a pick-up in traffic, the Russia-Ukraine conflict pushed up the aviation turbine fuel price, making it tough for the sector.
The budget carrier was affected by a ransomware attack this year. On May 27, the airline said it had been forced to delay its announcement of full-year results for FY22 because of the attack that had affected "the completion of its audit process". As a result, its board meet on May 30 had been postponed. It still hasn't announced a date when the board will meet to approve its results for the previous financial year. The airline had reported a profit of Rs 28 crore in Q3 after being steeped in losses – and it may close FY22 in the red.