SpiceJet doubts Jet Airways' revival power
SpiceJet chairman denied Jet CEO's claim that SpiceJet had survived a similar turmoil because of government support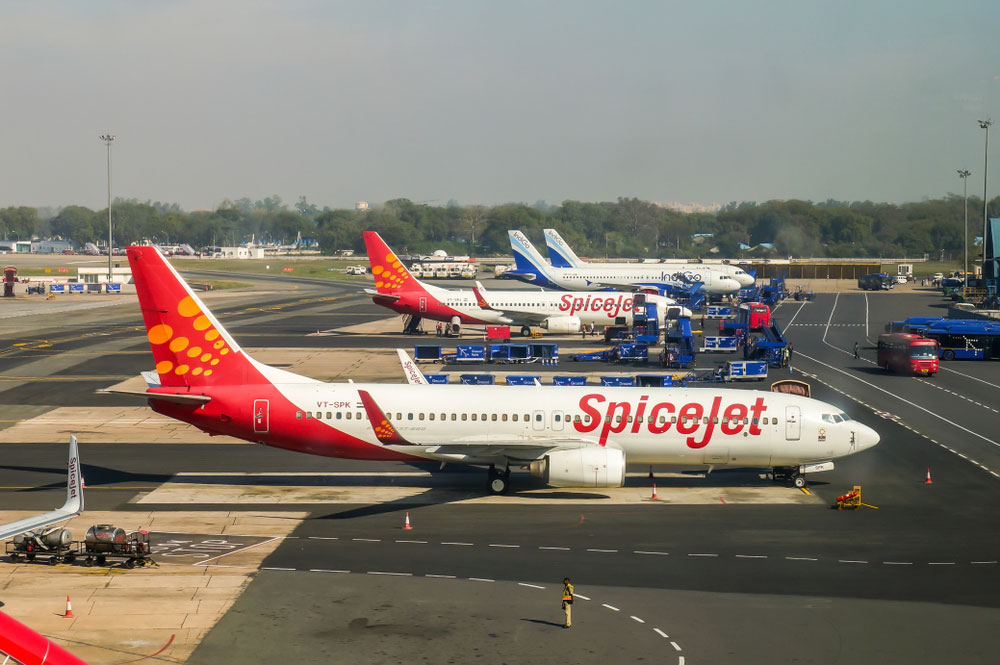 SpiceJet is ready to induct five aircraft from Friday and will add around 40 more in the coming weeks
(Shutterstock)
---
New Delhi
|
Published 24.04.19, 07:18 PM
|
---
SpiceJet chairman Ajay Singh on Wednesday said any potential bidder of Jet Airways must have to contend with a viability gap funding of Rs 25,000 crore, out of which Rs 11,000 crore needed to paid upfront. This casts a shadow on the grounded carrier's ability to take to the skies again even as the civil aviation ministry sought to protect Jet's much coveted slots at the premier airports by limiting advance booking on these slots to just three months.
"The slots are being allotted on a temporary basis for a three month period and they should not resort to advance booking beyond that period," a civil aviation ministry official said. The slots allotted temporarily can be taken back when Jet is able to fly. Jet Airways had 280 slots at the Mumbai airport and 180 in Delhi.
However, Singh in an interview to a television channel revealed numbers that raise questions on the actual state of Jet's finances.
He said he had been approached by many stakeholders to take over Jet that prompted his due diligence on the carrier.
"We looked at the numbers. We were approached by several stakeholders in this process and we did take a look at the numbers. We thought that it was beyond us. We felt that the gap was too large. It was not the Rs 8,000- 8,500 crore that you read about in the media.
"If you look at the vendor payables, if you look at the advances that they had taken on ticket sales and if you look at all the debts, all added up it was close to Rs 25,000 crore. We felt that was a gap that was not within the ability of SpiceJet."
He denied Jet CEO Vinay Dube's claim that SpiceJet had survived a similar turmoil in December 2014 on account of government support. He said there was no intervention other than "moral support" of the government.
He said SpiceJet was planning to take over some of the slots vacated by Jet Airways. Even if Jet was to revive, it will be a slimmer version which takes to the skies.
SpiceJet is ready to induct five aircraft from Friday and will add around 40 more in the coming weeks. The additional aircraft will be utilised in areas which are facing shortage of capacity after Jet suspended operations.
Singh said the focus was to expand domestic capacity to fill the shortage after the grounding of Jet as that was the first priority. However, every Indian carrier, including SpiceJet, needs to take a look at how "we can make it financially viable and profitable for ourselves to take Indian passengers across the world".
Singh said he was expecting to fly the Boeing 737-Max again from June-July. He said he expected compensation from Boeing on the grounded planes. Slots in airports are precious assets for an airline as the number of slots determine how many flights an airline can operate out of an airport.
Analysts said it would not be easy for Jet Airways to get back the slots given to other carriers and resume operations.
"Once these (Jet) slots are allotted to other airlines, they will expand their fleet and increase flights. What will they do later," analysts said.
The ministry's clarification on slots on Wednesday came after lenders expressed concern about the slots being given out to others. The government is giving the slots to ensure that there are enough planes available to cater to demand and keep a check on fares. However, it is a serious drawback for Jet.
Since the grounding of Jet Airways last week, some of its most experienced pilots and crew members have joined its rivals and the carrier has lost slots in airports.