Smiles were back on the faces of investors on Friday as stocks joined their overseas peers in staging a spectacular rally on the back of falling crude oil prices and the easing of worries over the spat between US and China.

The 30-share BSE Sensex rose almost 580 points to end above the 35000-mark at a one-month high of 35011.65. The benchmark index had surged over 758 points during intra-day trade. While it resumed on a strong note at 34743.95, the index reclaimed the 35000-mark to hit a high of 35190.20.
However, profit-booking trimmed gains, resulting in the Sensex closing 579.68 points, or 1.68 per cent, higher at 35011.65. This is its highest closing since October 4, when it had closed at 35169.16.
The NSE Nifty gained 172.55 points, to close at 10553 after touching a high of 10606.95 during the session. On a weekly basis, both the Sensex and the Nifty halted their two-week losing streaks by surging 1,662.34 points and 523 points, respectively.
Global factors largely drove the rally though good news on the domestic front such as GST collections crossing Rs 1 lakh crore also contributed to the positive sentiment.
The rupee, too, made handsome gains against the US greenback following the fall in crude oil prices. Brent crude dropped below $73 per barrel to quote at a seven-month low of $72.65. Worries over the US-China trade war dimmed as Donald Trump tweeted that discussions with China "are moving along nicely".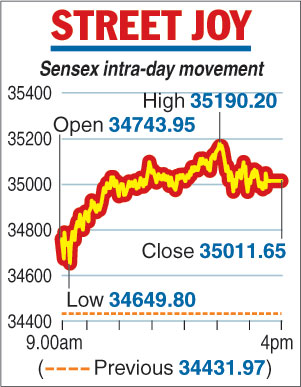 Telegraph infographic
Yields on the benchmark 10-year security also fell to 7.78 per cent.
In Asia, Hong Kong's Hang Seng surged 4.21 per cent, while the Shanghai Composite Index rose 2.70 per cent. Japan's Nikkei gained 2.56 per cent, while the Taiwan index advanced 0.63 per cent. European markets, too, were strong in late morning deals. Frankfurt's DAX was up 1.29 per cent, while Paris CAC 40 rose 1.26 per cent.
"Expectations of a global trade deal and cheer in domestic auto sales numbers supported the market. Any consensus in US-China trade negotiation could settle global market volatility and will attract investors to the beaten down stocks. Additionally, continued fall in oil prices and drop in yields eased liquidity concerns," Vinod Nair, head of research, Geojit Financial Services, said.