Seal on Hind Cables closure plan
The Centre today approved a Rs 4,777-crore package for the closure of state-run Hindustan Cables, which would be used to pay wages, offer early retirement schemes and convert government loan into equity.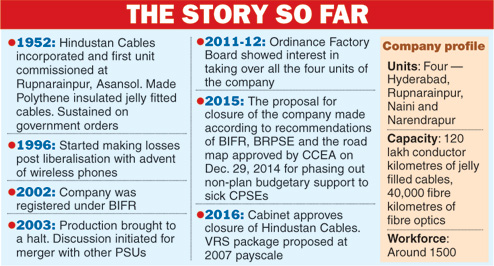 ---
---
New Delhi/Calcutta, Sept. 28: The Centre today approved a Rs 4,777-crore package for the closure of state-run Hindustan Cables, which would be used to pay wages, offer early retirement schemes and convert government loan into equity.
"The Union cabinet under the chairmanship of Prime Minister Narendra Modi has given its approval for closure of Hindustan Cables, Calcutta, under the provisions of the Companies Act, 1956/2013, Industrial Disputes Act, 1947 and other relevant Acts," a statement said.
Employees will be offered a severance package at 2007 pay scales.
The disposal of assets, it added, will be according to the guidelines of the department of public enterprises with regard to the time-bound closure of sick/loss making Central Public Sector Enterprises (CPSEs).
There will be cash infusion of Rs 1,309.90 crore and non-cash infusion of Rs 3,467.15 crore in the company. The non-cash portion will be used for conversion into equity of the Centre's outstanding loan (including interest) as on September 30, 2016.
Secured creditors of HCL, led by the SBI as consortium lenders, had gone in for a one time settlement (OTS) of dues which include complete waiver of interest and settlement of principal amount of Rs 305.63 crore.
There is no production activity in the company since January 2003. The employees of the company are on 1997 pay scales.
HCL was established in 1952. It had four manufacturing units at Rupnarainpur and Narendrapur (Bengal), Hyderabad (Telangana) and Naini (UP).
It was set up to cater to the needs of government-owned telcos BSNL and MTNL to manufacture telecom cables. A rapid change in telecommunication technology (wire-line to wireless) affected the demand for telecom cables.
Several attempts were made by the department of heavy industries to revive the company but none worked. Attempts to transfer HCL units to the ministry of defence/department of defence production also did not yield results.
Local ire
BJP MP from Asansol and junior heavy industries minister Babul Supriyo had promised to revive the Hind Cables plant during his election campaign in 2014 but later apologised for his failure.
Veteran Citu leader and former Asansol MP Bansagopal Chowdhury today accused Babul Supriyo of cheating the people of Asansol and the workers of HCL.
"This is a gift from Modiji to the workers of HCL before the festive season. Babul has bluffed the people of Asansol to win the elections," he said.
Trinamul's Asansol president V. Sivadasan said the people of Asansol would never trust Babul anymore.
Bharat Pumps
The government today accorded "in-principle" approval for strategic divestment of Allahabad-based Bharat Pumps and Compressors Limited.
The decision was taken at a meeting of the Cabinet Committee on Economic Affairs chaired by Prime Minister Narendra Modi.
"The Cabinet has approved Rs 111.59 crore as financial assistance for retired employees of Bharat Pumps and Compressors, Allahabad. It has also approved a proposal for discharging statutory dues such as provident fund and gratuity of retired employees as well as outstanding dues of the CISF,"an official release said.
"It will motivate the employees and improve the performance of the company. This will put an end to further legal complications and penal action against the company," an official statement said.
GST network
The CCEA today cleared a Rs 2,256 crore IT project Saksham of the Central Board of Excise and Customs, which will help to integrate CBEC's system with the GST network before the rollout in April next year.
"The total project cost involved is Rs 2,256 crore, which will be incurred over seven years," a government statement said, adding that the upgrade of the IT systems will be carried out while keeping the existing taxpayer services running.
The CBEC's IT structure needs to integrate with the Goods and Services Tax Network (GSTN) to process registration, payment and returns data sent to the CBEC as well as act as a front-end for other modules such as audit, appeal and investigation.
There is no overlap in the GST-related systems of CBEC and GSTN, the statement said.
"This IT infrastructure is also urgently required for continuation of CBEC's e-services in Customs, central excise and service tax, implementation of taxpayer services such as scanned document upload facility, extension of Indian Customs SWIFT initiative and integration with government initiatives such as e-nivesh, e-taal and e-sign," the statement added.