Rs 41,000cr energiser for weak PSU banks
The plan is to help better performing weak banks to come out of the RBI's PCA framework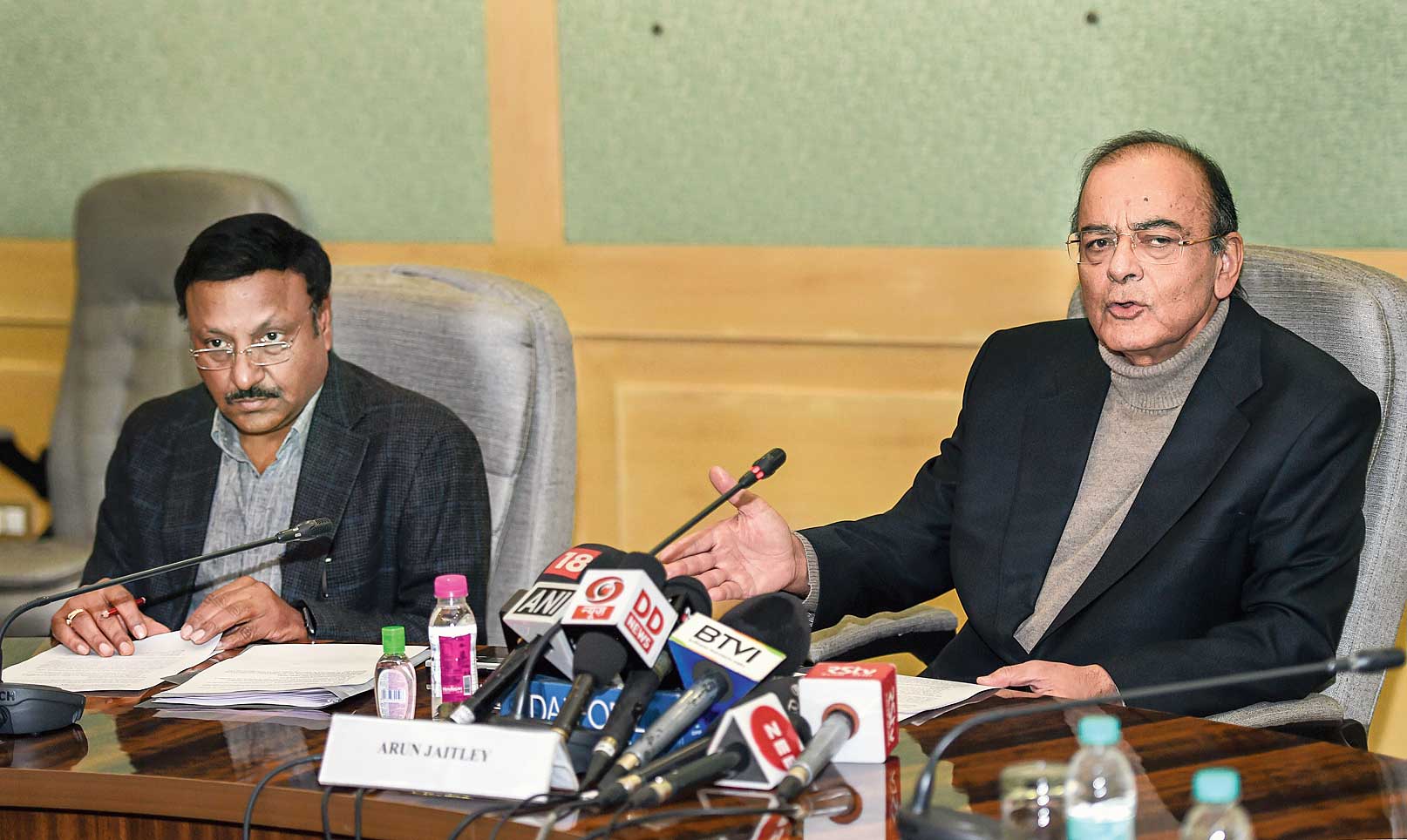 Finance minister Arun Jaitley with banking secretary Rajeev Kumar in New Delhi on Thursday.
(PTI)
---
New Delhi
|
Published 20.12.18, 08:52 PM
|
---
The government on Thursday brought a supplementary demand for grants of Rs 85,949 crore before Parliament, including Rs 41,000 crore to recapitalise weak state-run banks so that they can be brought out of the lending curbs imposed by the RBI.
The actual net cash outgo of the government will be much lower at Rs 15,065 crore on account of savings elsewhere by different ministries.
The big ticket item is the extra Rs 41,000 crore being pumped into weak banks on top of the Rs 65,000 crore budgeted for capital infusion into banks.
"We are seeking parliamentary sanction for further recapitalisation of Rs 41,000 crore and the total PSU bank recapitalisation for 2018-2019 will be Rs 1.06 lakh crore. Capital infusion will also happen for those banks which are up for merger," finance minister Arun Jaitley said after placing the demand for grants in the Lok Sabha.
The plan is to help better performing weak banks to come out of the RBI's prompt corrective action (PCA) framework that places lending and other restrictions on the weak banks. Strong banks such as the State Bank of India, Bank of Baroda, Vijaya Bank and Indian Bank will not get any funds from the current demand for grants, Jaitley said.
As many as 11 banks have been put in a straitjacket for their high rate of bad loans and poor financial record. Officials said only a few of the banks, including Allahabad Bank, would get the extra money to help them meet RBI's norms such as 9 per cent capital to risk weighted asset ratio (CRAR) and an extra 1.875 per cent capital conservation buffer. "This would also help them reduce their percentage of bad loans as a ratio of total loans to 6 per cent or below," they said.
Other banks being tipped for support include Bank of Maharashtra, Corporation Bank and Bank of India.
"Four to five PCA banks will get additional recapitalisation this year. These 4-5 banks have a high chance of coming out of PCA," said Rajeev Kumar, secretary, department of financial services.
The government had been having a running battle with the RBI to dilute the apex bank's PCA norms that would enable banks to give more credit and prop up growth and employment, with elections not very far away.
Of the 11 banks which are under the PCA, only two — Dena and Allahabad Bank — face restriction on lending. These stressed banks make up for 30 per cent of deposits and 29 per cent of advances of all the 21 state-owned banks.
Officials said the government would lobby with the RBI to bring down its capital norms to global levels even as it seeks Parliament approval to provide banks with funds through recap bonds to meet the apex bank's higher capital requirements.
Tough RBI norms
The RBI had been continuously arguing for stringent norms as NPAs were still very high, while there were many hurdles to growth. The finance ministry in a note said there has been a "comprehensive clean-up of the banking system under the government's 4R approach of Recognition, Resolution, Recapitalisation and Reforms", and the envisaged recapitalisation would equip banks financially at levels higher than global norms.
The ministry claimed "the recognition exercise is nearly over with such (unrecognised bad loan) assets declining from peak of 7 per cent in March 2015 to 0.59 per cent as of September 2018".
It also claimed a record recovery of Rs 60,726 crore by state-run banks in the first half of the current financial year.